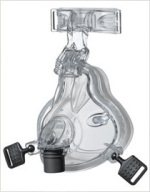 Hospitals, Take Note: Ventilators Are Flu's Friend
October 08, 2009
by
Brendon Nafziger
, DOTmed News Associate Editor
Oxygen therapy used to help patients with respiratory failure could spread airborne viruses like the flu, according to a study out this month in the journal Chest.

Jets of exhaled air from pressurized, non-invasive ventilators can scatter contagions up to three feet from the patient, the study found, putting health care practitioners at risk.

Pressurized, non-invasive ventilation masks help patients with acute lung injuries, such as from pneumonia, breathe if they can't breathe on their own. They can save patients from having to undergo full mechanical ventilation, which requires a tube to be inserted into the trachea. But as researchers in Hong Kong discovered, they're also a serious flu risk.

For the study, the researchers used a "breathing" dummy, inclined at the appropriate 45 degree angle, and hooked up to one of two ventilators made by Respironics, either the ComfortFull 2 mask, or the Image 3 mask.

The air fed through the ventilator was marked with smoke so the researchers could see how far the plumes of infected air would go, and how concentrated they would be. The scientists measured the smoke precisely by filming it as it passed through a field of lasers; the more light scattered, the greater the concentration of smoke. And the more concentrated the air, the more likely it would be to contain pathogens.

The study was conducted in a negative-pressure isolation room that sucks up and exchanges air 12 times per hour to lessen the chance for contamination.

Even in this room, the researchers found that exhaled air, in pathogen-bearing concentrations, could spread from around two to three feet from the patient, increasing in distance and load as air pressure increased.

And the Image 3 masks carried the greatest risk, because they were attached to an exhalation device, called the Whisper Swivel, that disperses exhaled air to prevent carbon dioxide from "re-breathing" up the tubing. "This will allow a patient's exhaled air to spread and contaminate the room more easily," David Hui, M.D., lead author of the study and a doctor at the Chinese University of Hong Kong, Prince of Wales Hospital, tells DOTmed News.

To minimize risk when treating patients with H1N1, or who are suspected of having it, Dr. Hui recommends closely following the the new World Health Organization guidelines: wear an N95 respirator, goggles, gloves and a long-sleeve gown. Make sure the room -- like the negative-pressure isolation room -- exchanges air at least 12 times per hour. And wash hands before and after all patient contact, and after removing protective equipment.