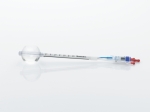 ASTRO: Hologic MammoSite Radiation Therapy Keeps Cancer From Recurring
November 04, 2009
by
Kathy Mahdoubi
, Senior Correspondent
A scientific presentation at the American Society of Therapeutic Radiation Oncology (ASTRO) annual meeting Wednesday revealed that breast cancer patients treated with Hologic's MammoSite breast radiation therapy system experienced less than a 4 percent rate of cancer recurrence at the site of therapy after five years.

The study sponsored by the American Society of Breast Surgeons involves 1,440 patients who have been diagnosed with breast cancer and who have subsequently undergone accelerated partial breast irradiation by brachytherapy with the MammoSite system. Fifth-year results of the study showed that 96.2 percent of patients were found to have no cancer where the breast had been treated.

Frank Vicini, M.D., Chief of Oncology at the Beaumont Cancer Institute in Royal Oak, Mich. presented the findings.

"These are excellent results and compare very favorably to results obtained with standard six-week radiation," Dr. Vicini commented. "The significance is that this is the largest group of patients treated with modern partial breast irradiation ever reported."

Hologic is exhibiting their MammoSite Multi-Lumen brachytherapy device at ASTRO this week. DOTmed met up with Hologic Marketing Manager Greg Amante to discuss the MammoSite ML technology and the American Society of Breast Surgeon's ongoing study.

The new MammoSite ML system allows radiation oncologists the flexibility to make millimeter adjustments in the position of the radioactive source. This is good news for oncologists and their patients, because a precisely placed isodose means reduced risk of skin toxicity from radiation exposure and better cosmetic appearance of the breast after therapy.

"From a data standpoint we are very optimistic, but there are some limitations to having a single lumen device," said Amante. "With a multi-lumen device, what we can do now is preprogram multiple dwell positions and it changes the shape of the radiation cloud."

Amante explained that the MammoSite treatment is usually prescribed after lumpectomy to reduce the chance of returning cancer. Prior to treatment, a balloon catheter is inserted through a lateral incision in the breast and stays planted there for the duration of treatment, which takes place in 10 fractions -- two per day for five days. During treatment, source lumen is then inserted into the breast for anywhere from five to 10 minutes and irradiates 1 cm of tissue around the balloon's surface, which is where about 97 percent of subsequent tumors appear.

The current clinical recommendation is that the dose of radiation to the chest wall and skin of breast cancer patients should be at less than 125 percent of the prescription dose. Hologic's new MammoSite ML device has been designed with three additional lumens, each positioned three millimeters parallel to the central lumen, which can be seeded so that the radiation isodose avoids critical anatomy of the breast.

"The oncologist can pull down the source and have it not be as high on the surface as it is with the one lumen," said Amante.

The MammoSite radiation therapy system was cleared by the FDA in 2002, and since then it has gone through a circuitous change of hands. MammoSite was bought by Cytyc in 2005 and then acquired by Hologic in 2007. With increasingly more radiation oncologists looking at partial breast irradiation as an alternative to whole breast irradiation, MammoSite radiation therapy and the new MammoSite ML device seem to be positioned well for the future. MammoSite ML went into limited release practice in October and expansion could be happening very soon, said Amante.

"We'd like to get this out to the masses, so to speak, by year end," he said.

The ASTRO annual meeting wraps up Thursday at Chicago's McCormick Place Convention Center.