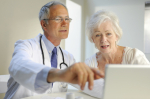 Many Women at Risk for Breast Cancer Say 'No Thanks' to MR
December 23, 2009
by
Brendon Nafziger
, DOTmed News Associate Editor
While MR scans can pick out potentially deadly breast cancers mammograms and even ultrasound exams might miss, many women opt to stay away, according to a new study.

In a paper published this week in Radiology, almost half of all women at increased risk for breast cancer who were offered an MR screening chose not to do it.

The study followed 1,215 women who were at heightened risk for breast cancer at more than a dozen health care centers in the United States, Canada and Argentina. It found that only around 58 percent of these women eligible for MR scans enrolled for the exam.

Of the 42 percent who refused, a plurality, or about a quarter of refusers, listed claustrophobia as their reason for staying away. Other top concerns were not having enough time (about one in five) and not being able to afford it (about one in ten).

And of the 58 percent who actually went in for the exam, almost 10 percent didn't complete it or wouldn't schedule a follow-up scan after their screening got botched by a technical problem.

"So it was closer to around 50 percent who got a good quality MRI, which is low for a screening test," Wendie Berg, M.D., Ph.D., a radiologist at Johns Hopkins Green Spring in Lutherville, MD, and first author of the paper, tells DOTmed News.

At-risk women

The study was an offshoot of the American College of Radiology Imaging Network (ACRIN) 6666 Protocol designed to see how effective supplemental screenings were in catching breast cancer in women with an elevated lifetime risk.

For this trial, all women were at least at intermediate risk for the disease because of personal or family history of the cancer or an atypical or high-risk biopsy result. And all had dense breasts.

But there were also women with a greater lifetime risk, such as known or suspected carriers of the BRCA1 or BRCA2 genes. Interestingly, women in this group, those who have a one-in-two to one-in-four lifetime chance of coming down with the disease, were more likely to see the study through to the end and get the MR scan.

And it makes sense, too. According to a study just presented by Dr. Berg at RSNA 2009, MR scans find cancers that mammograms and ultrasound miss. Because MR scans can image the tumor's vascularity, they can help detect growths in women with dense breasts as well as those who are BRCA1 carriers, a population in which mammography often fails to find early cancers.

As a result of evidence like this, two years ago the American Cancer Society recommended supplementing traditional mammographic screening with MR scans for high-risk women.

"The women [in this trial] were advised of the increased [sensitivity] of MR scans based on previous studies," Dr. Berg says.

Reasons for refusal

Although claustrophobia topped the list of reasons for not attending, there were other problems, such as money.

In the study, ACRIN offered to pay for all MR exams not covered by the patient's insurance, so in theory the scan cost the women nothing. But Dr. Berg says expenses were still an issue, as the patient could need additional testing or a biopsy following the scan that their insurance would not have covered.

"In general," she says, "it's a much bigger issue. We don't usually have a study picking up the cost if insurance won't cover it."

Women can be billed up to several thousand dollars for MR breast screenings, Dr. Berg explains. And because of the high cost of the scans, many insurers are scrutinizing the modality carefully. "They're denying it more and more," she says, even though "we have a lot of data to say it's an excellent test for finding early breast cancer before it spreads to lymph nodes."

Interestingly, the new black box warnings on gadolinium-based contrast agents didn't scare off many patients. These agents, used to light up the blood-gorging tumors, are thought to trigger extremely rare, but potentially fatal, adverse reactions in patients, especially those with poor kidney function. Because of the low dose used and careful screening, this virtually never happens in breast MR patients. And in the study, only a handful listed this as their reason not to show up. "I think there was more fear of the needle than the gadolinium," Dr. Berg says.

But lack of motivation, a typical complaint in medical studies, doesn't appear to account for the fall-off in participation here, according to Dr. Berg. She notes that the women in the study were highly motivated, in that all had already undergone mammography and ultrasound exams before being scheduled for an MR scan, a requirement of the study protocol.

But Dr. Berg does note that as this was the third test the women were getting, some might have felt they had enough. "Having the ultrasound was already more than the usual care," she says. "That might have given them some sense of security for not needing an MRI to find something else."

Open sesame

So, with MR scans providing a potentially life-saving early warning of breast cancer, how can doctors convince more women to take them?

Open MR seems like the answer, as its less-confined designs could ease claustrophobic fears. But Dr. Berg believes current technology, rarely stronger than 1.0 Tesla, isn't good enough.

"It helps with claustrophobia, but it hurts image quality," she says.

"The problem with Open MRI is we get less signal and more noise. We don't get quite as detailed an image of the breasts. It's not terrible but it's not considered adequate."

The solution, in fact, might lie less with technology, and more with a personal touch. Dr. Berg says there was wide variation in participation rates at different health centers, and at the University of Toronto and her site, participation was high, at over 70 percent.

Presenting the information clearly is important, Dr. Berg says. "We do a lot of screening with MR. We know the issues and can discuss them with our patients."

Still, she recognizes that MR doesn't appear to be acceptable to many women, which is why she thinks the health care community should also work toward making ultrasound screening more available.

"It should prompt us to be more motivated to offer screening ultrasounds, because it's something in limited capacity nationwide and it's a major step forward beyond mammography, albeit not as sensitive as MR," she says.