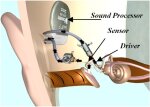 Implantable Hearing Aid Gets Nod From FDA Advisory Panel
December 30, 2009
by
Brendon Nafziger
, DOTmed News Associate Editor
An implantable hearing aid made with the same technology as pacemakers got unanimous approval from a panel of ear, nose and throat specialists advising the Food and Drug Administration (FDA).

On December 18th, the advisory board, after reviewing the results of the latest clinical trial, voted 15 to 0 to recommend the device, called Esteem, for the FDA's approval. While the FDA doesn't have to follow the panel's advice, it often relies on it.

Created by Saint Paul, Minn.-based Envoy Medical, Esteem is surgically implanted in the middle ear. It works by amplifying sound waves it receives through the ear drum and ear bones, conveying them as signals into the cochlea, where they get translated into nerve impulses.

Envoy says in clinical trials Esteem, expected to cost around $30,000 for the device, surgery and audiometric testing, showed marked improvements in hearing for people with moderate-to-severe hearing loss.

Of the 57 subjects in the most recent trial who got the implant, 54 had improved speech recognition threshold (SRT) scores, a standard hearing test that measures the faintest level at which a person can hear and repeat back simple two syllable words. And according to Envoy, the improvement on the SRT measured an average of 11 decibel increase in sensitivity. Understanding of speech also improved about 45 percent for quiet conversations, according to the company.

But the panel did notice some problems. Three patients required follow-up, or "enhancement," surgeries, for the implant to function properly, a result believed to be caused by fibrotic tissue that can form in some patients after surgery.

"Some people's bodies just form fibrotic tissue, no matter what you do," Shelly Amann, president of Envoy, tells DOTmed News. "But as surgeries become refined, and surgeons do more and more you can do to control those things."

Of further concern to the panel were adverse events, such as a metallic taste in the mouth or facial paralysis, that lasted longer than one year in just under half the patients.

The paralysis, which only afflicted about three patients, was caused by swelling from the procedure, Amann says. All adverse events cleared up eventually.

To keep any side effects to a minimum, Amann says the company, pending FDA approval, hopes to roll out the device at designated surgical centers. She says, as with Lasik eye surgery, a technique Envoy frequently compares their product to, they would work with only vetted practitioners who specialize in the procedure.

"[It] would be with highly trained and skilled surgeons who know how to do the procedure, have good results and do many of them per year," she says. "They're not doing just one or two or three per year."

Esteem is already available in Europe, where it got CE marking in 2006. Around 250 implantations have been done there, according to Amann.

Amann says the response has been positive, in both Europe and the U.S., where in addition to the current trial, an earlier one was performed with 72 patients. She says many patients have to adjust to hearing things they forgot were in the world.

"One lady said, 'I didn't realize those water bottles, when you unscrew a cap, it makes a noise,'" she said of a patient-reported experience.

The answer from the FDA, not just for the product but for its labeling claims, should come in the first week of February, Amann says.