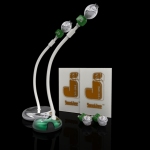 J2 Medical Solutions Enhances its Signature Calibration Tool
April 29, 2010
Band-Aid and Kleenex are trademarked brands that are so well known that their names are famously used for any generic adhesive bandage or facial tissue. In the X-ray world, J2 Medical's name has become synonymous with its popular digital image calibration product, the Akucal.

"Customers call and ask for the 'J2' and we have to tell them, it's called the Akucal," said Daniel Parisi, Director of Operations for the Pittsburgh, Pa.-based medical design firm.

The Akucal product line is a widely used calibration tool in orthopedic pre-surgical planning. It solves an inherent problem with digital X-rays by providing a precise reference point for measurement purposes and image scaling, similar to a legend on a map.

"Orthopedic surgeons during pre-surgical planning, utilize the Akucal to remove the inherent magnification found within an X-ray image," Parisi said. "But the problem with a digital X-ray is that digital images appear as large as the computer monitor they are presented on, limiting a surgeon's ability to determine accurate sizing of anatomic features."

Akucal solves the problem with a 25mm stainless steel sphere on a bendable suction cup arm to position the reference sphere into the image at bone level. In conjunction with orthopedic templating software, the calibration sphere provides a symmetrical legend to scale the image for surgical planning.

"The beauty of the product is that it takes a simplistic approach to solving the most crucial issue in pre-surgical planning," Parisi said. "In the old days, surgeons used plastic acetate overlays that used an assumed magnification value, but changes in technology have given us a better mousetrap; you might say we have a better cheese," he said.

J2 Medical has listened closely to its 750+ clients worldwide and redesigned the Akucal to meet the specific needs of its customers. Features such as removable parts, stainless steel construction, and sanitation are a few of the key advancements made.

The Akucal line is distributed in partnership with most major orthopedic software templating companies, most notably Orthoview, a global leader in digital templating software.

New Product on Its Way

J2 Medical is also nearing the launch of its highly anticipated "Gymie-R," a line of image receptor positioning units slated for release in mid-June 2010. Gymie-R will hold most CR and DR panels on the market. The Gymie-R's free floating design allows it to be quickly placed into position with ease.

Gymie-R is so named because X-ray technologists often have to improvise with make-shift contraptions to achieve an image of diagnostic quality. "We came up with the name because almost every X-ray cassette holder has design flaws that fail to incorporate the need for product versatility in an unpredictable environment. An X-ray tech may say, 'I had to jimmy rig it with duct tape and sponges to get the image I needed.'" Parisi explained.

In addition to Akucal and Gymie-R, stayed tuned to DOTmed News for another new product introduction from J2 Medical in the near future.

J2 Medical Solutions was founded by product designers and radiology technologists to develop innovative medical devices for the radiology industry.