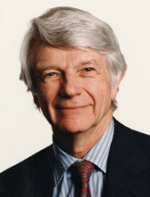 Robert Neil Butler, longevity researcher and coiner of the word 'ageism,' dies
July 08, 2010
by
Brendon Nafziger
, DOTmed News Associate Editor
Dr. Robert Neil Butler, a longevity researcher who fought discrimination against the elderly, died July 4, the U.S. Department of Health said. He was 83.

"For his trailblazing work to help seniors live rich and healthy lives - to not just survive, but thrive - all Americans, young and old, owe him an enormous debt," HHS Secretary Kathleen Sebelius said in a statement. "We will miss him dearly."

The Secretary credited Butler, who coined the term "ageism" in 1968, with helping to "transform a culture that too often acted as if people's contributions to society ended on their 65th birthday."

Butler, a pioneering psychiatrist and gerontologist, conducted one of the first long-term studies on community-living elderly, resulting in the landmark book Health Aging, according to the American Society on Aging. The research, done between 1955 and 1966 under the auspices of the National Institute of Mental Health, showed that senility and other ailments attributed merely to age were often the result of specific diseases or even socioeconomic factors, the society said.

Butler went on to serve as the first director of the National Institute of Aging, part of the National Institutes of Health. He joined May 1, 1976, two days before receiving the Pulitzer Prize in general nonfiction for his book, "Why Survive? Being Old in America," according to the NIA's website. The book helped cement his reputation among the public as an advocate for rights of the elderly.

In 1982, he left the NIA to start up the country's first department of geriatrics at Mount Sinai School of Medicine.

Then in 1990, Butler founded the International Longevity Center, a non-profit whose goal is to help educate society on how to manage the "age boom" - the increasing numbers of Americans who live to a ripe old age. He served as president and CEO until before his death.

A prolific writer, Butler wrote over 300 scientific articles and numerous books, according to the ILC.

NIA's current director honored his predecessor. "The field of aging research - and anyone seeking a better life with age - has lost a best friend," Dr. Richard J. Hodes said in a statement.