This report originally appeared in the October 2011 issue of DOTmed Business News
It may come as a surprise in the current economy, but prospects for medical equipment leasing are looking good – and not just compared to other vertical markets.
"Medical equipment leasing has been steady," says Mark French, president of Crest Capital, a national equipment finance firm. "Most of the other vertical markets have declined since 2009, but medical equipment is one of only three areas that has held steady."
And those figures aren't small. The U.S. Bureau of Economic Analysis estimates that businesses invested about $81.6 billion in health care equipment in the year 2010. With approximately 62 percent of all U.S. health care equipment being financed, that brings the health care equipment finance marketplace to an estimated $506 billion in 2010, according to the Bureau, as reported by the Equipment Leasing and Finance Association (ELFA).
According to a 2011 survey by the Independent Equipment Company together with ELFA, medical equipment has been rated – for the sixth year in a row – as the type of equipment finance companies anticipate to have the greatest total dollar amount of new business volume.
Recent statistics bear this out; ELFA has found that member companies financed for medical imaging and electronic devices increased from 4.4 percent in 2009 to 4.5 percent in 2010.
This is not a decades-long trend, according to Global Industry Analysts (GIA). The research firm notes that medical equipment lease financing in the United States had been relatively low until five or six years ago, due to lack of awareness about leasing, reduction in reimbursements, and heavy regulations influencing physician referrals. But recently, note the researchers, health care institutions have come to see leasing medical equipment as an affordable and quick solution that saves working capital, provides options for purchasing the equipment, and facilitates upgrades to new technology.
IT is the "it" product
While medical equipment leasing has been stable, the software arena has experienced tremendous growth, particularly with the added interest in electronic medical records (EMR). "Every year over the past three years, medical leasing in IT has almost doubled," explains French. "The tax incentive is definitely driving the market. It's a phenomenon."
The trend is expected to continue. GIA anticipates that medical IT equipment leasing and rentals will reach $56 billion by 2017. Interestingly, GIA notes that Europe is the single largest regional market for medical equipment rental and leasing worldwide, with the practice being particularly popular in Germany, France, and the United Kingdom. The United States is next in line in market share.
Taxes that aren't taxing
French – and others – trace this trend to short-term changes in the federal tax code. These changes were intended to help jumpstart the economy and they seem to be having a real impact on medical equipment leasing, specifically, changes to Section 179 Deduction and Bonus Depreciation for 2011, of the IRS Tax Code for fiscal year 2011. These changes have raised the tax deduction on new and used equipment to $500,000, up from $250,000 the year before. In addition, the limit on equipment purchases has risen to $2 million, up from $800,000. "Section 179 offers an incredible chance to acquire needed equipment or software, and increase cash reserves at the same time," says French.
"Hospitals and physician practices are moving to achieve the necessary 'meaningful use' standards in order to qualify for stimulus funds under the HITECH Act," says Steven Riggs, president, Healthcare Global Business Unit, De Lage Landen Financial Services, Inc. "While stimulus funds are designed to offset the cost of implementing electronic medical records and associated technologies, in a traditional capital budget scenario, the provider must front all of the money for the system while the stimulus funds are paid out over time. That makes equipment financing an attractive option because it allows providers to pay over time – which is the same way they will receive the stimulus funds," Riggs says.
"The savviest companies are combining Section 179 with qualified financing," says French. "I anticipate this increase in medical equipment to continue through the end of the year."
Advantage of the aftermarket
Another important component of the upsurge in medical IT equipment leasing is the stable aftermarket for used equipment, says French.
Without the ability to readily find a home for equipment after the lease term ends, lenders would likely be less willing to provide such favorable leasing opportunities, explains French. Thus, the strength of the market for refurbished medical equipment is the key to this growth.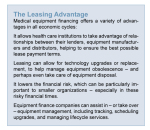 According to the Independent Equipment Company-ELFA 2011 survey, the medical equipment sector has shown the greatest increase in residual values of all equipment types over the past year.
Role of creative financing
To help hospitals and other health care facilities take full advantage of the opportunities offered by Section 179, financial institutions are focusing on providing leasing programs with increased flexibility.
Some options, says Ray Russell, general manager, marketing and corporate accounts at Agfa-Gevaert Group, include delaying the first payment for up to six months and providing operational leases that link payment to usage. "We can even offer a seasonal lease in states like Florida and Arizona, where the population level varies. We can structure a lease in just about any way a customer wants."
For health care providers thinking in terms of deploying capital, projects can become a choice between one acquisition or another, notes ELFA. However, one of the benefits of equipment finance is the ability to spread the cost over time. So if EMR is a priority, for instance, it doesn't mean having to postpone adding or replacing medical equipment elsewhere in the facility.
"In general, we are finding that organizations like to have as low an upfront cost as possible," says Russell. "We try to provide a predictable cash flow – and be as creative as possible in leasing." And it's working.
Leasing prognosis: good
Experts in the field anticipate this trend in growth of medical equipment financing to continue, even beyond the Section 179 changes.
Members of the Equipment Leasing and Finance Association, for instance, anticipate very strong – and positive – equipment leasing opportunities in the medical arena, according to a survey by ELFA. Indeed, EFLA, as an organization, feels that this finding highlights the medical industry's preference for leased equipment.
DOTmed Registered Leasing and Finance - 2011 Companies
Names in boldface are Premium Listings.
Domestic
Sonia Karnes, Sharpe Financial Network
, AZ
Alan Ross, Quail Equipment Leasing & Financing
, CA
John Gladstein, Medical Device Depot
, MD
DOTmed Certified
David McAndrews, Block Imaging International
, MI
DOTmed 100
Russell Abramson, Sterling Capital Leasing
, NY
John Caulfield, Forum Financial Services, Inc.
, TX