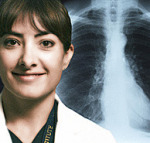 Doctors with a financial stake in imaging more likely to order tests
October 31, 2011
by
Brendon Nafziger
, DOTmed News Associate Editor
Patients have nearly twice the odds of getting a medical imaging scan if they're being cared for by non-radiologist doctors with a financial stake in imaging, and doctors who acquire a financial stake in imaging gain nearly 50 percent higher odds of ordering an imaging test than doctors without any skin in the game, according to a new study.

The Deficit Reduction Act of 2005, designed in part to curb self-referral, also had a negligible effect on utilization among self-referrers, according to the study, published in the November issue of the American Journal of Roentgenology.

"Empiric analysis shows that after carefully addressing the limitations of the previous studies in the literature, financial interest is found to be associated with higher levels of imaging," write the authors, led by Mythreyi Bhargavan, a health policy researcher with the American College of Radiology and with Johns Hopkins University in Baltimore, Md.

Looking at a 5 percent random sample of Medicare claims from 2004 to 2007, the study examined 2.6 million episodes of care, involving almost 1 million patients and 200,000 doctors. Breaking it down, the researchers considered doctors' ordering patterns among 23 combinations of medical conditions, such as heart disease, cancer or back pain, and imaging modalities, including MRI, CT, X-ray, ultrasound and nuclear medicine.

On average across the 23 combinations of conditions and equipment types, patients with different disorders treated by doctors with a financial stake had 1.87 times the likelihood of getting a scan, when compared with doctors without any financial stake. However, the probability ranged from 1.85 to 2.15, depending on which of four definitions of financial interest was used.

The link between being more likely to order a test and having a financial stake in imaging held up even after accounting for confounding factors, such as seeing sicker, older patients, or having a more "imaging intensive" style of practice to begin with. In fact, the researchers looked at doctors before and after they gained a financial interest in imaging. Among the 16 condition-modality pairs with enough data, they found doctors who would go on to get a financial stake already had 1.29 times greater odds of ordering a test than doctors with no financial interest. And after they got the stake, their odds of ordering a test rose to 1.82 times greater than doctors without any interest over the whole study period.

However, the authors noted that the number of physicians who acquired a financial interest during the study period was small. Also, the study did not examine the appropriateness of any of the exams ordered, the authors said, and it didn't address the supposed benefits of self-referring, such as patient convenience.