It's been a busy year for the Association of Medical Instrumentation's president and CEO Mary Logan, with numerous initiatives and partnerships in the works and a whole new set of challenges. Both Logan and incoming chair, Ray Laxton, took time out of their busy schedules to sit down with DOTmed News and share what AAMI has been up to, what's in store for the upcoming Annual Conference & Expo (June 2-4) and plans for the remainder of the year.
DMBN:
Ray, please tell us a bit about your background and your goals as incoming chair.
RL:
I got in the health care arena in 1980, graduated from the U.S. Air Force BMET School, and spent seven years after that in the air force as a BMET servicing everything from anesthesia equipment, respiratory, laboratory instrumentation and diagnostic imaging equipment. Then I went to work for Aramark Healthcare Technologies and served in every role from a BMET supervisor and manager to director, and I worked in operations in a sales organization and support within the company.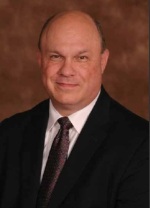 I joined AAMI over 20 years ago, because it had the largest biomedical participation. I didn't feel the organization had the right representation, so it challenged me to put my money where my mouth was and get involved and I began to work with the annual conference planning committee. I then was able to co-chair that and move onto the board.
The thing that excites me the most and I think I will continue to focus on, as chair, is the foundation of the Healthcare Technology Safety Institute. Safety has been a passion of mine for a long time. Interoperability will also be a big focus for the next few years as well.
DMBN:
And Mary, since your conversation with DOTmed News last year, what have been the big AAMI updates?
ML:
Two big issue-oriented events we held last fall included a clinical alarm summit and a summit on re-processing reusable medical devices. Each of these events drew 300 attendees from across health care. Among the attendees were clinicians, industry people, outside experts and not just technology managers.
We also convened an invitation-only group of representatives from across health care technology management for an event in September called Future Forum. At that event, the group came up with an umbrella name for the profession: health care technology management. We are hosting another Future Forum event this fall to follow up and have the same group come together to take it to the next step.
AAMI has a core curriculum committee that is now in phase two. We will be surveying all health care technology management professionals to identify job tasks so we can categorize them and look for trends and themes to help with the curriculum development process.
We have also hosted six free CE (clinical engineering)/ IT virtual town halls. We host them once a month on issues like safety and security of medical devices, wireless issues, and connectivity with physiological monitors. More than 600 facilities have participated.
Further to this, AAMI will be hosting a big summit with the FDA October 2-3 on interoperability in and around medical devices. The emphasis will be on patient safety. October 4-5 we are holding a workshop on wireless issues, as these are a major challenge.
DMBN:
In addition to wireless issues, have any challenges popped up in the past 12 months with regards to medical instrumentation?
ML:
A big problem we hear about deals with the Center for Medicare and Medicaid Services possibly changing the requirement for preventive maintenance related to high-risk devices. The Joint Commission's engineering department director, George Mills, has been trying to convince CMS they are ill-advised in considering such a change. We have been doing a lot of behind-the-scenes work with George. We are also intending to do a survey of the profession to help bolster his arguments.
The three biggest changes health care technology management professionals need to come to grips with now is the integration of medical devices into EHR, interoperability of medical devices, and the development of mobile devices coming into hospitals and the special challenges those bring, along with the move of health care out of the hospital and into the home environment.
RL:
Looking forward, the other thing that is going to impact health care in general is the Affordable Care Act. This could potentially have a big impact on medical instrumentation.
DMBN:
Has AAMI formed any new or noteworthy partnerships since our conversation last year?
ML:
We have partnered with the FDA for our summits, and particularly for the alarm summit we also co-convened with ECRI Institute, the American College of Clinical Engineering and the Joint Commission. AAMI has done a lot of collaborative work with IAHCSMM (International Association of Healthcare Central Service Materiel Management) and we are working a lot more closely with the American College of Clinical Engineering than we have in the past.
DMBN:
What are the "must see" highlights of June's conference?
ML:
The show is completely sold out. We have 187 companies exhibiting and 34 that have never exhibited before. Dr. Robert Jesse – the principal deputy under secretary for health for the Department of Veterans Affairs -- is going to talk about system improvements at the VA. We also have a new wireless track, so this is the first time we have dedicated numerous sessions to one specific issue. We will also have several roundtable discussions on different issues, giving attendees the opportunity to share experiences and learn from one another. We have some new breakfast symposia and product showcases, along with a new mobile application that we are launching with the conference schedule on it.
Ray and I are both really excited about the profession coming together for this important community event. AAMI 2012 is a great place for people to connect and learn and feel part of something important, so we hope as many people that can be there will be there.
RL:
The energy I have seen at the past three annual conferences has been higher than anything I have experienced in a long time. It seems like each year the energy surpasses the previous year's.