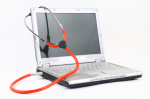 VNAs on the rise: forecast
May 18, 2012
by
Brendon Nafziger
, DOTmed News Associate Editor
Vendor Neutral Archives, which can manage and store medical imaging studies and other medical data from rival PACS, are on the rise, according to a new market forecast.

Approximately 5.4 percent of the 1.4 billion radiology studies worldwide captured by PACS last year ended up getting stored in a VNA, British market research firm InMedica Inc. said in a release Thursday. But by 2016, that number should rise to 31 percent.

Much of this is driven by hospitals' desire to make it easier to share imaging data. In InMedica's terminology, 65 percent of VNA studies in 2011 were "Level 2.0" or "Level 2.1," meaning VNAs used to share images across departments in an institution (Level 2.0) or across multiple locations in a community or health system (2.1).

But non-imaging clinical data are also increasingly getting integrated with the pictures, InMedica said, upping VNA storage projections. According to the firm, incremental VNA storage capacity could reach 114 petabytes worldwide by 2016, while PACS would hit 140 petabytes.

That's a lot of bytes. To put this in perspective, 1 petabyte is 1 quadrillion bytes. Or as a Gizmodo chart has it (from 2009), 1 petabyte would contain more than 13 years worth of high-definition TV video.

The report is The World Market for Medical Enterprise Data Storage-2012.