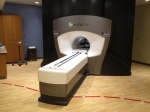 MRI-guided radiation therapy system gets FDA nod
May 31, 2012
by
Brendon Nafziger
, DOTmed News Associate Editor
An MRI-guided radiation therapy system that could help doctors better direct gamma rays to zap tumors received Food and Drug Administration clearance.

ViewRay Inc. said Wednesday it got 510(k) clearance for its integrated MRI and Cobalt therapy system, a device the Cleveland-based company has been working on bringing to market since the mid 2000s.

The ViewRay system lets doctors examine tumors in the body in real-time using the MRI scanner as they guide radiation therapy procedures. During a product demonstration last fall at the American Society for Radiation Oncology, the company said it could help oncologists treating diseases like lung cancer better confine the radiation to the tumor, which can move several centimeters every few seconds.

The news of the FDA clearance comes on the heels of a March announcement that ViewRay raised $16 million, closing a $45 million Series C round of venture financing that began two years ago. Investors in the privately held company included Aisling Capital, Fidelity Biosciences, Kearny Ventury Partners, OrbiMed Advisors and Siemens Venture Capital GmbH. Siemens also supplies the device's 0.35-Tesla MRI, according to a February Medscape article.

This also isn't the first FDA clearance the company has had. Last year, ViewRay got FDA's OK for treatment planning software used with the device.

Currently, only one system is installed in the U.S., at Barnes-Jewish Hospital's Siteman Cancer Center. But another system is currently being installed at University of Wisconsin Carbone Cancer Center, the company said.