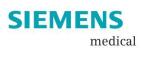 Siemens to buy ultrasound technology company
August 22, 2012
by
Brendon Nafziger
, DOTmed News Associate Editor
Siemens Healthcare said Tuesday it inked a deal to buy nearly all of the assets of Penrith Corp., a privately held company that's working on new ultrasound technology. Terms of the deal weren't disclosed.

In a press release, Siemens said the purchase would strengthen the "diagnostic capabilities" of its line of ultrasound units.

Siemens said that Michael G. Cannon, president of the Plymouth Meeting, Pa.-based company, would become vice president and general manager of ultrasound once the deal wraps up.

A Siemens spokesman told DOTmed News that all of Penrith's employees would be offered jobs at Siemens and the company would retain its offices, which are only a short drive away from Siemens' U.S. health care headquarters in Malvern, Pa. Siemens would not disclose the number of employees at Penrith.

In a statement, Cannon said his seven-year-old company's experience in the "miniaturization of ultrasound devices" will help expand ultrasound's role in medicine.

Siemens wouldn't reveal specific projects it wanted Penrith's technology for, but in an e-mail to DOTmed News a spokesman said it acquired Penrith's assets to "address new business segments" in fast-growing areas, such as portable, point-of-care ultrasound and ultrasound-guided interventional procedures.

Siemens said Penrith has not yet commercially marketed a product. However, in 2010, the company did receive Food and Drug Administration 510(k) clearance for Elettra, a compact ultrasound device, according to FDA documents.

Patents apparently filed by the company in the past few years include technologies for wirelessly transmitting ultrasound data from a transducer probe, and a system for evaluating the signal quality of wireless ultrasound imaging data.

The $3.9 billion global ultrasound market (as of 2010) is led by GE Healthcare, which holds a 24 percent market share, according to a recent Research and Markets report. Siemens' share was estimated at 12 percent, third place after Philips, according to the report.