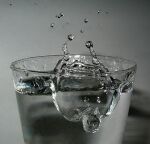 Guzzlers: Big U.S. hospitals consume 133 billion gallons of water every year
August 23, 2012
by
Brendon Nafziger
, DOTmed News Associate Editor
Large U.S. hospitals consume nearly 133 billion gallons of water every year, and account for one-seventeenth of major fuels used by commercial buildings in the country, according to a government report on hospital energy and resource consumption.

The report, published Monday, and which relies on 2007 data, was the first of its kind to examine hospital water consumption, according to the U.S. Energy Information Administration, which compiled the Commercial Buildings Energy Consumption Survey, from which the hospital data are drawn.

According to the report, the 3,000 or so large U.S. hospitals -- those with 200,000 square feet of floor space or more -- drink up about 44 million gallons of water on average, costing some $200,000 per building.

That works out to nearly 145,000 gallons per patient bed, according to water use spreadsheets that accompanied the report.

To put the number in perspective: the total amount of water used by hospitals in 2007 would fill up some 44,000 Oceanariums — a massive exhibit housing whales — in Chicago's Shedd Aquarium.

Water use varies by region

Aside from typical use of water -- for drinking and washing -- nearly all hospitals in the survey used it in sterilizers and autoclaves, devices that disinfect medical equipment and surgical tools.

Some 75 percent of hospitals in the survey needed water to irrigate outdoor lawns or gardens, and 88 percent used it for steam rooms, whirlpools, dishwashing and other big hot water consumers. About 17 percent of hospitals also had laundry on-site, the EIA said.

Water use also varied by region, with the Midwest having the highest consumption rates, at 76 gallons per square foot, and the Northeast the most modest, at about 56 gallons per square foot, on average.

Trillions of Btus

Hospitals are also massive consumers of the so-called major fuels. Big health care centers used up a whopping 458 trillion British thermal units in major fuels, with much of that natural gas, in 2007. That equals nearly 6 percent of all energy delivered to buildings in the commercial sector, according to the CBECS.

The CBECS said this breaks down to 2007 consumption totals of 208 trillion Btu of natural gas, 194 trillion Btu of electricity, 49 trillion Btu of district heat, which means steam or hot water used as energy, and 6 trillion Btu of fuel oils.

To drill down further, this works out to nearly 234,000 Btu consumed per square foot (usually rendered as 234 kBtu), or an average 151 billion Btu of energy consumption per building. With this rate of consumption, energy costs for these hospitals average around $16.3 million.

Methodology

The CBECS is released once every four years, the EIA said. The current report, "Energy Characteristics and Energy Consumed in Large Hospital Buildings in the United States in 2007," was developed using projections from a survey of 157 large U.S. hospitals, the agency said.

As a side note: the large hospital data are only a subset of the whole CBECS, but the rest of the report was marred by a faulty experimental data-gathering technique, the EIA said.