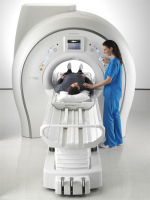 Hitachi touts first install of MRI with oval-shaped bore
September 17, 2012
by
Brendon Nafziger
, DOTmed News Associate Editor
Hitachi Medical Systems America Ltd. said Monday that a Cincinnati imaging center now houses the world's first commercial installation of its new MRI with an oval-shaped bore.

The Echelon Oval 1.5-Tesla MRI, cleared by the Food and Drug Administration in May, was installed at a Cincinnati center of ProScan Imaging, a 24-center imaging chain in the eastern United States.

The Echelon Oval boasts a 74-centimeter oval-shaped bore, touted by Hitachi as the among the widest bores in the industry. Most wide-bore MRIs have 70-centimeter openings.

Hitachi says the wider open is meant to make scans easier for claustrophobic or heavier patients.