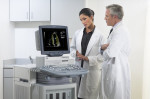 Siemens Showcases a New Level of Echocardiography
June 13, 2006
To to meet the evolving needs of today's echocardiologists, Siemens Medical Solutions showcased its comprehensive echocardiography solutions recently at the American Society of Echocardiography meeting. The introduction of the syngo(R) US will provide physicians with an unmatched offline workstation solution that enables ultrasound image post-processing, re-measurements, and advanced diagnostic application tools.

According to the American Heart Association, one in three adults has some form of cardiovascular disease (CVD).(1) By transferring ultrasound analysis from online to offline, Siemens is meeting cardiologists' demand for enhanced workflow and higher patient throughput in echocardiography, while taking diagnosis and treatment of heart disease to a new level.

"The syngo-dedicated ultrasound workplace makes ultrasound image data and post-processing applications available offline from the ultrasound system, thus increasing efficiency by changing the entire workflow," said Klaus Hambuechen, president, Ultrasound Division, Siemens Medical Solutions. "With diagnostic evaluations, measurements and reports performed outside the echocardiography lab, throughput can be increased considerably.

The first release of the syngo US for echocardiography comprises innovative applications, such as syngo Vector Velocity Imaging(TM) technology (VVI), syngo Auto Ejection Fraction (Auto EF), syngo Quantitative Synch Tool (QST), and syngo Auto-Tracking Contrast Quantification (ACQ).

For the first time, echocardiologists not only have Doppler-based assessment tools and synchronization capabilities using the syngo QST, but also the ability to assess left ventricular dynamics in patients with heart failure using syngo VVI technology without Doppler limitations. As a result, new insights into ventricular mechanics with quantitative echocardiography will help physicians assess patients' suitability for Cardiac Resynchronization Therapy (CRT), to assist in decision-making for heart failure therapy. The workplace solution also features syngo Auto EF measurement functionality that allows automated, rapid and reliable measurements of cardiac ejection fraction, thus providing a new level of consistency and accuracy in cardiac quantification.(2)

Siemens Medical Solutions of Siemens AG (NYSE:SI) with headquarters in Malvern, Pennsylvania, and Erlangen, Germany, is one of the largest suppliers to the healthcare industry in the world. The company is known for bringing together innovative medical technologies, healthcare information systems, management consulting, and support services, to help customers achieve tangible, sustainable, clinical and financial outcomes. Employing approximately 31,000 people worldwide and operating in more than 120 countries, Siemens Medical Solutions reported sales of 7.6 billion EUR, orders of 8.6 billion EUR and group profit of 976 million EUR for fiscal 2005. More information can be obtained by visiting www.usa.siemens.com/medical-pressroom.

(1) American Heart Association; Heart Disease and Stroke Statistics -- 2006 Update

(2) Comparison of novel artificial intelligence echocardiographic image analysis system with visual assessment of injection fraction by expert and novice readers.