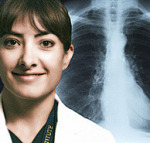 JACR: Radiologists save 'nonrenewable resource' of physician time
October 05, 2012
by
Brendon Nafziger
, DOTmed News Associate Editor
With the coming of value-based payment models in medicine, what can radiologists do to demonstrate they add value?

They should position themselves as purveyors of information, and should emphasize that the information they gather with scans helps save surgeons and other doctors the "nonrenewable resource" of time, according to a new paper.

Writing in the October edition of the Journal of the American College of Radiology, Dr. Christoph I. Lee, a radiologist and the Robert Wood Johnson Foundation scholar at UCLA, and Dr. Dieter R. Enzmann, a radiologist at UCLA, argue that radiologists should convince payers and policymakers that early imaging can provide actionable information that can result in lower downstream costs.

"Radiologists should highlight how proper investments in imaging, information systems, and associated consultative and coordination services can save even greater resources downstream, especially physician time, an increasingly scarce health care resource," they write.

Two factors are in play here. Doctors' time is one of the most expensive resources consumed in health care, and as more people use the system with the expansions under the Affordable Care Act, physician time will be at even more of a premium. Also, payers are exploring value-based payment models that focus on outcomes, rather than simply forking over money for services used.

These in turn could lead to new methods of reckoning the value of medical services. And one way to capture their true cost, putting in the calculations such things as staff time, is the so-called time-driven activity-based costing, or TDABC. Proposed by Harvard Business School professors Robert S. Kaplan and Michael E. Porter in the pages of the Harvard Business Review last year, this system looks at the total cost of all resources needed to treat a patient's condition in one care cycle. For instance, rather than examining the cost for a single imaging test, it would look at the global costs for all scans or tests required to reach a correct diagnosis.

And here radiologists could show value for the dollars spent on their professional services and equipment, Lee and Enzmann argue.

"One 'experiment' test might save time and replace numerous 'less expensive' tests (imaging and non-imaging) to arrive at the correct diagnosis, hence lowering total costs in time and money," they write.

For instance, an emergency CT scan for abdominal pain could lead to a correct diagnosis and treatment, and save time for surgeons, operating room nurses and support staff, or even prevent a longer hospital stay. Also, the scan, once taken, has a long "shelf life" in PACS where it can continue to be consulted for future patient care, especially if it's easily "mineable" for information with newer technologies.

"In essence, the initial acquisition of images becomes a fixed cost, but the continuous exchange or extraction of diagnostic information between radiologists and multiple downstream consultants is a matter of increasing returns," they write.

The article is "Measuring Radiology's Value in Time Saved."