As the economy finally starts to thaw, the medical chiller sector is heating up. From specialized 20-pound chillers that cool down patients before open-heart surgery to 30-ton behemoths that keep MRIs humming, customers can find – and afford – the best chillers to fit their individual needs.
"Business has been up," says Johnson Thermal Systems President Sheri Johnson. "I think people have been holding their collective breath in regards to the economy and many have decided it's safe to exhale. Projects can't be put on hold indefinitely, so people are finally starting to get things going again."
Chiller manufacturer Dimplex Thermal Solutions has experienced 70 percent growth over last year, added to 70 percent growth from 2010 to 2011. Haskris and Custom- Chill, Inc., also OEMs, both report that the same customers who dropped off in activity in 2008 are now back to purchasing at pre-recession levels.
Have it your way
Ever since chillers were first introduced, they have been manufactured to match specific cooling needs. Haskris, for example, started business in 1956 when the company owner was asked to design a chiller to cool the first generation of electron microscopes. Now, manufacturers are seeing a new list of specified requests to custom-fit space, increase efficiency and cater to new types of equipment.
"I think a lot of customers have unique requirements for their particular facility, and being able to provide the variations to best suit their applications is definitely a benefit," says Mike Marrone, president of Cold Shot Chillers.
Companies find that providing custom chillers helps give them an edge, especially over cheaper, foreign-made chillers.
"Foreign manufacturers generally standardize their products to rigid designs, sometimes without the ability to add special features often required by OEM imaging manufacturers to remain within specifications," says Kim Bernard, a sales application engineer at Dimplex Thermal Solutions. "This provides reduced pricing, but does not always allow for special needs like extreme ambient temperature ranges, seismic requirements or other desired operational qualities."
And while customized chillers are pricey (sometimes upwards of $70,000) end users often save in the long run in terms of maintenance costs.
"Customers have learned that the cost savings from a 'cheap' chiller are quickly offset by the high cost of downtime that is inevitable from a lower quality design, inadequate customer service and a lack of spare parts availability," says Dan Falotico, president of Haskris.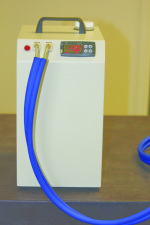 Besides MRI and CT cooling, customized chillers can serve other, smaller-scale purposes. CustomChill, a manufacturer of 20-pound and smaller chillers, provides chillers that cool skin before laser surgery and act as high-tech ice packs on joints.
"For us, a lot of customers look for chillers that are lightweight and create little noise, and we work to build chillers to fit that," says Solomon Reznik, vice president of Custom- Chill.
Green goes mainstream
The chillers sector has become more eco-friendly over the past several years, and manufacturers say the trend is here to stay.
"More and more companies and hospitals are going green," says Bernard. "It's standard protocol to request our designs' energy usage, efficiencies and reliability when requesting a proposal."
Customers have become so green-savvy that their requests can sometimes be challenging or even impossible to meet, Bernard says. "While customers would like to go without substances such as antifreeze altogether, that's not feasible in most instances," she says. However, Dimplex Thermal Solutions recommends propylene glycol use in their chillers, which is a safer, easier to use product gradually replacing the more toxic ethylene glycol.
Energy efficiency has also become an expectation. In fact, many municipalities now mandate energy efficiency standards on cooling equipment, manufacturers say. "We are using more efficient motors that consume less power, but that's more of an industry standard – it's not something special to us," says Cold Shot Chillers' Mike Marrone.
Haskris and Dimplex Thermal Solutions both offer chillers with variable speeds that adjust depending on the workload. Johnson Thermal System units come standard with energy efficient features such as digital scroll compressors, variable speed condenser fans and electronic expansion valves.
For CustomChill, the use of refrigerants and other toxic chemicals was not a concern because its equipment is electronic, but the company has still made improvements in reducing weight and energy consumption. "We're constantly working on that," says Reznik.
Important, but not yet earth-shaking, regulations
Like eco-friendly equipment, certain regulations have also become a part of many chiller manufacturers' day-to-day dealings, especially regarding the seismic requirements set up by the Office of Statewide Health Planning & Development in California.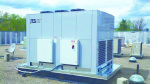 "It's not what I would call a big topic, but I would say it is becoming more and more prevalent," says Johnson of Johnson Thermal Systems. California has had the same standards since 2000, but now manufacturers say other states have started to look at increasing seismic requirements, especially in light of recent East Coast earthquakes and seismic events in other parts of the country.
To become OSHPD certified, a so-called "shake table" is used to test the response of chillers to verify their seismic performance, and it does exactly what it sounds like: shakes the chiller with a wide range of simulated ground motions, similar to recorded earthquakes.
"It requires a robust frame and cabinet design to sustain the chiller integrity during and after the event," says Bernard. "To pass these tests, the chiller must continue to be fully functional after the test is completed."
The requirements are meant to protect the public from the risk of equipment falling from rooftops or expelling toxic refrigerants during a quake.
Efficiency up, size down
While more powerful chillers are perfect for cooling down increasingly robust equipment, the space they take up can be a problem for hospitals and imaging centers. Because of that challenge, manufacturers are starting to see a move towards smaller chillers that still pack the same cooling power.
"A big factor is trying to keep the footprint and size of the chiller as compact as possible, because hospitals need to prioritize space usage," says Bernard. "If you can get to a point where you are using smaller components that give you the same cooling, that's always important to do."
In order to become more efficient, chillers' condenser coils need to be larger, Marrone of Cold Shot Chillers explains. "The challenge is to build machines with the larger coils within a smaller footprint," he says.
One solution is to use a split system, in which portions of the machine work outside. This method also helps reduce cooling costs if the operating facility is in a colder area, as the equipment can utilize chilly ambient air for cooling.
Other end users use one larger chiller rather than several small ones to save on space and improve efficiency.
"My hospital was building an imaging department that had several MRIs and CTs, but not enough space to have a chiller for each," says Tom Brinker, imaging service specialist at Trinity Mother Frances Hospitals and Clinics in Tyler, Texas, a Dimplex customer. "We found one that works for all of them, plus it has enough redundancy in the system to keep on supplying chilled water for all of those modalities without having a shutdown."
Communication is key
Going forward, chiller companies say customers are always looking to improve communication, whether within the operating facility among different departments or outside of it between chiller designers, manufacturers and maintenance teams.
"Communication features, such as BacNet, Lon, Modbus and PCOWeb have been increasingly in demand for medical applications in the past few years," says Dimplex's Bernard. "This allows for chiller monitoring from central building management systems, or even off-site monitoring, control and diagnostics."
Finding a chiller company that communicates effectively with customers was a top priority for Hitachi Medical Systems manager of service operations Jim Nestel. "We looked at the technical capabilities and technical support of the chiller manufacturers and how they manage their service network, which was a big thing," says Nestel, who selected Haskris chillers to offer with his Hitachi MRIs.
Clear communication helps ensure long-term reliability for chillers, manufacturers agree.
"In regards to the overall medical chiller industry, I would like to see improvement in communication between all the players in a medical chiller install and beyond," says Johnson. "If we could work together from start to finish, we would ensure the customer is getting the best solution in the quickest time frame for the best price."
DOTmed Registered DMBN November 2012: Chillers Companies
Names in boldface are Premium Listings.
Domestic
Kim Bernard, Dimplex Thermal Solutions
, MI
David Band, Oxford Instruments Service
, FL
Sheri Johnson, Johnson Thermal Systems
, ID
Dave Baldwin, Cool Pair Plus
, IL
Dan Falotico, Haskris
, IL
Randy Walker, Genesis Magnet
, IL
Marc Fessler, Independence Croygenic Engineering
, NJ
Marshall Shannon, Image Technology Consulting
, TX
Solomon Reznik, CustomChill
, PA
Bob Casto, Cold Shot Chillers
, TX
Larry Knight, Altima Diagnostic Imaging Solutions
, TX