It wouldn't be a stretch to say that radiography sales representatives have it pretty easy these days promoting direct digital radiography systems to customers.
"When our sales people walk into a situation they don't even have to convince a manager anymore," says Aaron Ybarra, Toshiba America Medical System's XR product manager. "Most just demand it."
Back in 2000, managers probably needed some prodding, but today, DR seems to be the standard in most U.S. hospitals, with the advantages of efficiency and patient care being key points in its favor.
"The main benefit is productivity and overall workflow," says Helen Titus, worldwide marketing director for X-ray solutions at Carestream. "They may have had two to three rooms with CR [computed radiography], but they can have the same through-put with DR using maybe one room. Also the benefits of lower dose and having that instant access to images, which in certain situations like the OR, can have good patient outcomes," she says.
Wireless detectors on DR systems are the most recent advances in the market over the past two to three years. They facilitate the configuration of an X-ray image in less than three seconds via a transmitter device built into the detector.
"It's eliminated all the cassettes and eliminated the process of sticking them in a reader and waiting for images to come up," says Ybarra.
According to Arne Helbig, director of global marketing for diagnostic X-ray at Philips Healthcare, with no more cables tethering detectors to a wall, wireless capability gives providers the ability to position the device more freely around the patient.
"It's about efficiency and workflow and getting the patient in and out of the room as quickly as possible," says Helbig.
And in the mobile environment, it's about being able to bring the detector to the patient.
Detector sharing
Efficiency often justifies the higher cost of the DR detector, according to experts interviewed for this story. Before wireless, facilities often invested in two detectors but now, one can suffice, helping reduce costs.
"Detectors are the most expensive component and you can have a single or two detector system, and with multiple rooms, you can share the detector," says Pierre Niepel, director of the radiography and fluoroscopy segment at Siemens Healthcare.
Almost all OEMs have introduced some form of detector sharing into their systems. At RSNA last year, Philips showcased detector sharing on its radiography equipment. This type of setup is ideal for many health care facilities — rather than having an expensive detector sit idle for periods throughout the day, a single detector can travel from the radiography or fluoroscopy room in the morning, to the ICU on a mobile unit in the afternoon.
Carestream's Titus says the company has been trying to build a portfolio of products around the same detector and software over the past few years.
"If a facility invests in our DR equipment, they can then share the detector among a variety of pieces of different equipment to maximize the ROI [return on investment]," she says.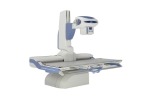 Canon followed Carestream's lead in retrofitting analog systems with DR detectors, something it calls "enterprise solution technology," where a Canon DR detector can to be used in other systems.
"We have detector technology that allows us to go back to competitive systems and analog systems to upgrade at a fraction of the cost," says Bao Ho, director of sales and marketing at Canon.
For instance, if a facility bought a GE Healthcare mobile X-ray analog unit a few years ago, instead of sacrificing that investment, the Canon detector can merge with that analog system and upgrade it at a fraction of the cost.
While most large facilities have likely made the full transition to DR, conventional X-ray—and certainly CR—still have their place.
"I am still getting more requests for quotes for conventional rad rooms than DR; especially when they understand that they can upgrade to DR easily at a later date," says Pete Schliebner, president of Benchmark Imaging Group in Strongville, Ohio.
Dose management
Radiation safety and dose management have received increased attention over the past few years not just from inside the industry, but from policymakers and the general public as well. As of July 1, California law requires dose reporting for CT exams. According to Shawn McKenzie, CEO of Ascendian Healthcare Consulting based in Sacramento, and a speaker on the issue at AHRA's annual conference this summer in Orlando, Fla., "the legislation is spreading."
Other experts agree protecting patients from unnecessary dose has come to the forefront of regulatory agencies, patients and practitioners for CT and now X-ray too.
"New international standards for exposure and deviation index and dose structured reporting are moving fast," says Robert Fabrizio, director of marketing for digital X-ray and ultrasound at Fujifilm Medical Systems. "Hospitals are beginning to look for and value functionality geared around these coming new requirements as they look to comply and differentiate from their competition."
Fujifilm introduced dose tracking functionality into its workstations almost two years ago and has recently released enhanced functionality for dose structured reporting.
Fabrizio says it's no surprise some departments are justifying purchases based on how and how much they will be able to lower dose with technologies such as DR. As a result, more pressure is being placed on manufacturers not only to have lower dose technology, but also to help facilities track and report dose.
"A lot of committees and associations and organizations are setting guidelines and recommendations right now, a lot is in draft form, but it's coming and managers are all teed up," says Ybarra. He also believes that dose registries will follow soon.
The Medical Imaging and Technology Alliance (MITA) and the U.S Food and Drug Administration have been working on an initiative to make sure that necessary dose and patient information, like age and weight, for X-ray imaging procedures are recorded in Digital Imaging and Communications in Medicine (DICOM) radiation dose structured reports, which can then be easily transferred to a dose registry.
In line with this, Toshiba introduced DICOM radiation dose structured reporting on all its new Toshiba Infinix-i vascular X-ray systems. Each X-ray event for a patient is recorded from beginning to end and recorded on the PACS system for the providers to manage and evaluate.
Carestream also has dose management software features on its DRX-Evolution DR Suite.
"We have administrative analysis and reporting software that helps a facility get reports on all Carestream equipment in terms of what exam, what technology and what dose was seen," says Titus. Carestream includes the feature on all its systems but Titus says it's most critical on mobile units, with the idea that it's being used for the sickest patients in the intensive care unit.
More recently, the FDA has bolstered its efforts to reduce and control radiation dose for pediatric patients. The FDA is working on final guidance rules for a proposal called Pediatric Information for X-ray Imaging Device Premarket Notifications, which will recommend that new X-ray imaging devices be manufactured with protocols and instructions that address use on pediatric patients.
Based on that FDA guidance, Carestream recently introduced software with pediatric patients in mind. Now, the company's dose and imaging processing can be tailored to seven different body weights and sizes. "You can fine-tune the dose and get the best image quality based on the size of the patient. We continue to look at ways to help the facility because they are concerned with the overall dose a patient is seeing," says Titus.
"Numerous studies, including AAP [American Association of Pediatrics] and SPR [Society for Pediatric Radiology] have concluded that neonates and children are the most vulnerable to the possible risks associated with radiation exposure," says Joan Silverio, marketing manager for Kubtec. "In addition to the cumulative effects of X-ray exposure over a lifetime, a child's rapid growth rate increases sensitivity."
Kubtec received FDA approval last October for the portable DIGIVIEW 250 system for pediatrics, particularly those patients in the neonatal intensive care unit. The system uses a CMOS flat panel digital detector and works with existing portable X-ray systems.
Other vendors, like Philips, incorporate default settings in the system based on a person's date of birth.
In addition, depending on the DR detector technology, lower-dose can automatically be achieved. Experts say that DR technology, which consists of caesium iodide scintillator detectors, automatically bring dose back to what was achieved with regular film (CR has a higher dose than film).
"The gold standard is caesium iodide technology and this one is most effective in converting the radiation into a usable image," says Ybarra.
Improved image processing is helping to achieve lower dose imaging—since improved processing can take lower-dose information and turn it into a crisp X-ray image. Most vendors have post-processing algorithms that improve quality, reduce noise and enhance detail.
Viola Fernandes, radiography product manager at Siemens, says they also have grid options (for pediatrics it's important that they can be removable from the system) to help reduce scatter radiation and improve image quality. Low-dose filters can also be used to separate out soft radiation that is absorbed by the skin and doesn't contribute to the image.
The rumors of fluoroscopy's death have been greatly exaggerated
Despite some claims that fluoroscopy is dead, Siemens sees the market coming back in a positive way. At last year's RSNA, the company was the only OEM that introduced a new system— the Luminos Agile—which they claim increases image quality by up to 116 percent compared with older systems.
Philips' Helbig says fluoroscopy is still a large and stable market.
"It may look like image intensifiers are dying out, but in the end for standard GI work, speech work, and functional studies, often the temple resolution of an image intensifier is better than flat detector," he says.
Siemens' Niepel says he's even seeing a new clinical focus for fluoroscopy opening up with bariatric surgery, which has become a popular weight-loss option among obese patients.
Canon has a dual-purpose radiography and fluoroscopy system that frees up the dedicated fluoroscopy room — typically an unused room in the afternoon since fluoroscopy exams are performed in the morning.
"Radiologists really like that they don't need two systems," says Ho.
Ultimately, it looks like fluoroscopy is not only holding on now, but will be around for the foreseeable future.
DOTmed Registered DMBN November 2012: Radiographic Companies
Names in boldface are Premium Listings.
Domestic
Ted Huss, Medical Imaging Resources
, CA
DOTmed Certified
DOTmed 100
David Denholtz, Integrity Medical Systems, Inc.
, FL
DOTmed Certified
DOTmed 100
Ron Ragan, Medallion Medical
, FL
DOTmed Certified
Steve Layton, Steve Layton X-ray Services, Inc.
, GA
Aaron Ybarra, Toshiba
, CA
Helen Titus, Carestream Health
, NY
Rob Fabrizio, FUJIFILM Medical Systems USA, Inc.
, CT
Mark Forcier, JD Honigberg International
, IL
Glenn R. Hammerquist, Berrien X-Ray
, MI
Christina Donegan, Innovative Diagnostics, Inc
, MI
Mike Neumann, Rad Removal Co
, MO
Marilyn Jaccard, Diagnostic Imaging Sales
, NJ
DOTmed Certified
Ryan Gilday, Clinical Imaging Systems
, NJ
DOTmed 100
Ian Alpert, Tandem Medical
, NY
DOTmed Certified
DOTmed 100
Robert Manetta, Nationwide Imaging Services
, NJ
DOTmed Certified
DOTmed 100
Scott Sobolik, Superior Radiographic Systems
, ND
Joe Brock, Troff Medical
, NC
DOTmed News, DOTmed.com, Inc.
, NY
DOTmed Parts, DOTmed.com, Inc.
, NY
Robert Muzzio, GXC Imaging
, NY
HUGH COTTY, JC MEDICAL EQUIP.CO.,INC
, NY
Pete Schliebner, Benchmark Imaging Group
, OH
DOTmed Certified
William Mansfield, Professional Installations
, OH
Tony Smith, Classic Diagnostic Imaging
, OH
DOTmed Certified
DOTmed 100
Joseph A. Nelsen, JOJ-XRS
, TX
DOTmed Certified
Juan Sandoval, Monterrey Medical Equipment
, TX
Brian Doak, Radon Medical
, VA
David Trask, First Call Parts
, VA
Tom Luque, ECS Nuclear
, WA
International
Mads Vittrup, AGITO Medical
, Denmark
DOTmed 100
David Lapenat, ANDA Medical
, Canada
DOTmed Certified
DOTmed 100
Fred Fischer, FMS X-Ray Services
, Canada
Davide Scafa, i-MED
, Italy
Hans Feitz, RTService Pty Ltd
, Australia
Manuel Maia, EQUIGERAX
, Portugal