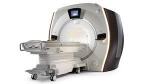 RSNA 2012: GE seeks to silence a common MR complaint
November 26, 2012
by
Sean Ruck
, Contributing Editor
Noise generated during MR procedures seems to be the final hurdle in delivering better patient comfort after wider and shorter bores helped address claustrophobia concerns. At this year's RSNA, GE Healthcare is positioned to clear that hurdle with one major technological leap. Silent Scan is GE's solution to the unwelcome noise generated during an MR scan.

In the past, dampening or muffling components were used in MR to try to mitigate the noise that could sometimes surpass 110 decibels — roughly the sound level of a rock concert. However, there isn't any muffling or sound dampening with Silent Scan. Instead, the technology decreases the MR sound by getting to the source of the noise. The culprits are the gradient coils in the machine. The gradient coils are the "fine tuners" that allow the imaging to focus on the particular areas to be scanned. The rapid on/off or pulsing of these gradient coils and the magnetic fields they introduce lead to vibrations within the machine, delivering that uncomfortably loud noise. "It doesn't jump back and forth in gradients anymore, it just adjusts them a little bit," says Richard Hausmann, president and CEO, GE Healthcare MR. "And it delivers image quality absolutely comparable to a standard, traditional loud MR."

And that little bit makes a big difference in the patient experience. The technology is currently 510(k)-pending for the Optima 450W 1.5 T, but GE will likely offer the option for all its machines in the future.

If you don't believe an MR's noise can be reduced to near background sound just by tweaking the programming, in this case, hearing is believing. Check out the demo video to get a better understanding of the difference delivered by this new technology.