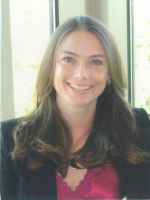 RSNA 2012: PET-CT scans reveal "chemo brain"
November 28, 2012
by
Brendon Nafziger
, DOTmed News Associate Editor
Women getting chemotherapy for breast cancer demonstrate changed glucose metabolism in the brain, as revealed by PET-CT scans, giving some functional imaging evidence in support of an unpleasant, post-therapy mental fogginess called "chemo brain," according to a small study shared Tuesday at RSNA 2012.

"Basically we have patients that are describing the sensation of having a foggy brain, not being able to make decisions and participate in their daily lives," study author Dr. Rachel A. Lagos, a radiology resident at West Virginia University School of Medicine, told reporters at a press conference Tuesday morning in Chicago. "We're seeing evidence of PET-CT that is diagnostic for this phenomenon."

Lagos said that earlier research suggests that chemotherapy is associated with memory loss, concentration troubles, delayed response time and other signs of cognitive decline, but that there hasn't been a lot of physiological evidence for it.

In her preliminary study of 21 women, she looked at PET-CT scans of her patients right before undergoing chemo and 12 months later, with the pre-chemo scan serving as the "baseline" of their brain's metabolic activity. Women served as their own controls because their metabolic activity differed markedly from each other even before starting treatment.

She said all patients showed a decline in their brain metabolic activity after chemo, with two of the 63 brain regions investigated showing a statistically significant drop. These two regions, the superior medial front gyrus and the temporal operculum, are associated with problem-solving and long-term memory, respectively, she said.

The range of the drop, by z-score, which measures the amount by which the brain's activity differed from that of a normal, pre-chemo brain, was between 2.5 to 8, she said. One surprising finding, she said, was that most patients' left hemispheres were more affected than the right, possibly because most patients were right-handed.

She said it's not known how chemo affects the brain, or even if it affects it directly, but it could involve cytokines or demyelination of nerves. "We're not sure what's the cause and what's the effect," she said. She also said she didn't know if certain chemotherapy regimens were more likely to induce "chemo brain," as that wasn't accounted for in the current study. However, she said it's one of the issues she might investigate in a larger, prospective trial she has planned.

As for the patients who had chemo brain, she said the condition usually resolves itself over time, but doctors can help them manage their cognitive lows by teaching them coping strategies. For instance, women who want to cook family meals but are too confused or forgetful to plan for them because of a possible chemo reaction, could be given a daily list to follow, she said.