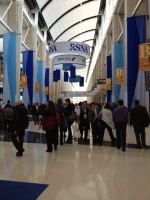 Did attendance fall at RSNA 2012 because of a lack of "technology breakthroughs"?
December 07, 2012
by
Brendon Nafziger
, DOTmed News Associate Editor
The Radiological Society of North America's 2012 annual meeting in Chicago last week was a "low-key" show that wrapped up "another slow year for technology innovation in medical imaging," according to an event post-mortem by a Frost & Sullivan analyst.

However, the analyst said he was "bullish" on imaging informatics, as it has intrinsic strengths that don't depend on modality innovation.

"My general impression is that for the most part, the major PACS vendors have their game together going into 2013," Frost & Sullivan analyst Nadim Michel Daher said on a webcast Thursday.

Attendance at RSNA 2012 fell by some 9 percent, according to early unaudited numbers shared by the society on its website this week. Preliminary totals for the last day of this year's show stand at 52,980, compared with last day totals of 58,232 in 2011. (Total audited attendance last year was even a smidgen higher than that, at 59,097).

Ongoing world economic troubles probably have something to do with lower numbers, as does a new policy that charged guests for registration (guest attendance was down by almost one-third most days, according to the preliminary account).

But Daher said falling attendance could have to do with the perception people wouldn't find "much innovation" or many "important things this year."

"It's true, on the show floor there weren't major technology breakthroughs, as far as new announcements that would be a game changer for a core modality, for example," he said. However, he did add that there were a number of "significant advances" shown for equipment, from increased computed tomography scanner rotation speed to technologies that reduced radiation dose.

"Slice wars" ends

Daher said one big change was that RSNA 2012 might mark the end of the so-called "slice wars," which had vendors of CT equipment competing — at least in their marketing — over which machine has the most slices.

The slice measuring contest was abandoned, Daher said, as vendors now emphasize more affordable, mid-tier 64-slice systems, possibly to compete with growing ranks of Asia-based competitors offering lower cost fare. Siemens Healthcare, for instance, showed a 64-slice CT scanner that will go for around $500,000 and was largely made in China.

"That's really indicative of the attention of the vendors," Daher said.

Dose-tracking

On the imaging informatics front, Daher said vendors are pushing third-generation PACS offerings that support "enterprise imaging." In this, many developers are switching the emphasis from productivity tools to business intelligence and analytics dashboards that allow better monitoring, control and communication.

"The relationship of radiologists with their referring physician communities is the hot topic in the radiology community and I think the imaging informatics vendors are overwhelmingly selling to support better communication," Daher said.

Another big push is radiation dose tracking software. The obvious driver here is California's recent law that requires radiologists performing CT scans to record doses delivered to patients, but Daher said dose-tracking is taking off even in states that don't legally require it.

GE Healthcare has been offering software in this field for a while, with its dose collecting and monitoring program DoseWatch. But at RSNA, Agfa Healthcare demonstrated its work-in-progress IMPAX Radiation Exposure Monitoring, and Sectra launched DoseTrack.

Of note during the show, Bayer HealthCare announced they were buying Radimetrics Inc., which makes software called eXposure that tracks organ dose. Bayer could use this not just for tracking ionizing radiation dose from the scanner but also contrast dose, Daher said.

"We really saw Bayer do a very smart move in trying to position itself in this area," Daher said.