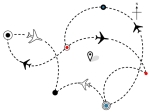 DOTmed is participating in four trade shows in the coming days
February 27, 2013
If you're not going to be traveling to the upcoming trade shows in our industry taking place this week and next, you might want to read our news. DOTmed will be attending the annual conferences for ENA (Emergency Nurse Association), HIMSS (Healthcare Information and Management Systems Society), AORN (Association of PeriOperative Registered Nurses), and ACC (American College of Cardiology). We'll be writing about these shows too.

Our magazine editor, Sean Ruck, will be at ENA on Friday moderating a panel about point-of-care blood testing.

Nancy Ryerson is attending HIMSS next week in New Orleans. Nancy has never been to New Orleans so it's going to be an extra bonus for her to attend the show and visit a great city. I've recommended Mr. B's Bistro for dinner.

Carol Ko is off to the West Coast next week, first attending AORN and then ACC. This is DOTmed's first time at ACC.

Our journalists have already set up 40 plus meetings at these shows and we expect to be sharing our content with you on our news site and through Twitter. (Our handle is @DOTmedcom in case you want to follow us on Twitter and don't already.)

If any of you are attending any of these shows and have interesting news to share, let us know because after all there are 18 working hours in a day and we should have a few minutes for you.