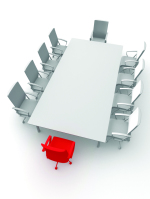 Clinical engineering in an age of reform
May 30, 2013
by
Brendon Nafziger
, DOTmed News Associate Editor
DOTmed News sat down with some of the country's leading biomeds and covered some big topics: integrating with IT departments, the impact of new CMS rules, and moving from simply fixing devices to handling the full equipment lifecycle. Here's what we're calling our first online symposium of healthcare technology management.

Way back in 2007, clinical engineer Patrick Lynch wrote "Dinosaurs of the 21st Century," a much-discussed article published in AAMI's biomed technology journal. It sounded the alarm for the field, warning that if biomeds failed to keep up with the increasingly networked nature of medical equipment, they risked becoming the health care equivalent of the saurians of old — outmatched by nimbler, more adaptive competitors and facing extinction. Fast-forward six years later, and you can see the trends Lynch witnessed are still going strong, and devices are more networked than ever before. "In the past, patient-care equipment's only connection with the world was a power cord," Lynch tells DOTmed Business News. "Except for networked bedside monitoring, there was no need for medical devices to connect with the outside world. Now, everything is talking and listening."

Biomeds are facing new pressures, too. Just like their other peers in health care, they're being pushed to control costs and help facilities navigate the choppy seas of national health reform. And since Lynch wrote his article, the very name of the discipline changed. Over the course of two industry meetings in 2011, "healthcare technology management" was adopted as the catch-all term for the field, partly to reflect how the profession has evolved over the past decade.

But many challenges remain, from the cultural struggles of working closer with IT departments to divisive new Medicare rules. Plus, biomeds are becoming more important than ever for a hospital's bottom-line, getting involved in the complete lifecycle of equipment, from purchasing to repurposing. To understand what's happening in the field, DOTmed News asked leading clinical engineering chiefs from around the country to comment on the industry. What follows is an edited account of their responses.

DOTmed: About two years ago, at a series of Future Forums hosted by AAMI, "healthcare technology management" was chosen as a new name for the field that repairs and maintains medical equipment. Part of the rationale behind the name was that biomeds no longer can just have a supporting role they're playing a more active part in the life of the hospital. What do you think about the new name, and why is this happening?


Greg Mika, manager of the clinical engineering department at Martha Jefferson Hospital, and president of the Virginia Biomedical Association: Clinical engineering is definitely becoming more important to the overall hospital. We were the guys behind the scenes who fixed something that broke. Nowadays, with electronic medical records and all the networked devices, we've become so much more.

(Hospital executives) are also starting to realize they need us more. In my health system, we built a new hospital and moved in almost two years ago. I was involved in the planning process from the very beginning. In years past, that might have been an afterthought.


Steve Yelton, chairman of electrical engineering technologies department, in the Center for Innovative Technologies at Cincinnati State Technical and Community College, and member of AAMI's Technology Management Council: I feel that biomeds and particularly hospital leadership should embrace this name of the field and consider that for their clinical engineering, biomedical engineering, or like-named departments. It is important to note that at this point, only the profession name "Healthcare Technology Management" has been chosen. It would be great if the department names within hospitals could become (the) "Healthcare Technology Management" Department. The director of the department may be director of Healthcare Technology Management. This would be a great first step in standardizing our profession name.


Heidi Horn, vice president of clinical engineering service with SSM Integrated Health Technologies, and a member of AAMI's TMC: I would argue (and my colleagues may disagree), the people who participated in AAMI's first Future Forum did not rename the field that solely repairs and maintains medical equipment. They named a NEW field — healthcare technology management — that encompasses much more than just maintaining medical equipment (albeit maintenance is a part of it).

The name, Healthcare Technology Management, also takes into account that the lines between medical devices and Information Technology (IT) are becoming blurred. It's not hard to imagine that in 10 years almost all medical devices may be computerized, on a network, and/ or interfaced with other systems or software. Effective HTM professionals must have an understanding of
both medical equipment and IT.


Steve Vanderzee, manager of clinical engineering technology at Advocate Health Care, and president of the CEAI: Are we really biomeds or clinical engineers, is that (name) still a good representation? Because we do a lot more. However, I don't agree personally with the current name. The name we have now certainly implies a lot more about who we are and what we do. But the struggle we have is that our customers will probably always know us as the biomed shop or as biomed techs. The challenge is, now that we've agreed on the new name, how do we now get that out to our customers and make sense of it for them?

(As for our changing role,) I'm probably in an unusual situation. I started in the Air Force just out of high school, when I was 19 years old, and I've been in the business 30 years now. All along I've always been in an organization that embraced the biomed department as a resource, beyond "those are the guys who fix my equipment when it breaks." When I was in the Air Force in the 1980s, we were doing product evaluations. When I went into the private sector, I was with an organization, Service Master, and we had a very robust program with a large county hospital, and we were writing the request for proposals for capital equipment.

But I wasn't just lucky — you have to step up to the plate. You have to stay engaged and knowledgeable about
what's happening in health care beyond what we maintain every day. You need to know about health care business, and how health reform is impacting that business, and what the CEO is thinking about every day, and what's keeping CIOs up every night. You need to converse on a CEO level, an IT level — and if you do, you'll be offered an opportunity to sit at the table. I've never been at a facility where someone has said, "We have enough people to do the job." Some of it's the nature of people in our business. Some are introverts. They're more likely to keep things inside and not communicate. Some have better communication skills than others. I think that's been a limitation.


Scott Bosch, manager of biomedical engineering Park Nicollet Health Services in Minneapolis, and president of the North Central Biomedical Association: (The name) has been well received within our association. I think nobody has changed anything yet with regard to job title, but it's certainly on everybody's mind. I'm on the advisory board of Dakota County Technical College, and they have a biomed program. It comes up – when are you going to change biomed to HTM? Probably once we see a bigger push from third-party vendors and charter vendors, once AAMI starts calling us all HTM techs, and once schools start changing their programs.

We're no longer considered bench techs, we're no longer considered just service people, but we have a role in the cradle to grave support, the useful life of the equipment, which has proven itself more involved than capital costs. That's why it's important to have an advocate, someone immersed in the medial technology profession to make a decision on the disposition of your medical equipment, or reallocation, or whatever you're doing with older equipment at the end. I don't think finance and purchasing can make that decision alone anymore, given the huge expenditure on maintenance.

Over my entire inventory of medical equipment, there's equipment that's lasting longer but there's also equipment that requires less service. I see us recognizing that, and shifting the time we spend away from doing bench repair, replacing electronic components or power supplies that just don't fail as often anymore.

We're prioritizing and working more in the total cost of ownership. Five to 10 years ago, we were doing 30 percent benchwork, but that number has dropped to 10 to 15 percent.

DMBN: In his 2007 article "Dinosaurs of the 21st Century," Patrick Lynch warned that many biomeds risked becoming redundant if they failed to develop IT skills and were unable to cope with increasingly networked devices. Six years later, what are the skills biomeds need to stay relevant to their employers?

Greg Mika: You definitely need to know IT related stuff and networking. I encourage my technicians to take classes, because if you don't know anything about it, you're going to be completely left in the dust.

Everything is IP addressed and connected, and if it's not connected to the hospital network it has its own network. Our sterilizers and washers and disinfectors have an IP address and are tracked via software systems and connected via the network. Sometimes what would have been a repair might just be a network issue or connective issue, and you never dealt with that five or 10 years ago.


Dale Hockel, senior vice president of operations at TriMedx: Ideally, what you're doing with your current staff or those you hire, you want to get ahead of the learning curve, whether that's clinical engineers or IT professionals. You look for folks that have an understanding of networks, or network communications and systems, including hardware and software and protocols.

I always chuckle when someone says, "Here's my start and stop point." Historically, we said the IT group took care of everything behind the wall in the patient's room, and everything within that wall is what the clinical engineer takes care of, and that's what is being blurred. Say, there's a virus on a device. So I go in there as the BMET, I reload the software, I get rid of the virus, I put it back on the network, and bam, I got my virus again. It's never a cookie cutter problem. You've got to have discussion and integration [with IT].

Steve Yelton: Six years later IT skills in addition to the tried and true: electronics, optics, mechanical systems, networking systems, biomedical instrumentation, anatomy and physiology, etc. are still necessary in order for biomeds to stay relevant. In addition to this, there were over 1,200 skills that we received when we asked professionals in the field what skills they felt a biomed should possess.

Heidi Horn: Pat is correct on this point. IT skills are absolutely imperative to being able to support and make recommendations on today's clinical technology. At some point in the future, we no longer will differentiate between CE and clinical IT. Eventually, Healthcare Technology Management will encompass all clinical technology inclusive of the medical devices and the servers, software, middleware and networks that interface with those devices. I realize this is a controversial statement and creates angst among traditional BMETs and IT folks. I am not suggesting we'll all be replaced….not if we stay current with the changes in health care technology and the needs of our hospitals. Those who are willing and able will adapt and even advance in the future. Those that refuse to learn and adapt will meet the same fate as the dinosaur. BMETs no longer have many years to prepare for this change. It's happening now and happening very quickly.

In addition to IT skills and the traditional skills needed to be an effective BMET, I also would add project management skills are now a necessity. Medical devices are no longer planned for, purchased or installed without involving a multitude of stakeholders. HTM professionals must be able to work with (and often lead) these groups (many of whom have conflicting agendas and priorities) to ensure the devices and systems meet the clinical and technology needs of the organization and are installed on time and within budget.

Steve Vanderzee: What we work on now on devices is different. In the past, a feature on the device needing to be fixed would be a component or an assembly that failed. We still have equipment failing and we still repair it, but now we find ourselves spending more time on other problems —this device isn't connected anymore, it isn't sending images to PACS, why can't I download this file?

All the systems that used to be proprietary and standalone are now integrated with the health information system. Now I can't just go and set up my own server, I have to have a relationship with the IT counterpart, who maintains the server closet or server room. It's a relationship journey. It's like, why would I let someone into my server room? Who are you, what do you do? In the past, we just didn't know each other. We kind of worked independently and were happy with that and it worked well. But the tech has evolved and integration has evolved.

[Biomeds] really need to understand wireless. When you look at the IT world, more and more things are being pushed to the wireless environment. And there are a lot of challenges in the wireless environment. We need to be up to speed about how that's evolving. We tend to sometimes say, "It's wireless, now we can connect." We can, but should we? Do we really understand what else is hanging off that wireless network? And if the network goes down, what's our backup plan? Do we have a downtime procedure?

Scott Bosch: Because of meaningful use, because of interoperability, because of multiple EHRs, because of multiple middleware companies, because of IEC 8001, all these different network parameters and standards and workflows, you have to be able to speak the same language as your network administrators. Without it, you risk having IT take a component of your medical equipment inventory related to networks, because the users will demand network interoperability with those devices. If you're going to have ownership of the total lifecycle of the equipment, you have to know how it's connected to the network.

One thing I always look for as a hiring manager is customer service and familiarity with dealing with clinical staff. You are the frontline liaison between caregivers. So if you're going to be a biomed tech, you have to know what a lap coil is, you have to be familiar with sterile processing standards and sterile technique in an OR. You have to know a little bit about your work environment as it relates to the caregivers and your customers. But it's difficult to do.


Patrick Lynch, president of Healthcare Technology Management Association of South Carolina: HTM staff need to become much more knowledgeable about not only the big picture concerning the digital hospital of the future, but the detailed working and interactions that relate to medical devices. For the overview, I recommend the training program developed by the ONC to train experienced health care workers to be a part of the implementation of the digital hospital. I also see that every BMET and engineer needs A+ certification. Some will need Network+. But these skills will be lost if they are not used in one's daily job. It seems to work better if the necessary IT skills and knowledge can be incorporated into the basic training for specific medical equipment. For example, when teaching ultrasound, all aspects of reporting and image transfer should be discussed. This includes configuration, image export and PACS interconnection.


Fred McMurtrie, president of Florida Biomedical Society: I conditionally agree with Pat's statement. However, I don't believe that every biomed needs to become a certified network engineer. What we should have and what I think Pat is getting at are the basic understanding of how IT works and a rudimentary vocabulary of HIT terms. This will allow us to converse intelligently with our health care information technology team. However in the broader sense, biomeds need to have a basic understanding of all the technologies. I have been working in this profession for almost 30 years, and I can tell you that change is inevitable. You will never learn all you need to know without self study and dedication to continuing education.

DMBN: As some of you have mentioned, CE and IT departments are required to collaborate more and more — up to the point where, in the words of Ray Shingler of Spartanburg Regional, cited in an Aramark advertorial, "the gap between biomed support and technology support" has narrowed. Similarly, a recent ECRI Institute "informal poll" found about one-third of CE departments report directly to the CIO or IT department head. What are the main challenges in getting CE and IT departments working together, and how can hospital leadership make sure this integration goes smoothly?

Dale Hockel: I would say it's mixed. For one of our major customers, we just shifted over to the CIO, but there are still many other customers who have not changed that reporting structure. Because of health care reform and financial pressures, there's still a high emphasis on reporting to the CFO and COO.

Heidi Horn: It is unfortunate, but it has been my experience that many CE and IT departments simply don't trust in each other's abilities. In general terms, CE people view IT people as being disconnected from the patient and lacking a sense of urgency or willingness to fix it themselves (versus calling a vendor). IT people view CE people as "wrench turners" who are not as well-educated as they are and reluctant to follow proper processes. Like all stereotypes, there may be some people who match this description but many others do not.

There is also an undeclared turf war going on between CE and IT departments. More and more devices/systems and clinical software packages are falling into that "gray zone," where they're not exactly a standalone medical device but they're not strictly an IT system either. Which department steps up to the plate to manage these systems will determine whether the HTM department is run by people with a CE background with IT expertise or IT people who have learned to manage CE. Regardless, there is no denying it is in the best interest of the hospital if both departments are working closely and harmoniously together. While many hospitals have managed to forge an alliance between CE and IT without having both parties report to the same boss, it seems to be the exception more than the rule. Because of the cultural differences and inherent turf battles, I think having a single leader over both functions makes integration smoother. It ensures more alignment with priorities and a single point for escalating issues. Because the CIO in traditional hospitals and systems typically outranks the CE leaders due to FTE count and budget, they usually are given the job of managing both.

Scott Bosch: I work for the engineering and maintenance department; the director of engineering and maintenance, he reports to the VP for real estate support, and he reports to the CIO. It has been a trend in the past several years that CE and IT departments merge or their leadership is reorganized, or the leader of IT is leading the biomed department. It certainly has pros and cons. I like the idea of working with IT on projects, on the capital analysis and the resource request. But I'm also happy to work with the capital maintenance department.

Your question points towards the fact that the gap has narrowed. That's going to occur whether we like it or not, and whether or not leaders recognize it. The best way for biomed professionals [to succeed]: know who your IT cohort is. Who's at the kickoff meeting for IT projects? We've done it at the grassroots. I know who the IT project managers are. They include me in their planning meetings. When I have a question on how an update might affect the network, I involve them. We just do it almost instinctively.

Patrick Lynch: The main difficulty in bringing these two departments together is one of culture. They operate at the opposite end of the spectrum. HTM has a culture of doing anything that is required to get the job done and enable the clinical user to successfully treat the patient. Biomed is almost always the "go-to" department when users don't know who else to turn to. Consequently, biomed always has a stellar reputation in the hospital, primarily because of their responsiveness and honest dedication to the mission of the caregiver.

IT, on the other hand, almost always has a poor reputation. The help desk is ineffective, follow-through is rare, and they often use the phrase, "That's not my job — you need to call XXXX for that." They seem not to take ownership of their customer's problems.

To create an effective team that truly serves the needs of the customer (and the hospital), the two individual teams need to learn from each other. Biomed (HTM) can teach about caring for the customer and taking ownership of the customer's problems. IT can teach about project management and the technical details of the network infrastructure. They need to practice job shadowing to learn to "walk in each other's shoes".

Each group brings unique skills and talents to the table, but they must learn respect for one another and learn to draw on those skills for the good of the hospital (and ultimately the patient).

DMBN: Last year, we wrote about how the Centers for Medicare and Medicaid Services was requiring hospitals to follow manufacturer-specified PM schedules for "critical equipment," rather than rely on evidence based, in-house criteria as in the past. What sort of effect has this had so far?

Greg Mika: Well, that's not over. That's still an issue with CMS. It certainly affects us hugely. A lot of data and a lot of years have been put into determining that some of the manufacturers' recommendations may be overkill. I think manufacturers make their recommendations very robust to make sure they get FDA 510(k) approval. When (the product) comes out on the market, some of those intervals and the full tests may not be as realistic and necessary. It's time consuming and a lot of it's dependent on expensive test equipment. Over the years, a lot of it has gotten worked down to where it's not as many intervals (and) shortened the test procedure. If we have to go back to the full time spans, and all the manufacturers' recommendations, it could mean adding manpower, and it could mean purchasing more test equipment.

If I have to go back to performing preventative maintenance on all of our IV pumps twice a year as opposed to once a year, that's a lot more work, and that means more manpower. To get it all done and done across the board, you probably have to add staff at a time when everybody wants to cut staff.

Dale Hockel: As we all know, it caused quite a stir. Clearly, what it can do is have an impact by increasing the frequency of the PMs. If you are in a risk management program today and you follow the PM schedule of the manufacturer, you could increase your PMs. We've been cautious and our regulatory team has been communicating back with the Centers for Medicare and Medicaid Services to work through our concerns and recommendations.

The main concern is that it's driving unnecessary PMs. What is the rationale for some of the PMs, when we have historical data based on service records that some of these PMs are not necessary, even though it differs from the OEM recommendation? I think the Joint Commission embraced early on that risk management was an acceptable management strategy.

It can drive costs up, your labor costs, but [cost increases] also if it requires a PM kit or parts that you replace. You've got labor and parts costs that can be artificially inflated, and that clearly serves the manufacturer well.

Heidi Horn: As soon as CMS came out with this requirement, Joint Commission and organizations like AAMI disputed it very openly. Subsequent reports seemed to infer that CMS was taking the arguments against this requirement under consideration and there was a possibility they would reverse it. This created some confusion in the industry and most I have talked to have taken a "wait and see" approach to see whether CMS will change the requirement again before completely changing their policies and procedures. In my organization, we did adopt the CMS policy but have not noticed any improvement in safety or downtime.

Steve Vanderzee: One of the things our industry tends to do is a knee-jerk reaction. Now you have to follow manufacture requirements, and we automatically assume it's going to increase the workload. What we are finding at Advocate is that's not necessarily so. For monitors, for example, we have them set up for PMs on a semi-annual basis, and it's actually an annual requirement. While there are things we might have to make adjustments on and shift frequency, I think there will be an offset. Those other things we've been overdoing, we'll offset the things we need to do more of. In our organization, we've done the tip of the iceberg, aligning our maintenance strategies with the CMS recommendations, but we haven't seen a dramatic impact.

Scott Bosch: Traditionally, our workflows have been structured around the manufacturers' recommendations, so the CMS recommendations didn't impact us all that much. If there ever was a large disparity — I say we have to do it once a year but the manufacturer says we have to do it once the rationale is. Overall, while I'm glad to see the CMS take a role in putting some rigidity in the performance expectation of equipment, I think everyone has to work together to understand workloads.

Patrick Lynch: Not being in a hospital, I can only relate what I hear. Most people are not doing the full manufacturer maintenance, or else costs would almost double in most hospitals. And the ISOs cannot be doing the complete PMs, because staffing would have to rise. I think most are taking a wait-and-see attitude and risking a CMS write-up, which, given the number of hospitals in the U.S., is a slim chance.

Fred McMurtrie: Well none, but it could if CMS digs its heels in. I have been following this with some interest because the potential impact for our hospitals and on our state could be a very hard pill to swallow.

However, it is my understanding from the information that I have gathered, that The Joint Commission will still use policies as normal and if your hospital happens to be audited or directly inspected by CMS that they still may cite you, but if your action plan is that you follow TJC standards that no further action will be required. At least, that is the understanding that has been reached. The CMS clarification will stand, pending more data and discussions. AAMI, ASHE, ECRI and TJC will continue to work with CMS to come to some form of resolution. So we will stay tuned.

DMBN: Hospitals can rely on a mix of third-party outfits (ISOs), in-house teams and OEM service contracts. What's the current breakdown of use among these options for hospitals, and has there been any noticeable change recently? If so, why?

Greg Mika: If you investigate some of these systems and get the training, you can maintain a lot of these systems in-house with your own staff, cheaper than on a service contract. That being said, you do take on the potential of some high liabilities. Let's face it. You're paying for a service contract to cover the total failure of that device and a huge expense. If something really big like that happens, the service contract's going to cover it. If you do take it off, you're saying there haven't been these big catastrophic failures, and [the service contract] doesn't make sense for us.

The hospital has to understand there's potential for something huge to happen that may cost a large amount.
It's just like any insurance. The insurance company is betting something major isn't going to happen, and you're betting it is.

Dale Hockel: There is a shift in the sense of continuing to do more in-house. But the (new) model is different. Regardless of whether you call it a third party, ISO, in-house or OEM, what you should be driving for is 60 to 70 percent minimum of the work being done by clinical engineers, BMETs, lab engineers, imaging engineers at the hospital. Do as much as you can with your own resources, because you know that's a more cost-efficient model, regardless of how you title it.

Heidi Horn: Every hospital and health system is different depending on the sophistication of their in-house organization and their risk tolerance. In my organization, we try to maintain as many devices as possible in-house and limit service agreements as much as possible. This includes linear accelerators, CTs, MRIs, and other high-end devices. We used to utilize shared service agreements that were much less than full service agreements, in which our in-house CE staff would do the PMs, take a first look, and do as much of the maintenance as possible, but parts and OEM back-up were covered. I have seen a trend in recent years of not only the service contracts increasing in price dramatically, but the delta between the full service and shared service agreements [shrinking]. I would imagine that most CE departments would react to conceding to the full service agreement. We have taken the opposite approach and eliminated almost all service contracts. This has resulted in millions of dollars of savings. At the same time, our customer satisfaction has increased.

My overall perception is that OEMs are starting to feel the pressure on the capital side as hospitals cut back in purchases and competition grows. Knowing that most hospitals only look at the initial capital cost in making a purchasing decision and not the support expense, the OEMs are trying to make their margins on the service side by making it harder and more expensive to get training and service manuals and coming up with creative methods for "locking down" access to diagnostic software on the machine without a service agreement. One vendor provided us with free service training to close a purchase. We found out later, however, that their policy is not to offer any training schools on their devices until three years after any new product is launched.

Steve Vanderzee: There's continuing to be a consolidation of health care organizations. I think as they continue to consolidate and become bigger organizations, those organizations like Advocate will have more opportunities to develop in-house solutions that can be escalated to more highly technical types of equipment. At Advocate, because of our size, we have a dedicated imaging team and we invest in the training of those folks. MRI is unique, we don't do a lot there, most of that is contracted with the OEM, but we're getting deep into CT, with the goal of the next year or two to be completely in-house with service and preventive maintenance. However, I'm not ever going to send someone to be trained on surgical robots. It's too highly specialized. While we're a big organization and have a lot of robots, it wouldn't make sense to invest the money and time to get people trained to do that kind of service.

We found too, that as a big organization, you get more leverage with the manufacturers. We're seeing the gap between the manufacturer-provided contract and an ISO contract is shrinking. Also, with a larger organization you can spread that financial risk out. I've got 32 CT scanners. So if one to three tubes go out in a six-month period, I've got this big base of equipment. A small rural hospital with one or two scanners – one or two tubes could blow their budget.

Scott Bosch: Most of our service contracts are for high level, specialized devices, things we have a small quantity of or that require uptime. We're currently working on analyzing contracts, seeing which ones are I can take in house without straining my resources. More than 95 percent, based on quantity, is currently in-house, 90 percent if I looked at it from a financial aspect. I think it depends a lot on size. Anybody can hire somebody to work on CT stuff, but if you only have one, then what does that person do the rest of the time? I think you look at the value that a contract brings, and you try to maximize that value.

Patrick Lynch: I don't see much change across the nation. There is a certain percentage of hospitals that see equipment support and maintenance as not a part of their "core business" of health care. They choose to outsource biomed and imaging service, along with other service functions such as facilities, housekeeping and even IT in some cases.

Manufacturers are, of course, the most costly, but they spread so many horror stories to their customers, that most hospitals are afraid to leave the complete contract. Divorcing from a manufacturer's contract requires a good deal of time, effort and ongoing work to make sure that the new service provider (whether a company or an in-house individual) is effective and responding to all problems. Radiology directors do not have this kind of time, nor do they have the training or interest in service management. And unfortunately, many in-house HTM programs are led by unmotivated individuals, or old guys who are trying to stay afloat until retirement. They are not looking to take chances or work harder.

ISOs are a really good option for transitioning from the manufacturer's service. They have sufficient resources and experience in starting hospital-based service. And they know the places to obtain parts and training and backup technical staff. The ISOs will often shave 30 percent or more from the cost of a manufacturer's cost. This is a good final solution for many hospitals, especially small to medium sized ones.

In-house service of imaging equipment, especially high end items, is a real challenge. These revenue-making machines cannot be down for long periods of time. Therefore, experienced staff is required for these units. It isn't possible to train a newbie on the hospital's only CT scanner. Sure, definitive action is needed. Most hospitals move into these areas slowly, beginning with simpler units where the hospital
has multiple identical units. If this is successful, they may move up to the more expensive and critical devices.

Fred McMurtrie: Those hospitals, medical centers or medical systems who manage technology will use whatever mix is needed to get the job done. It is just that simple. You will always hear about third party, ISOs and the OEMs ebbing and flowing.