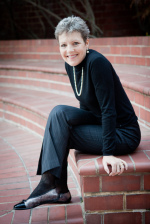 Q&A with AAMI president Mary Logan
May 09, 2013
by
Loren Bonner
, DOTmed News Online Editor
The Association of Medical Instrumentation has accomplished a lot this past year, according to president and CEO Mary Logan. She shared some of the details with DOTmed Business News, and also spoke about what's in store for this year's annual conference, taking place June 1-3 in Long Beach, Calif.

DMBN: Since your conversation with DOTmed News last year, what have been the big AAMI updates?

ML: The overriding theme in the past 12 months was "resiliency." We didn't know when we started 2012 that we would have an opportunity to do collaborative standards development with UL; we didn't know that we would be submitting over 200 pages of data to the Centers for Medicare and Medicaid Services in June; and we didn't anticipate being asked to host a wireless workshop. Our great staff and volunteer teams made it possible for us to be nimble and redirect our efforts where needed most.

My top five favorite accomplishments of 2012 were: 1) the AAMI/UL agreement to develop a suite of device interoperability standards; 2) the progress that our fledgling Healthcare Technology Safety Institute has made, including receiving its first important grant from the CareFusion Foundation to study infusion errors; 3) hosting the AAMIFDA Interoperability Summit and then the adjacent Wireless Workshop; 4) our record-setting annual conference; and 5) our data-driven leadership on the CMS preventive maintenance issue with the HTM community.

And, we have our work cut out for us this year with some big= projects: a home health care summit with the U.S. Food and Drug Administration; follow-up work with CMS on preventive maintenance strategies; a wireless task force to start follow-up work from last year's wireless workshop; follow-up work from last year's Future Forum II; the unveiling of a new and improved AAMI online store; the release of the core curriculum for health care technology management (HTM) professionals the development of some big new standards; and a major new industry education initiative.

DMBN: AAMI seems to partner often with the FDA to co-host educational events for members. Why is this relationship important and what do you think members gain from it?

ML: The FDA's Center for Devices and Radiological Health (CDRH) regulates medical devices. Their perspective on the safety of medical devices is critical to everything we do at AAMI, starting with standards development.

The summits that we co-convene with the FDA are for the entire health care community, not just for AAMI members. We strongly believe that technology issues in health care are not solved well when they are solved alone by regulators, industry, HTM professionals, clinicians, or others. The entire system of health care must work together to solve what are essentially sociotechnical issues. We bring the community together and the magic happens in the room when the multi-disciplinary stakeholders begin to discuss technology-related problems. This year, we will co-convene our 6th summit with the FDA, this one on clinical technology used outside of a clinical environment (also known as home health care).

The FDA staff participates on AAMI standards committees, often serving in leadership roles, and they definitely help shape the direction standards take, which is as it should be. Although the CDRH doesn't regulate health care organizations or the work of health care technology management professionals, the decisions made by the CDRH can definitely impact HTM — ask any HTM professional whether FDA recalls have an impact on their work! And, new FDA regulations, like the new UDI rule, definitely impact the work of HTM professionals. AAMI's relationship with the FDA is important to the entire AAMI community, in part, because of the opportunity for mutually supportive dialogue on important technology-related issues and in part, because the FDA wants and needs to hear the expertise that HTM professionals bring to medical device issues.

DMBN: Last year, we covered the issue surrounding the CMS rule regarding preventive maintenance. What is the latest with this?

ML: In late June 2012, representatives of AAMI and ASHE met with CMS officials to discuss the CMS directive regarding PM practices. The meeting was productive and cordial, with both sides agreeing that discussions would continue. During that meeting, the CMS officials raised questions and concerns about several specific areas, and asked the AAMI/ASHE team to gather information on those areas and report back. So as a follow-up to that meeting, AAMI coordinated the development of a 244- page packet of information, including data on typical HTM practices, such as evidence-based maintenance. The packet addressed the specific concerns raised by CMS.

For instance, CMS wanted to learn more about common algorithms and methodologies used to determine maintenance methodologies or frequencies; existing guidance in use by the field; examples of evidence-based maintenance and equipment history documentation; estimates of the impact of the CMS letter on the field; and other items.

The packet submitted to CMS — available at www.aami.org/cmspacket.pdf — addresses those and other related issues using documentation from hospital systems, published articles, guidance documents, and other resources, to demonstrate that evidence-based maintenance strategies employed in hospitals are safe and effective.

Having reviewed the packet, CMS officials said in an e-mail to me that they are "working on an updated memo" — suggesting that they are looking more closely at their guidance on the PM issue. In that e-mail, which was sent last fall, CMS officials called the 244-page packet "most helpful." They provided no details on what an updated memo might look like, nor did they provide a timeline.

Since that e-mail, AAMI and CMS have exchanged emails on a few minor technology-related questions related to the larger PM issue, so communication is ongoing.

On Feb. 28, 2013, AAMI and ECRI Institute held a free joint webinar updating the field on the issue.

DMBN: What are some of the other major challenges for the medical device instrumentation field that you will be focusing on at this year's annual conference?

ML: One of the top items on the AAMI "Top 10 Device Challenges" list for 2012 was alarm management, which has been a significant focus for AAMI and our Healthcare Technology Safety Institute for the past year. This issue also is on ECRI's top 10 list, and it has become a major focus for The Joint Commission. It was clear at last year's wireless workshop that wireless issues with health care technology are also a major headache for the profession. I'm thrilled that we have an entire education track this year devoted to alarm management and wireless challenges.

Another one of the top items on the AAMI's "Top 10 Device Challenges" list for 2012 was device integration. We have an entire track devoted to CE-IT connectivity at the conference this year. Between these two key tracks, the annual conference should be on every HTM's "must attend" list this year!

DMBN: What excites you most about this year's show and the future of the industry going forward?

ML: The exhibit floor is always exciting, and is such a great place for HTM professionals to connect with their vendors and learn about what's new. We are having an opening reception this year for the first time in many years, because we so strongly believe that the HTM profession needs to become a stronger community of people committed to one another and their profession. One of the educational sessions I'm most excited about at the conference is "Human Factors 101," which will be led by an incredible expert from HumanEra, Chris Colvin. This should be a "must learn" session for every HTM professional who is not already a human factors expert. If any of your readers are scratching their heads asking why they should care about human factors, then this course is even more important for them. And, of course, everyone always wants to hear George Mills, who is one of the most dedicated professionals out there and a Joint Commission treasure.

As for the future of the HTM profession, AAMI is so committed to the profession that one of our four strategic plan goals is dedicated to moving the profession forward.