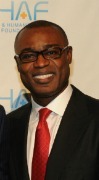 Charity spotlight: Bringing advanced medicine to Ghana
May 10, 2013
by
Loren Bonner
, DOTmed News Online Editor
Sammy Arthur might be known to many as the confidant of the late New York Giants owner Preston Robert "Bob" Tisch, but for the past several years he has had his sights set on bringing medical and humanitarian aid to the citizens of his home country Ghana.

Arthur is the founder and chairman of the non-profit Health and Humanitarian Aid Foundation which, among many other things, has brought in a steady group of volunteer doctors to the African nation to perform surgeries and other procedures to those in need. But through the years, Arthur and his team have questioned how much of a difference they have really been making in Ghana. They have become frustrated with waiting around for hours for a surgical room to become available and with the way some hospitals turn away patients who cannot pay, which is large portion of the population.

"As we began looking at the way the hospitals are operating we said we need to have our own facility to do things the right way," said David Chen, HHAF president and head of the radiology department (administration) at NYU, to DOTmed News.

The ultimate goal for the organization now is to build its own medical facility. According to Arthur, they already have the land; it's just a matter of funding.

"Whether it's a hospital or health center depends on how much money we raise," said Arthur to DOTmed News.

HHAF is no stranger to accomplishing big projects in Ghana. After only three years as an official organization, they have neared completion on a school and brought clean drinking water to villages.

Both Arthur and Chen say it's hard not to have the desire to fix everything the more time they spend in a poor African nation like Ghana. And they also realize there is a great need in other places besides Ghana to do the same kind of charity work.

"I think as we grow, one of my desires is to talk to NYU and see if we can do something with them. They have been helpful so far," said Chen. NYU has donated medical equipment, like ultrasound machines, and supplies to the organization already.

On May 15, HHAF will hold its annual Preston Robert Tisch Awards Gala, which will raise money to support HHAF's medical and humanitarian projects in Ghana.

"Sometimes the money stuff can be tedious and sometimes I want to give up. But all I need to do is look at the faces of the kids and the parents after surgery. All I see is the joy and smiles," said Arthur.