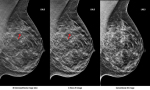 FDA approves Hologic's low-dose tomosynthesis software
May 23, 2013
by
Carol Ko
, Staff Writer
On Tuesday, Hologic's breast screening software, designed to reduce radiation exposure in 3-D breast tomosynthesis, won pre-market approval from the U.S. Food and Drug Administration.

While Hologic's 3-D tomosynthesis system has garnered much buzz in the mammography field, one potential downside was that it used twice the radiation dose of traditional mammography systems because it scanned the patient twice — once to take a range of image "slices" of the breast, and again to take a traditional 2-D image.

Viewing the breast in slices enables doctors to eliminate the overlap that may hide cancer in a woman with dense breasts, while the 2-D image is still needed as a point of reference to compare against past mammograms.

With its new imaging software, the system can create a traditional 2-D image out of the initial 3-D scan, eliminating the need for a second scan and reducing compression time for patients, according to Hologic.

3-D breast tomosynthesis has been singled out as a promising tool for screening women with dense breasts, which are made up of connective rather than fatty tissue. Approximately 40 percent of women screened for mammography have dense breasts, and they may be at higher risk for developing breast cancer.

The technology has won praise from many physicians for both reducing false positives and increasing cancer detection — one Italian study released earlier this month that examined 7292 women showed that tomosynthesis detected 8.1 cancers per 1000 screened, while mammography used alone detected 5.3 cases.

On Thursday, the first large-scale U.S. study examining breast tomosynthesis was released in the June issue of the American Journal of Roentgenology. The study showed a drop in false positives from 8.7% to 5.5%, and increased cancer detection from 4.0 to 5.4 cases in 1000 screenings.

The study examined 3,856 women who had received 2-D mammography exams and 9,499 women who elected to receive 3-D tomosynthesis exams.

Jim Culley, senior director of marketing at Hologic, explains that digital tomosynthesis was years in the making. "We didn't have the detectors or the software to do it. We've been talking about tomo for years. Now we have faster computers and lots of memory but it wasn't easy," he told DOTmed News.

Hologic's 2-D imaging software has already been approved and used in Europe since 2011, and the company is now prepared to release the product commercially in the United States.