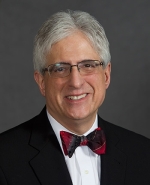 New ACR president talks about goals
May 24, 2013
by
Loren Bonner
, DOTmed News Online Editor
During the recent American College of Radiology's 90th Annual Meeting and Chapter Leadership Conference in Washington, D.C., the ACR Council elected Dr. Albert L. Blumberg new president of the society. He spoke with DOTmed New about his goals going forward.

DMN: What's your background?
AB: Following graduation from Jefferson Medical College (1974) and a medical internship (1975), I did my radiation oncology training in San Francisco at UCSF. My first position after residency was as an assistant professor at the University of Pennsylvania (1978-1981). I moved to Baltimore in 1981 to enter private practice and become vice chair of the newly formed Dept. of Radiation Oncology at the Greater Baltimore Medical Center. I position I still hold.

DMN: What are your goals as president of ACR?
AB: As a radiation oncologist, I believe I bring a different perspective. I hope to educate not only other radiation oncologists but all radiologic specialists regarding the opportunities provided by the ACR for all of its' members regardless of the type of radiology practiced. The ACR is truly an umbrella organization and the largest socio-economic advocacy voice for the house of radiology.

DMN: What excites you most about the industry these days?
AB: What excites me most are two things: Number one: All the wonderful technologic advances in both diagnostic and therapeutic radiology and what this will mean for our ability to provide for our patients. Number two: CMS [Centers for Medicare and Medicaid Services]. We must continue our ongoing efforts to educate the policy makers at CMS and in Congress regarding how complex the provision of advanced diagnostic and therapeutic radiologic services has become. The ongoing efforts to reduce reimbursement will have lasting negative effects for our patients. These ill-advised decisions must be reversed. Patients will ultimately suffer.