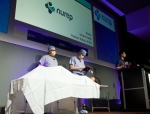 Will Obamacare kick sales reps out of the OR?
May 30, 2013
by
Loren Bonner
, DOTmed News Online Editor
It's no wonder that doctors welcome medical device sales representatives into their operating rooms. Driven in large part by advances in technology and an increase in venture capital funding, the past few years have been rife with new medical devices coming onto the market. Although many would argue that doctors shouldn't rely on sales representatives for expertise, doctors find medical device sales representatives helpful — whether it's supporting them through some of the initial training or having them on-hand in case anything goes wrong.

But the days of having a sales representative physically present in the OR may be coming to a close.

"Hospitals are looking for more cost savings and clinical effectiveness, and as a result, hospitals are looking for ways to get sales guys out of the hospitals who are influencing the purchasing decisions," Paul Schultz, CEO of Nurep, told DOTmed News. Nurep recently launched a HIPPA-compliant iPad-based platform for medical device companies that offers on-demand virtual device support when it's needed.

Medical device companies are looking for a new way to do business too. Many have been cutting staff in an effort to save money, especially as hospitals experiment with different approaches to handling suppliers as a result of health care reform. According to information compiled from Nurep, employing a medical device sales representative costs a company roughly $350,000 a year. In addition, these sales representatives must undergo an extensive credentialing process to gain access to the OR, which costs money too.

Schultz speculates that the 2.3 percent excise tax for medical devices included in the health care reform law could also contribute to device companies tightening their belts.

Rallying around medical device sales reps

Although medical device sales representatives don't normally advise surgeons, certain types of devices call for a more hands-on approach, according to Schultz.

With pacemakers, for example, a sales representative might assist in the placement of the leads. With hip replacements, an orthopedic sales representative isn't just standing in the corner of the room, instead they are studying X-rays alongside the surgeon and guiding the surgical team as they maneuver the device during surgery.

Dr. Terry Chang, associate general counsel and director of legal and medical affairs at the industry trade lobby AdvaMed, told DOTmed News that they believe health care industry representatives should only be in the OR at the request of the surgeon or interventionalist.

Medical societies, including the American College of Surgeons and the Association of peri-Operative Registered Nurses, have stated that health care industry representatives, based on their training, can provide technical assistance to the surgical team, which can expedite the procedure and facilitate the safe and effective application of surgical products and technologies.

A spokesperson from the American Medical Association told DOTmed News by e-mail that they have no information quantifying the number of doctors who interact with industry representatives for advice on the appropriate use of devices and equipment.

Hospitals taking charge

What's driving hospitals to cut back the access that sales representatives have enjoyed for some time? Schultz said that under health care reform, hospitals are consolidating into larger medical groups with greater purchasing power. At the same time, doctors are moving away from private practice and becoming employees of large hospitals groups, which in turn gives them less purchasing power as the customers of medical device companies.

"Traditionally, the rep could go to the doctor and pitch the latest and greatest product and the doctor could get whatever they wanted with all the bells and whistles regardless of the price. That's changing now, where the doctor is an employee of a large hospital system and instead value analysis communities are making the purchasing decisions for the entire system," said Schultz.

In fact, Nurep found that 75 percent of U.S. hospitals now require an appointment for a medical device sales representative to enter the hospital. Others are limiting the interaction sales representatives have with physicians. Some, for example, only allow medical device sales representatives to interact with the purchasing department.

The virtual sales rep

With nearly 70 percent of physicians already using an iPad for professional purposes, an app like Nurep's could play a key role in this paradigm shift for online communication when it comes to medical device support.

Schultz explains that Nurep's iPad-based app allows the surgeon to connect with either their personal sales representative or with a 24-hour customer support center, a solution he said is not only HIPPA compliant, but also cost-effective.

For medical device companies, it allows one representative to support more doctors. "They normally do one to two cases a day. We allow them to support four times more cases," said Schultz.

Nurep has been marketing and selling the app to medical device companies for the last eight to 10 weeks. Schultz said the product is still being tested with some early adopters but should officially be out on the market this summer.