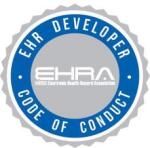 First EHR developer code of conduct announced
June 12, 2013
by
Nancy Ryerson
, Staff Writer
The EHR Association announced on June 11 the creation of the EHR Developer Code of Conduct, an adoptable document that emphasizes data sharing across different EHR platforms as well as patient safety data reporting.

EHRA, which is a collaboration of more than 40 EHR vendors, worked with provider organizations, consumer organizations and information technology executives to create the document.

"The impetus was [that] health IT has increased in prominence with Meaningful Use, and with that prominence comes more responsibility," said Mickey McGlynn, chair of the EHR vendor association, to DOTmed News.

The code focuses on five sections: patient safety; interoperability and data portability; clinical and billing documentation; privacy and security and patient engagement.

The interoperability requirements include enabling customers to exchange data across different systems, and a commitment to using "available, recognized and nationally uniform standards in developing interfaces" whenever possible. Companies that adopt the code will also promise to work with customers to facilitate a move from one EHR to another.

"There are some things we can compete on fiercely, and some things we're not going to compete on," said Farzad Mostashari, national coordinator for Health IT, in a webcast about the announcement. "That's what I'm hearing."

Mostashari referred specifically to patient safety. The code of conduct requires vendors to immediately notify customers when they become aware of any software issues, and to work together with recognized patient safety organizations in reporting, reviewing and analyzing health IT-related safety events.

"No customer should feel they can't report a patient safety event," said Mostashari.

The EHRA said one vendor has already adopted the code. It expects widespread adoption and promotion of the code in the coming weeks and months.