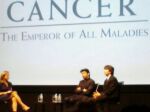 Siemens sponsors Ken Burns cancer documentary
June 13, 2013
by
Nancy Ryerson
, Staff Writer
For its first documentary sponsorship, Siemens Healthcare likely chose well. "Cancer: the Emperor of all Maladies" is a Ken Burns documentary based on the Pulitzer Prize-winning book of the same name, slated to be released on PBS in 2015. Its aim is no less than changing the way people view cancer.

The six-hour, three-part documentary will track the progression of treatment as well as societal attitudes toward the disease.

Ken Burns, whose mother died of cancer when he was 11, hopes the documentary will show viewers the new ways cancer is being viewed and treated.

"We really want to convey that sense of wonder," said Burns during an announcement discussion at the Museum of Modern Art in New York on June 11. During the event, Katie Couric interviewed Burns and Dr. Siddhartha Mukherjee, the book's author.

When Couric asked Burns what would make people decide to watch a documentary about the gloomy topic of cancer, Burns was optimistic.

"If you think about all the things on TV that we watch, there's usually a death, a murder, a dissection, a crime scene," he said. "The inevitable conflict is will she live or will she die, will she survive or will she not?"

For Siemens, the company hopes the documentary will help viewers understand the value of screening in catching cancer earlier and having a better chance of beating the disease.

"The surgeon looks like the hero, but there's a lot of advanced imaging that goes into finding those tumors," said Dr. Gregory Sorensen, president and CEO of Siemens Healthcare, to DOTmed News.

Sorensen said the documentary should also dispel fears patients still have about tests, as some still believe the test itself will be painful, he said.

"We want people to know they don't have to fear the test," he said. "And what we hope this documentary will show is that soon you won't have to fear the answer either."