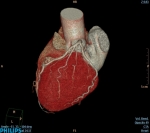 Philips product aims to lower dose and improve image
June 20, 2013
by
Nancy Ryerson
, Staff Writer
Philips announced the release of a new product that should please radiologists, the company said.

The new capabilities of its iterative model reconstruction (IMR) technology will allow clinicians to simultaneously lower dose 60 to 80 percent while improving low-contrast detectability by 43 to 80 percent and reducing image noise by 70 to 83 percent, compared to standard reconstruction techniques.

"This is a way of having your cake and eating it too," said Dominic Smith, CT general manager at Philips Healthcare, to DOTmed News. "You're able to have the high image quality, which is what the radiologist wants, and the lower dose which is what everyone wants."

Smith also noted that the product is not limited by anatomy like some iterative reconstruction options, instead allowing dose to be lower for advanced neuro and cardiovascular applications.

The improvement of low contrast images will allow physicians to better see soft tissue lesions, Smith said.

The new IMR technology also takes less time to create the image compared with previous methods.

"Normally with more advanced reconstruction technologies, it takes a long time to reconstruct — 30 or 40 minutes," said Smith. "This is able to do this in two to five minutes."

Philips announced the new capabilities at the International Society for Computed Tomography's 15th annual international symposium on multidetector-row CT on June 17.