Ultrasound is garnering a lot of attention at the moment, and it's not just physicians who are taking notice.
In many ways, the technology is in the midst of a perfect storm. It has been in the shadow of other modalities for a long time, but there's been a shift in recent years amid renewed safety and health concerns. CT received some bad press in 2009, when concerns were raised around patients receiving excessive doses of radiation. Meanwhile, in late June, a widely covered study showed that excessive CT scans were raising children's cancer risk. In fact, study author Diana Miglioretti recommended that physicians use ultrasound as an alternative to CT for certain scans.
In short, ultrasound has become a desirable alternative for a confluence of reasons: it's noninvasive, portable and cost-effective. Global ultrasound is projected to grow 27 percent over the next five years despite the challenging economic climate.
The forecast for the U.S. market is a bit more subdued. The data for sales in 2012 indicate that it broke its string of double digit growth for two years running, according to Maher Elhihi, senior manager of market development, ultrasound at Toshiba. He stresses that the market is still growing, just not as quickly.
To be sure, there are still bright spots of growth, particularly in the musculoskeletal market. Experts also point out that reimbursement for ultrasound has held steady compared with cuts in other imaging modalities such as MR and CT.
And while the still-expanding point-of-care space is starting to reach maturity, it's clear that OEMs view this market as a strategic pillar: this year in June, Mindray announced that they were acquiring Zonare, one of the three major point-of-care ultrasound companies in the U.S., while rival firm SonoSite was acquired by Fuji in 2011.
A matter of time?
There's no denying that one of the biggest selling points of ultrasound is its price. As one of the least expensive imaging modalities, the technology is used much more widely in places like cost-conscious Europe.
But with health care reform set to go into effect soon, the U.S. fee-for-service model is inevitably due for a change, and most experts believe we'll have little choice but to follow in Europe's footsteps. Reimbursements aren't expected to keep pace with the influx of new patients in need of imaging, and hospitals will consequently continue to be expected to accomplish more with less.
Proponents see the potential for ultrasound to take over where other imaging modalities fall short, screening more patients for lower cost.
When Philips general manager Conrad Smits moved over from running the MRI division to ultrasound and someone told him he ran the poor man's MRI division, he didn't take it as a snub. Being familiar with the impressive capabilities of MRI, he took it as a compliment instead.
In fact, there are numerous clinical applications in which ultrasound shows superior or equivalent efficacy compared with technologies such as MRI or CT, according to Val Veitengruber, vice president of clinical economics and policy reimbursement at SonoSite. For example, when scanning patients with a history of kidney stones many researchers believe ultrasound should be the first scan of choice, not CT.
But clinical evidence isn't enough on its own. Motivating physicians to use ultrasound first —by no means an easy task — is key. "We're working very hard on making ultrasound a part of the medical school curriculum so doctors are used to the modality and comfortable with it," says Veitengruber.
Of course, ultrasound isn't without its downsides. Two main obstacles stand in the way of ultrasound's potential for widespread adoption: usability and readability.
For all its cost efficiency, ultrasound is still a heavily user-dependent modality compared with most other imaging systems, and manufacturers have a ways to go to make ultrasound screening more standardized, user-friendly and efficient.
Part of what drives the urgency behind this shift is that hospital administrators, not clinicians, now have the final say in imaging equipment purchasing decisions, forcing manufacturers to focus much more on general patient throughput and other practical economic outcomes than they have in the past as they develop their products.
While the throughput on other modalities such as X-ray machines have been fine-tuned to an automated science — their patient parameters populated beforehand so that the technologist only has to point and shoot, with minimal keystrokes or fiddling to get the best image quality — ultrasound has yet to reach this level of efficiency.
With the Affordable Care Act bringing an influx of new enrollees into the health care system, if ultrasound's proponents want this modality to be adopted on a wider scale, they need to figure out how to make it more efficient for that scale — and quickly, too.
"Ultrasound isn't there yet," admits Smits. "But it's getting there."
Ready reading
3-D ultrasound — only made possible in recent years due to an increase in computing power in ultrasound systems — will undoubtedly go a long way in helping ultrasound join the "big leagues" of imaging.
The technology aids physicians in advanced visualization and quantification, transcending some of the limitations of traditional 2-D ultrasound. One example: Toshiba's Aplio 500 system has Fly Thru technology that allows operators to visually explore the reconstructed insides of fluid-filled vessels without having to go inside them.
3-D ultrasound can also help aid complex interventional procedures — physicians can now read multiplanar reconstructed images acquired by the transducer from multiple angles in the same manner as CT or MR scans.
And the matrix array transducers of 3-D ultrasound are helping increase acquisition rates and image visualization. Philips uses this technology to move the computing to the transducer in their ClearVue systems, lowering the price point while keeping the image quality high.
In conjunction with this technology, some vendors also sell quantification packages that help physicians interpret and quantify their images more efficiently. For example, Esaote North America, Inc. offers a cardiovascular Prevention Suite of imaging applications that assist in early-stage detection and prevention rather than treatment — another general trend in cardiology that will also impact how manufacturers approach their products, according to Esaote general manager, Gordon Parhar.
In contrast…
Getting ultrasound contrast finally cleared in the U.S. would also significantly improve ultrasound visualization and boost its profile among physicians, experts say.
Currently, the U.S. is the only country in the developed world not to widely use ultrasound contrast (to be more specific, ultrasound contrast is cleared for a narrow left ventricle imaging indication only). This puts the modality at an inherent disadvantage for tumor visualization compared with CT or MR, both of which have contrast agents cleared for use.
But that situation may be due to change soon. Industry experts hope that Bracco's ultrasound contrast product SonoVue will be approved by early 2014 for both cardiac and non-cardiac indications. The clearance could have a significant impact on oncology screenings, particularly for kidney and liver tumor imaging, displacing old standbys like MR and CT. "We are eagerly looking forward to the end of the Bracco study so we can get ultrasound contrast approved by the FDA," says Smits.
Are you dense?
Ultrasound is also finding new applications in specialties like breast screening. While 2-D mammography is still the gold standard for breast cancer screening for most women, it's more likely to miss cancers in women with dense breasts — breasts with more connective than fatty tissue.
GE's Somo-V ABUS (automated breast ultrasound) system is currently the only product on the market cleared for sale by the FDA specifically for screening women with dense breasts.
"Certainly 3-D ultrasound is an algorithmic shift — we have a solution for risk based and personalized screening for women who have dense breast tissue — that's really a wonderful thing," says Dr. Rachel Brem, professor of radiology at George Washington University.
One of the major advantages of the technology is that it's specifically adept at identifying invasive node negative breast cancers while mostly ignoring a harmless slow-growing form of cancer called DCIS. With its automated scanning transducer, the system is designed to eliminate or at least drastically reduce operator variability.
And unlike high-cost modalities such as breast MR, ultrasound is relatively inexpensive and also takes less time to perform than an MR scan.
"If you're talking about screening large volumes of patients you have to have a study that can be feasible," says Dr. Jessie Jacob, VP of medical affairs for U-Systems, an ultrasound company that was acquired by GE Healthcare last fall. And ultrasound, which can be operated by trained technologists, may also be a more feasible option in the face of ongoing shortages of radiologists and physicians.
"I think it's promising, but I would approach it with apprehension and would like to have more studies performed on it," says Dr. Jennifer Drukteinis, director of breast imaging research at Moffitt Cancer Center.
Screened stiff
Another emerging ultrasound technology for breast cancer screening attracting considerable interest is elastography. Elastography is used to measure tissue stiffness to help physicians distinguish stiffer tissue indicative of malignant tumors from softer, healthy surrounding tissues.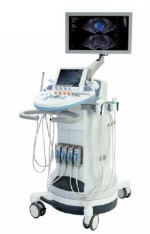 Of the products in the works, SuperSonic Imagine's ShearWave technology shows particular clinical promise. Unlike traditional strain elastography, it relies on a platform borrowed from a video game system to capture images rapidly and measure tissue stiffness without manual compression. This means the system is less operator-dependent, producing more reliable results.
Larger OEMs are taking notice, too. Siemens Healthcare has thrown its hat into the elastography ring, announcing in June the FDA clearance of its own new elastography imaging system designed to improve upon existing manual compression techniques.
In the future, the technology may also help improve the way doctors perform liver studies, which are currently blind to liver stiffness. "They go in with a needle hit a zone, take a sample and come back out and they might have missed the stiffest region in the liver," says Michele Debain, global marketing director of SuperSonic. Using elastography, doctors can map the entire liver to classify disease without requiring the patient to undergo unnecessary biopsies.
Though SuperSonic started off in breast imaging in 2009, they now seek to expand the product's application to other areas such as thyroid nodules or prostate cancer.However, being relatively new to the market, elastography lacks robust market data and is also not currently reimbursed — an obstacle to wider adoption.
Though the technology holds a lot of promise, it may not quite stack up against the gold standards in prostate, breast or thyroid imaging — at least not yet."They need to spend more time on the studies and prove its clinical efficacy," says Esaote's Parhar.
Turf wars
It's not all sunshine for ultrasound. As the technology's reach expands to various specialties, there's been some pushback.
For instance, an article published in the Journal of American College of Radiology observed that the use of musculoskeletal ultrasound among non-radiologists has exploded in the last decade. Podiatrists performed 76,332 ultrasound studies in 2009, up from just 3,920 in 2000 — a staggering 18-fold increase.
In response, some insurance providers have expressed concern that the ready availability and low cost of ultrasound is probably increasing the instances of unnecessary ultrasound screenings. Some radiologists point out that non-radiologists who have their own equipment have a strong financial incentive to self-refer screenings, creating an inherent conflict of interest.
To be fair, there are also some possible benefits to such an arrangement: being able to screen and clinically evaluate patients in just one visit, in real time, may actually improve throughput, increase patient satisfaction and reduce the necessity of more expensive MRI scans.
Meanwhile, radiologists continue to debate whether compact ultrasound systems, which now make up nearly half of ultrasound equipment unit sales in the U.S, pose a threat to existing imaging technologies. Compact ultrasound systems in particular are attractive to non-radiologists because they're inexpensive and relatively easy to use.
Naturally, ultrasound proponents like to think so. "I really believe compact ultrasound is under pressure to remain the sole domain of radiologists. There are a lot of forces that are trying to keep the status quo," says Parhar. He predicts that as emergency physicians and physicians from other specialties such as OBGYN and cardiology continue to adopt ultrasound, radiologists will gradually relinquish expertise over that technology.
DOTmed Registered Ultrasound - July 2013 Companies
Names in boldface are Premium Listings.
Domestic
David Trogden, Ultra Solutions
, CA
DOTmed 100
Moshe Alkalay, Hi Tech Int'l Group
, FL
DOTmed Certified
David Denholtz, Integrity Medical Systems, Inc.
, FL
DOTmed Certified
DOTmed 100
Robert Guyton, Manifest Medical
, FL
Volodymyr Markevych, Vomark Technologies Inc.
, IL
DOTmed Certified
DOTmed 100
Robert Broschart, Axess Ultrasound
, IN
Alison Fortin, Global Inventory Management
, NH
DOTmed Certified
DOTmed 100
Maher Elhihi, Toshiba
, CA
Richard Cohan, UltraLinq Healthcare Solutions, Inc
, NJ
Conrad Smits, Philips
, NY
George Brezo, Ultrasound Solutions Corp
, NY
Christopher McHan, Neusoft Medical Systems USA, Inc
, TX
Bruce Snyder, Siemens
, NC
Lynne Gillooly, Gillooly Ultrasound
, NC
Lisa Wiggs, Absolute Imaging Solutions
, NC
Brian Kosar, Providian Medical Equipment LLC
, OH
Charlie Jahnke, MedPro Imaging, Inc.
, WI
Jonathan Ames, KPI Ultrasound
, CA
Heather Sudduth, Ultrasound Imaging Technology
, GA
Mike Sweeney, National Ultrasound
, GA
Darlene Benavidez, Better Imaging Solutions, Inc.
, AZ
DOTmed Certified
Mohamed El Baz, RC Medical Inc.
, CA
DOTmed Certified
Oswaldo Gui, Let Medical
, FL
DOTmed Certified
Beau White, Advanced Imaging Healthcare
, IN
DOTmed Certified
Colin Grady, GE - Ambassador
, IN
DOTmed Certified
Brian Seltzer, Chesapeake Ultrasound
, MD
DOTmed Certified
Robert Harris, Imaging Associates Inc.
, NC
DOTmed Certified
George Hryshchuk, Advanced Ultrasound Electronics
, OK
DOTmed Certified
Pat Hardy, Sentinel Imaging
, PA
DOTmed Certified
Curt Hagg, Vivid Imaging
, VA
DOTmed Certified
Mazi Zarrin, Northwest Ultrasound Inc.
, WA
DOTmed Certified
International
Jan Ruissen, Transducers-International
, Netherlands
DOTmed Certified
Lakshmi Narayana, Man Machine Electronics
, India
DOTmed Certified
Sebastian Tautscher, Lysis - Individual Healthcare Solutions OG
, Austria
DOTmed Certified
DOTmed 100
Diego Zuluaga, EXIMEDICA LTDA
, Colombia
Rodolfo Reyes Ingeniero, INNOVA MEDICAL
, Mexico
Michele Debain, Supersonic Imagine
, France