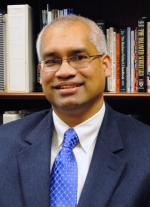 Raj Gunaratnam talks about his new job at Alpha Source
July 16, 2013
by
Loren Bonner
, DOTmed News Online Editor
Alpha Source Inc., a Wisconsin-based multi-vendor medical repair parts distributor, hired Raj Gunaratnam as Strategic Sourcing Manager to help further build Alpha Source's portfolio of equipment repair parts vendors, according to the company. Gunaratnam brings more than 20 years of contract management and negotiation experience to his role. He spoke with DOTmed News about his goals.

DMN: What's your new title?
RG: Strategic sourcing manager for Alpha Source Inc.

DMN: How would you describe your new job?
RG: Essentially, I am responsible for the strategic expense and cost management for direct and indirect materials at Alpha Source.

DMN: How did you get started in the industry?
RG: I started out working in the public sector (university) where I learned my trade.

DMN: What are your goals in your new position?
RG: My primary objective is to translate business requirements and objectives into viable spend category sourcing strategies that will drive vendor-related cost and/or quality improvements.

DMN: What excites you most about the industry these days?
RG: The changes in the health care industry keeps it real interesting.

DMN: Do you have any interesting hobbies?
RG: Nothing real interesting or unique, but I do love to run.