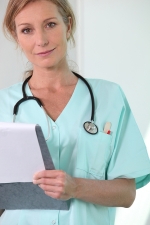 Who should solve the doctor shortage?
July 18, 2013
by
Nancy Ryerson
, Staff Writer
When 25 million people are added to the ranks of the insured under the Affordable Care Act, there may not be enough primary care physicians waiting to see them. The Association of American Medical Colleges has projected a shortage of 90,000 physicians over the next ten years, a problem some think an expansion of nurse practitioner and physician's assistant roles can solve.

The issue hinges on what are called "scope of practice" laws, requirements for nurse practitioners, physician's assistants and others that vary widely from state to state. While nurse practitioners can run independent practices in some states, in others they must have most of their decisions, such as prescriptions and diagnoses, approved by a physician.

The Alliance for Health Reform hosted a webinar on July 17 on pending legislation in several states regarding scope of practice. Many of those states are in the western U.S., where there is a strong need for practitioners in rural areas.

"We're seeing increases in growth in nurse practitioners and physician's assistants, especially in rural settings," said Kavita Patel, managing director for clinical transformation and delivery at the Brookings Institution. "That's where the scope of practice laws are supporting the efforts of independent practice."

Patel said that in the 2012 session, 154 bills that redefined providers' scope of practice were enacted in 24 states and Washington D.C. As of April 1, 2013, there have been 178 related bills proposed in 38 states and D.C.

"Currently, of the 26 states that require some level of physician involvement, 11 require a collaborative relationship with a physician," said Patel. "That can often be onerous, and be an inhibitor that prevents physicians from engaging in other areas."

Supporters of expanding NPs' scope of care say they can provide more care without oversight than many states allow.

Geraldine Polly Bednash, executive director of the American Association of Colleges of Nursing, shared a study showing that NPs, PAs and certified nurse midwives could deliver 50 to 90 percent of primary care.

"Independence is defined as using fully the knowledge and training you've gained in your studies without having to get permission," said Bednash.

But Reid Blackwelder, a Tennessee family physician and president-elect of the American Academy of Family Physicians, disagreed with the notion that NPs could stand in for primary care physicians.

"Family physicians are uniquely trained to do this work. No one else is," he said.

He argued that physicians should still be at the core of a practice, but that more of a team effort would help improve and streamline care.

The panel agreed that practices should have better connections with other kinds of health care professionals, such as social workers and psychologists, and they will become more important as the connection between mental health and physical health is further explored.

"The discussion should not be about turf, but how we can work together," said Blackwelder.