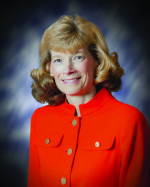 Q&A with ASTRO President Dr. Colleen Lawton
September 20, 2013
by
Loren Bonner
, DOTmed News Online Editor
ASTRO's 55th annual meeting takes place September 22-25 in Atlanta. As always, the meeting will attract oncologists from all disciplines with attendance expected to reach roughly 11,000.

"I want the meeting to be very patient focused and practical," Dr. Colleen Lawton, president of ASTRO's board of directors tells DOTmed News.

Indeed, the theme for the 2013 meeting is: "Patients: Hope – Guide – Heal." It will focus on patient-centered care and the importance of the physician's role in improving patient- reported outcomes and the quality and safety of patient care, according to ASTRO.

DOTmed News spoke with Dr. Lawton about her role as ASTRO's president, how the oncology field is being challenged and what we can expect at the show.

DMBN: What attracted you to a career in radiation oncology?
CL: I grew up in relatively small town in Wisconsin outside of Milwaukee. Our local family doctor was an amazing individual whom everybody looked up to. I thought: I'm kind of good at math and science and maybe that's the role for me. When I went into medical school I had every intention of going into family practice. I liked treating all ages, guys and gals. Yet when I actually did the rotation for primary care, I didn't like that you weren't "fixing" patients. You are more or less placating diabetes and heart disease. However, just by happenstance, I had the opportunity to be with a cervical cancer patient and went downstairs with her to her radiation treatment. My eyes opened instantly and I fell in love with the field. The rest is history.

The nice part about radiation oncology is that we also treat all ages and both sexes and I love the protracted nature. We follow patients for years so I have patients out for 15 years who know my family and I know theirs. It's also incredibly gratifying to cure something as serious as cancer.

DMBN: In addition to serving as current president of ASTRO, you're also a professor of radiation oncology at the Medical College of Wisconsin. How does your work there play a direct role in what you bring to ASTRO?
CL: I'm also vice chair of our department, which is very much a leadership role. So the concept of doing things in a leadership capacity is not foreign to me. Another aspect is that I treat patients like all radiation oncologists do across the country. So all the bumps and kinks in the system and in the way we would like to take care of patients versus sometimes how we are allowed to take care of them, all of those things exist in my life. I think I have a good way of representing all of our constituents in radiation oncology at the leadership level.

DMBN: You've been a faculty member at the Medical College of Wisconsin's Department of Radiation Oncology since 1987. How have you seen the practice change since then?
CL: It's changed on so many levels. On a very positive level are the advances in technology. Today, our ability to deliver radiation and protect the normal organs is light years ahead of when I was trained (and yet we did pretty well back then). But not in my wildest dreams would I have guessed that in my career I would have seen all the changes we've seen in the technology. These changes have been helpful in not only curing more cancer but just as important in increasing the quality of life of our patients.

DMBN: What are some of the things that excite you most about the field of radiation oncology going forward?
CL: I think it's the results we have. I'm very involved in clinical trials and asking scientific questions to try to better the overall survival for our patients, in other words, curing more cancer patients. Improving their quality of life is just as important and I am very excited about the opportunity to do more work in the area of quality of life. Each of these steps in curing more cancer and improving quality of life are critically important for our patients.

DMBN: It sounds like this also aligns well with the direction the health care system is moving toward?
CL: Obviously the health care system is changing dramatically and there are a lot of challenges for radiation oncologists. Going forward there are challenges in what the health care system will or will not let us do with some of the newest technology. It's really up to us to design good clinical trials to help us move forward with the technology. At the same time, some of these things can't be answered by clinical trials as they can take years to get answers. By that time, everyone has moved on. It's very tough, but our work in the registry effort will help to answer some of what cannot be answered by clinical trials.

DMBN: How have you tried to address some of these challenges as president of ASTRO?
CL: If we're talking about quality of life, I'm involved in clinical trials through RTOG [Radiation Therapy Oncology Group] and those clinical trials address quality of life in addition to quantity of life. So I have that as part of my repertoire apart from ASTRO. But within ASTRO, we are pushing hard to develop clinical guidelines and best practices, which will improve quality of life for all patients because everyone will have access to that information. A good example is our first practice guideline highlighted at the meeting. It's a joint effort between ASTRO and the American Urological Association. The guideline was developed by leaders in both groups working together. It addresses what the next steps are: patients who have had surgery for prostate cancer where either the cancer went beyond the capsule of the prostate or the PSA rose afterward. The leaders went through all of the science for these scenarios and came up with this guideline, which is an outstanding piece of work. This is the kind of work that we need societies to collaborate on in a multidisciplinary way to provide the best care for our patients.

DMBN: What are you looking forward to most at the upcoming meeting in Atlanta?
CL: I want the meeting to be very patient focused and practical. We will be highlighting the guidelines, and we'll talk about patient reported outcomes as opposed to clinician reported outcomes and how important it is to hear from the patient about their experience. I'm most excited about helping our patients by these efforts.