At Cincinnati Children's Hospital, performing MRI scans
on premature babies used to be a rather arduous process. As in most hospitals, the neonatal intensive care unit at Cincinnati is floors away from the radiology department. Babies needing MRI in radiology had to leave the NICU under the care of one or more NICU staff members. Once in radiology, the babies, snug in their incubators, had to wait their turn for the scanner, undergo the procedure and then be returned to the NICU. Altogether, the process could take as long as six hours.
Though the radiologists were happy with the babies' images, the team knew there had to be an easier way to acquire them. MR scanning should be performed on the babies' schedule, not the radiologists', and the logistics of moving the babies needed to be streamlined to reduce risk to the babies. That's when the hospital decided to assemble a team of engineers, physicists, radiologists and neonatologists to create a new MR scanner designed specifically for the hospital's smallest patients. They bought two small, 1.5T superconducting magnets designed for orthopedic use from GE and rebuilt them as miniature general-purpose MR scanners with all the functionality found in state-of-the-art large-bore MR systems. Now, the baby scanner is located right in the NICU, and the scanning process, including patient transport to and from the scanner, takes only an hour and a half.
"Premature babies are the last class of patients that have not had the benefits of MR," says Charles Dumoulin, scientific director of the Imaging Research Center at Cincinnati Children's Hospital, and leader of the team that designed and built the new scanners. "Because the patients are so small and are in a very different stage of life, this is an opportunity to revisit everything we know about MR."
What Dumoulin and the Cincinnati Children's team did for neonates is representative of a larger trend in MR and health care in general: making care more patient-specific, no matter the patient and no matter the disease. New scanner technology is made to be comfortable and adjust appropriately when scanning challenging parts of the body like the abdomen or the breast, and for complicated diseases like brain tumors and schizophrenia.
Though MR technology is advancing quickly, the market itself is moving a little slower. A MarketsandMarkets report projects a modest growth of 4.56 percent between 2013 and 2018, and an expected 19 percent reduction in MRI Medicare reimbursement will do nothing to urge facilities to upgrade. But manufacturers say flat-lined growth for new installs means existing customers are even more of a priority.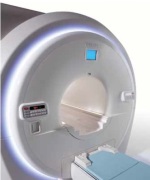 "Patient experience, patient satisfaction and referral base satisfaction are probably becoming more important than ever before," says Suresh Narayan, senior manager of MR market development at Toshiba.
Make yourself comfortable
Newborn babies aren't the only ones getting special treatment from MRI vendors. Patient comfort has been a major focus in MR development for the last few years.
Esaote, an MRI company that specializes in the orthopedic market, offers a scanner that can be tilted to 180 degrees, depending on the patient's preferences.
"When your back hurts you want to stretch it out, so it's great for comfort," says Bill Conn, director of marketing and business development at Esaote. "You can also get better positions for the knee than you would normally."
The trend toward offering scanners with a bore size of 70cm or greater, a patient comfort initiative perfect for large or claustrophobic patients, has continued as well.
Vendors are also working on making MRI scanners easier on the ears. GE's Silent Scan, released at RSNA 2012, adjusts gradient coils to reduce once raucous MR noise to background sound. It's now available on GE's full line of MR systems.
Advances in patient comfort have been especially valuable for abdominal area scans, a space ripe for improvements in patient comfort. Siemens says that about 6 percent of all scans done are abdominal images, and that the company sees it as the fastest-growing area in MR.
In May, the company announced FDA clearance of MR breath-holding software that reduces patient breath-hold by 50 percent while maintaining the same image quality. The software is called CAIPIRINHA (Controlled Aliasing in Volumetric Parallel Imaging Results IN Higher Acceleration), sharing its name with Brazil's national cocktail.
The software will be available as an upgrade for Siemens' Magnetom Avanto 1.5T and Magnetom Verio 3T systems.
But no matter how comfortable an MR may be, no one wants to be in there for long. Speed is another key area of focus for MRI vendors.
"Our system can now do whole body oncology assessments in less than four minutes," says Paul Folkers, head of global MRI clinical excellence at Philips Healthcare. "And we can do chest, abdomen, pelvis imaging in around 10 seconds. It's really CT-like speed, with MR contrast."
Meanwhile, a parallel transmit application from Siemens called ZOOMit allows radiologists to zoom in on small areas of anatomy like a pancreas or prostate gland in order to minimize scan times. Parallel transmit works by giving the user the ability to shape RF pulses according to the application and select a small area instead of a large plane.
"You don't have to scan tissue that you're not interested in looking at," says Stuart Clarkson, senior director MR business unit, at Siemens. "Classically, in MRI, when you've made your field of view smaller than your anatomy, you tend to get an artifact called wraparound. Parallel transmit allows us to avoid that in 3T."
Read with ease
The latest innovations aren't just benefiting patients. This year, Philips released a suite of software updates that help make life easier for radiologists and technologists. The mDIXON TSE separates water and fat signals that allows for large field of view imaging in challenging areas like the head, neck and spine.
"It's fast and it gives you a regular contrast image, as well as a very nice uniform image of a very large field of view," says Philips' Folkers.
Siemens' latest MR interface, Dot, is a highly automated interface that helps technologists with tricky procedures.
"For technologists who are not okay with more complicated imaging strategies, like how to do a heart, the scanner will take over and walk them through exactly the scan planes [they] need for a two, three or four chamber view," says Clarkson.
Dot is also helpful for simpler scans such as spine, for which it automatically sets up the slice lines to angle correctly through the disk spaces. It also adjusts for spinal problems such as scoliosis.
"I think it's quite a big push for us going forward, to be efficient and to have efficiencies coupled with consistency," says Clarkson. "The radiologist can rely on the fact that no matter who's scanning, they'll get a consistent image."
T-time
Ever since 3T MRI scanners gained FDA approval in the '90s, the advanced technology has slowly but surely made inroads in the market. In 2011, 3T MRI comprised 10 percent of the installed MRIs and 20 percent of purchases, according to a report from IMV Medical Information Division. With a doubling of the signal to noise ratio, 3T scanners are faster and more powerful than their lower-field counterparts, making them ideal for advanced procedures.
"Every iteration of the 3T is better and better at these difficult areas of MR, which are the abdomen and the heart," says Siemens' Clarkson.
Clarkson says he predicts that the market will continue to be dominated by 1.5T scanners, at least for the next three to five years. Currently, 3T scanners make up about 40 percent of the MRI order volume in dollars for Siemens. Because 3T and 1.5T scans are reimbursed at the same rate, Clarkson predicts that most centers will find it more fiscally responsible to stick with a 1.5T for now.
Philips, Toshiba and GE also report that they have seen a steady growth in 3T, though 1.5T has remained dominant.
The more powerful scanners are used frequently in research settings, however.
"I think in some cases, facilities might want a 3T to stay competitive," says Tim Joseph, MR product manager at Toshiba. "There are also a lot of researchers who enjoy using 3T because of its inherently higher signal strength."
Though 3T scanners are especially valuable for head and spine imaging, they're now being used for full-body scanning as well. Toshiba's latest 3T includes multi-phase transmission technology, which uses four points of RF transmission to provide even RF distribution in all parts of the body.
"It's always been great for neuro and muscular skeletal imaging, but there were limitations that didn't allow for the same image quality for full-body imaging," says Toshiba's Narayan. "The multi-phase transmission allows our customers to do abdominal imaging."
Use it or lose it
Just because a facility is equipped with the latest scanner technology doesn't mean it has to use it at every opportunity — that's a lesson doctors are learning as they work to make care more patient-specific. Between 2008 and 2010, MRI utilization went down after rising steadily for a decade, according to an April 2013 study published in the Journal of the American College of Radiology.
"Doctors are becoming more aware that not every test is necessary," says study author Richard Sharpe, MD, MBA. "Patients also tend to inquire about the medical necessity of diagnostic tests more than they have previously."
If doctors are more carefully targeting the right patients for the right tests, that's a good thing, Sharpe says. But the decrease in scans is a problem if important tests are overlooked because doctors are avoiding imaging indiscriminately.
While exam rates are decreasing overall, Sharpe and other researchers have noticed increases in certain areas. MRI for breast imaging, for example, has been steadily growing over the last 10 years, but studies suggest that doctors are still struggling to match the technology to the patients who need it most.
In one study, preoperative MRI was associated with higher rates of mastectomy. Radiologists love the clear images MRI gives of the breast, but the amount of detail they show may lead to unnecessary biopsies and ultimately to unneeded surgeries.
"We found that when a woman with breast cancer undergoes an MRI, additional biopsies are often obtained because of abnormalities identified on the MRI. These abnormalities are frequently not related to the breast cancer, so many patients undergo unnecessary biopsies," says study leader Todd Tuttle. "As a result, many women who were good candidates for breast-conserving treatment ultimately decide to have a mastectomy to avoid additional biopsies."
When used appropriately, breast MRI may have some benefits for the right patient, Tuttle says.
"Breast MRI can detect cancer in the opposite breast in about 3 percent of patients who didn't have the cancer detected in a mammogram or physical examination," says Tuttle. "It may be useful for breast cancer screening in some high-risk women as well. But right now, breast MRI is used too frequently."
OEMs agree that breast MRI isn't for all patients, but can be helpful for certain patients, such as those with dense breasts.
If trends in Europe are any indication of what's to come stateside, it's worth noting that MRI for breast imaging is already common in the EU, says Richard Hausmann, president and CEO of GE Healthcare's global MR business unit.
"I think there's a huge value for patients who have dense breasts who could not be easily diagnosed with mammography, who have family history to do breast MRIs," says Hausmann.
In addition to women's health, OEMs have also seen an increase in MRI for men's health issues, especially prostate cancer.
"We see that the system is used more and more in approaches for prostate imaging, where you want to localize the lesions based on MR volumetric and diffusion imaging," says Philips' Folkers.
Head games
Scanning with a purpose can also mean looking for different kinds of information. Experts say that radiologists are moving away from just using MRI as a visual and towards taking a more quantitative approach.
"Today, MR images are basically assessed or reviewed qualitatively," says Toshiba's Narayan. "But now, things like wanting to quantify fat and water, iron in the liver and the heart, those things are becoming more and more important. Studies based on quantification, those are all things that will continue to increase."
That trend is particularly evident in the latest brain imaging techniques being used in research settings today. In the realm of neuroscience, MRI can help show how the brains of patients with mood disorders like schizophrenia contrast with healthy brains.
One recent study applied tract-based spatial statistics to perform a whole-brain diffusion tensor imaging (DTI) analysis of individuals at a clinical high risk of psychosis. DTI is a relatively new MRI technique that quantifies random water movement in the brain to determine if there is something abnormal in the connectivity of the brain's white matter. The study found that the high-risk patients had an abnormal white matter microstructure.
"Schizophrenia is hypothesized to be a disorder of brain connectivity, which means that individual brain regions might function well individually, but do not properly work together as a team, like an orchestra without a conductor," study author Christian Clemm von Hohenberg tells DOTmed Business News via email.
Clemm von Hohenberg says MRI can help the treatment of diseases like schizophrenia become more biological, rather than be based on clinically observed symptoms. Besides DTI, he predicts more MRI techniques will be used for examining psychological issues.
"One very interesting challenge in the future is to combine more extensively different MRI techniques," writes Clemm von Hohenberg. "These techniques (such as fMRI, DTI, MRI spectroscopy) provide different yet complementary information on brain structure and function. Combining this information will be crucial for understanding the human brain in health and disease."
GE Healthcare has been involved in using that kind of technology to help protect one of the United States' national resources: its football players. The company launched its $40 million "Head Health Initiative" earlier this year, with the goal of better understanding concussions and traumatic brain injury through imaging.
"Mild trajumatic brain injury is as very difficult thing to really kind of get on MR," says GE's Hausmann. "You need to pull all the technologies that you have, stability imaging to look at morphologic changes, metabolic changes, diffusion weighted imaging. It's a subtle disease."
MR is also being used increasingly during brain surgery to help doctors adjust treatment midway through the procedure rather than after. The IMRIS operating suite, which includes MRI, has been used in 10,000 procedures since being released eight years ago.
"They can get feedback during the surgery," says Jay D. Miller, president and CEO of IMRIS. "They can fix what they see as a potential problem, which is especially important for brain surgery. They want to make sure they get all of the tumor while the brain flap is still open."
The technology can also be used to deliver drugs directly to a tumor rather than intravenously, which many doctors believe helps the prognosis.
A global approach
As technology continues to expand and facilities in the U.S. deal with reimbursement challenges, elsewhere in the world, cash-strapped hospitals struggle to provide basic technologies to needy populations.
Even in Central and Eastern Europe, a region that has enjoyed a steadily improving economy, MRI purchasing has been slow.
"MRI is still a much demanded technology — the number of MRI units across CEE is insufficient, compared to Western Europe and the U.S.," says Dominika Grzywinska, health care industry analyst at Frost & Sullivan. "For example, there are six MRI units per million people in Poland, compared to 53 in France."
In total, North America holds on to 40 percent of the MR market, according to MarketsandMarkets. The report predicts a 5.2 percent growth in Asia from 2013 to 2018.
To help developing nations transition into using the technology, GE has created technologies that make MR systems easier to use by including automated protocols, while also improving training and reducing total cost of ownership for customers in rural areas.
"For rural China or Brazil, the system needs to be very robust,
easy to install, and you need to be able to do it with less-educated personnel," says GE's Hausmann. "Having automation translates our intrinsic wisdom into the systems and multiplies that all over the world."
Hopefully, these advanced technologies will soon be available to any patient in need worldwide.
To view the MRI New Equipment Guide, click here.
DOTmed Registered MRI - October 2013 Companies
Names in boldface are Premium Listings.
Domestic
David Denholtz, Integrity Medical Systems, Inc.
, FL
DOTmed Certified
DOTmed 100
Michaelle Serrano, Oxford Instruments Service, LLC
, FL
DOTmed 100
Jeff Sirk, Majestic Medical Solution
, LA
Davyn McGuire, Med Exchange International, Inc.
, MA
DOTmed Certified
DOTmed 100
Jeff Rogers, Medical Imaging Resources Inc.
, MI
DOTmed 100
Brian Bruhschwein, Imaging Solutions
, ND
Alison Fortin, Global Inventory Management
, NH
DOTmed Certified
DOTmed 100
Paul Zahn, Shared Medical Services, Inc.
, WI
DOTmed Certified
DOTmed 100
Suresh Narayan, Toshiba
, CA
Richard Olson, Paramed
, IL
Bill Conn, Esaote
, IN
Jeff Kirk, Majestic Medical Solution
, LA
Brian James, North American MRI Parts
, CA
Sunny Tabrizi, Sound Imaging
, CA
Trent Howell, MIS
, GA
Bill Erbes, DirectMed Parts
, CA
DOTmed Certified
DOTmed 100
Ronen Bechor, ElsMed Ltd. & Relaxation, Inc.
, FL
DOTmed Certified
DOTmed 100
Randy Cox, MRI Technical Services, Inc.
, GA
Marshall Shannon, Image Technology Consulting, LLC
, TX
DOTmed Certified
DOTmed 100
Edward Sloan Sr., Ed Sloan & Associates
, TN
George Tyler, Altair Imaging LLC
, CA
Dave Baldwin, Cool Pair Plus
, IL
Randal Walker, Genesis, a BC Technical company
, IL
Paul Crawford, Block Imaging International, Inc.
, MI
Kitch Lark, Sparrow Medical Systems, Inc.
, MN
Marc Fessler, Independence Cryogenic Engineering
, NJ
Christopher McHan, Neusoft
, TX
Doug Baker, SafeScan Imaging Services
, WI
Larry Knight, Altima
, TX
DOTmed Certified
David Stopak, A. Imaging Solutions, Inc.
, AL
DOTmed Certified
Bruce Smith, Medical Systems Technologies
, CO
DOTmed Certified
James Gallagher, LG Medical Technologies, Inc.
, IL
DOTmed Certified
Jim Blandi, Imaging Services
, IL
DOTmed Certified
David Pac, American Radiology Resource
, MD
DOTmed Certified
Tony Smith, Classic Diagnostic Imaging
, OH
DOTmed Certified
Stephan Anderson, Heritage Radiology, LLC
, TX
DOTmed Certified
Sal Aidone, Deccaid Services Inc.
, NY
DOTmed Certified
Michael Falco, Compass Medical Equipment, Inc.
, NY
DOTmed Certified
Moti Goldman, MRI Professional Service Repair Imaging
, FL
DOTmed 100
Robert Serros, Amber Diagnostics
, FL
DOTmed 100
Jeff Weiss, Atlantis Worldwide, LLC
, NY
DOTmed 100
John Pereira, United Medical Technologies
, FL
DOTmed Certified
DOTmed 100
Clark Wilkins, JDI Solutions, Inc.
, NC
DOTmed Certified
DOTmed 100
Robert Manetta, Nationwide Imaging Services
, NJ
DOTmed Certified
DOTmed 100
Ryan Gilday, Clinical Imaging Systems, Inc.
, NJ
DOTmed Certified
DOTmed 100
Trey McIntyre, International Medical Equipment and Service, Inc.
, SC
DOTmed Certified
DOTmed 100
John Kolleger, Bayshore Medical Equipment, Inc.
, NY
DOTmed Certified
DOTmed 100
Ian Alpert, Tandem Medical Equipment
, NY
DOTmed Certified
DOTmed 100
Gary Provenzano, Proton Services, Inc.
, NJ
DOTmed Certified
International
Mads Vittrup, AGITO Medical
, Denmark
DOTmed Certified
DOTmed 100
M Osama Akkash, none
, Syria
Mahmood ElHoor, RBMEng
, Jordan
Kenny Kim, CUBE CO., LTD.
, South Korea
David Lapenat, ANDA Medical
, Canada
DOTmed Certified
DOTmed 100