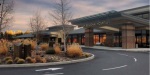 Special report: Rural health at a crossroads
December 27, 2013
by
Carol Ko
, Staff Writer
Pullman Regional Hospital's chief financial officer Steven Febus has watched his facility go through its share of ups and downs during his 26 years there. He originally started out as a staff accountant and in his own words, "worked my way through the ranks," eventually becoming CFO in 1995.

Located in the rolling hills of the Palouse in Pullman, Wash., the hospital has gone through many structural changes, including a failed collaboration with a nearby hospital in Moscow, Idaho, and a short-lived attempt to combine services under a subcompany of hospitals.

But now, the 25-bed hospital faces a new challenge: its critical-access designation, bestowed in 2004, is in danger of being revoked due to proposed budget cuts. Should this happen, its enhanced Medicare funding would be cut, impacting the facility's ability to provide services to the community.

Pullman Regional Hospital didn't meet all the federal requirements for critical-access certification, but in 2004 the state of Washington was able to deem it essential based on the Medicare/Medicaid population the hospital served, which makes up 40-45 percent of its patients, according to Febus.

But the hospital doesn't just serve the elderly — it also overlooks Washington State University, one of the largest employers of the state. Should the hospital close down, it would leave a big gap in patient care for a college town full of young students as well. "That would be one of my first questions as a parent of a prospective student at this university, especially for elite athletes," says Febus. He fears that the cuts will force the hospital to roll back major services his hospital offers today — including their critical care.

Pullman is just one of more than 800 small hospitals in the U.S. that could lose a portion of their Medicare funding under a proposal put forward in a report from the Department of Health and Human Services' Office of the Inspector General. Critics say the proposal could put hundreds of hospitals out of business, potentially depriving communities with high levels of poverty and chronic illness access to health care — in other words, depriving the patients who need it the most.

Though rural hospitals provide health care services to nearly 54 million people, these declining government payments combined with razor thin margins leaves the future of many facilities in doubt.

Trimming the fat?

President Obama's proposed 2014 budget already makes Medicare reimbursement cuts to critical-access hospitals that have 25 or fewer beds. The proposal estimates that decertifying hospitals less than 10 miles from the next nearest hospital would cut off funding for 71 hospitals and save $40 million in 2014.

Pullman, which is 9.8 miles away from its nearest competitor, just barely misses the 10-mile criteria, meaning both facilities would lose their critical-access designation should Obama's budget proposal come to pass.

However, the OIG report released this August would go further than the initial budget proposal, affecting a much broader swath of hospitals in the United States and cutting hundreds of millions a year in Medicare spending.

Since 1997, critical-access hospitals have received higher levels of reimbursement on average than traditional Medicare hospitals that receive payments based on uniform fees, according to the American Hospital Association.

But the OIG report argues that about two-thirds of the small hospitals that receive additional funding to reach remote residents are actually not all that remote.

In fact, 846 of the small hospitals were less than 35 miles from another hospital, failing to meet official CMS guidelines that require that hospitals be located at least that distance apart in order to qualify for the critical-access funding boost.

About three-quarters of the 1,328 critical-access hospitals in the U.S. were certified under an old process that gave states the power to exempt hospitals from CMS' 35-mile requirement, according to the report. Though Congress closed that loophole in 2006, the law bars CMS from overturning the states' decisions in those cases.

According to the report, if the distance rules were applied across the board, 88 percent of the hospitals benefitting from those state exemptions would lose their Medicare funding.

The OIG recommended that the CMS get rid of the state-granted exemptions and create more uniform criteria that could be applied nationally. The report argued that if even half of the 846 hospitals that were less than 35 miles from another hospital were kicked out of the program, Medicare would spend $373 million less.

The report has been met with outcry from many hospitals, but critics argue the program has outgrown its original intent of ensuring health care access to remote, rural communities. And overindulging hospitals that don't meet CMS criteria may actually wind up depriving facilities that truly need help providing critical access of funding to stay open.

Marilyn Tavenner, CMS Administrator, wrote that the agency is in favor of requesting that Congress give it the power to decertify critical-access status previously appointed by states. However, it disagrees with the OIG's recommendation to establish new, revised criteria because it could affect hospitals' payment status and be too time-consuming.

For example, the report suggests, the CMS could follow the lead of some states and declare that hospitals in high-poverty areas could be exempt from the distance requirements. Or the government could change the wording to say critical-access hospitals must be at least 35 miles from another hospital that offers the same services.

"The existing location and distance criteria already represent a uniform standard to which all CAHs certified since January 2006 have been subjected," Tavenner wrote. "We believe a facility's Medicare certification as a CAH versus a [non-critical access] hospital should not be tied to rapidly fluctuating criteria."

Playing the game

Rural health isn't just a matter of serving patients on a smaller scale — hospitals in rural areas face unique health care challenges different from those of urban facilities. Rural populations are more likely to be medically underserved, uninsured, sicker, poorer, and older than urban populations.

As a result, rural health proponents call for alternative payment methodologies and incentives to help address these additional problems. Under current fee-for-service reimbursement models, rural facilities suffer an inherent disadvantage given their low patient volumes.

"Unless you're getting paid to keep people healthy, health care is still the more you do the more you make," says Febus. Pullman's demands are especially complex since it serves a diverse population of both Medicare/Medicaid patients and younger students with insurance. "If you were truly 100 percent Medicare/Medicaid — it wouldn't matter if you had 10 or 1000 patients. You'd be paid 100 percent. But now we have to play both games. It creates some interesting dynamics," he says.

In fact, the critical-access exemption was originally created to offset the financial challenges created by this payment system. In the 80s and 90s, over 400 rural hospitals closed across the country.

"New members of the House and Senate don't have the institutional memory because they weren't there to know why these rural hospitals statuses were created," says Maggie Elehwany, government affairs and policy vice president of the National Rural Hospital Association. She fears that if the proposed budget cuts go through, the country will see history repeating itself with a new rash of rural hospital closures.

The impact
Because these budget proposals are pending, there's little way to know for now what the extent of the damage will be for rural facilities. But given that Congress is determined to trim costs across the board, hospital executives realize that it's a matter of when, not if.

This could have an outsized impact on hospitals that primarily serve elderly populations. "Many small rural facilities treat disproportionately high numbers of seniors. In some of these facilities, it's 70, 80, 90 percent Medicare. If Congress doesn't keep their Medicare reimbursement rate as it is, they would have to make up 19 percent of it from the private insurer payors they have, which is not possible," says NRHA's Elehwany.

One of the ironies of these cuts is that most rural facilities already conform to the cost-effective party line touted by proponents of health care reform. If you compare the same procedure in two urban and rural hospitals, it would be 3.7 percent cheaper to do it in a rural setting as compared to an urban setting. But why?

Rural hospitals typically only have primary care, which means they're being reimbursed at a primary care rate rather than a specialist rate. "If you close that hospital and think, well, patients have to travel extra 30 miles to an urban facility, you're making it difficult for a senior, but you're also shifting costs to an area of care that costs more money for the taxpayer," says Elehwany.

Even aside from these looming budget squabbles, sequestration and other reimbursement cuts have already dealt a heavy blow to rural facilities. Pullman Regional Hospital has had positive cash flow up till the last three years, during which they've been running in the red. "It's getting harder and harder to see a way out of that," says Febus.

"We've got a whole bunch of fires to put out," adds Elehwany.