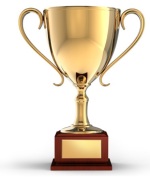 Best of 2013
December 26, 2013
Welcome to the best of 2013. Every year, DOTmed Business News provides a rundown of award recipients from top industry associations. If an association you belong to isn't on display here, let us know and we'll reach out to them for inclusion in next year's issue.

AHRA
AHRA Gold Award
The award is the highest honor AHRA can bestow upon its members. It is given to members who have made significant contributions to the association and, thus, to the profession of health care administration. Nominations for the Gold Award come from the membership and any member may nominate a candidate. All members of AHRA are eligible for award consideration.




Gary Boyd, FAHRA
Boyd has been a dedicated member of AHRA since September 1983 and achieved Fellow status in 1993. He has served as the former Western Region President and Secretary, and has been on or chaired a multitude of committees, most notably, the Editorial Review Board. He served this committee for 16 years total, most notably as chair and editor-in-chief. He is a gifted and knowledgeable writer, and he has used his talents and wisdom to publish over 50 articles over the years. His regular column, "Management Findings" in Radiology Management contains gems of wisdom that help educate the membership. He delivers his message with a personal yet worldly view of health care.

Boyd has been CEO of Mammoth Hospital in Mammoth Lakes, California since 2008 and several years prior to that he was an administrative VP. He continues to be an active volunteer for the AHRA. Gary is down to earth, hard working, and is a quality person who clearly appreciates his roots. It is why he is an effective CEO, leader, administrator, husband, and father.


Luann J. Culbreth, CRA, FAHRA
Culbreth has been a member of AHRA since 2002 when she also earned the CRA credential. She achieved Fellow status in 2010. Luann first became actively involved with AHRA by working on the Item Writers Workshop where groups of members across the country developed questions for the inaugural CRA exam. She is a regular speaker on topics such as operations, communications, budgeting, and human resource management. She has worked on a number of committees and teams for AHRA, including service on the Radiology Administration Certification Commission for three years and the Annual Meeting Design Team for three years.

Culbreth was elected AHRA president for 2011-2012 and is currently serving as the chair for the AHRA Education Foundation. She is the Executive Director - Diagnostic & Interventional Services at Saint Thomas Health-Baptist Hospital in Nashville, TN.


Jeffrey A. Palmucci, CRA, FAHRA
Jeff Palmucci became a member of AHRA in 1989. He has served in a leadership capacity for well over a decade as a writer, speaker, member of the board of directors and as association president in 2007-2008. Palmucci was one of the first to become a CRA in 2002 and he achieved Fellow status in 2011. Within the AHRA and beyond, he has become widely recognized as a leader, mentor, and steward. He continues to give back to the association as a speaker, author, and active committee member. His countless contributions to the association and to the field of radiology are testament to his dedication and commitment to professional excellence.

Palmucci received the AHRA Award for Excellence in 2010 and was named the 2011 Most Effective Radiology Administrator/Manager by AuntMinnie. He is currently the radiology director at Vanderbilt University Medical Center in Nashville, TN.

AMA
The Hays-Bell Award for Leadership in Medical Ethics and Professionalism
The Hays-Bell Award is named for the co-writers of the original AMA Code of Medical Ethics. The AMA Foundation Board of Directors selects the award recipient who has made an outstanding contribution through active service in medical ethics activities and demonstrated dedication to the principles of medical ethics and the highest standards of medical practice.


The American Medical Association Foundation, the philanthropic arm of the nation's largest physician organization, presented Ezekiel Emanuel, M.D., Ph.D., a medical oncologist and bioethicist from Philadelphia, with this year's honor.

As the founding chair of the department of bioethics at the National Institutes of Health (NIH), Emanuel established and led a department now widely recognized around the world.

Emanuel is vice provost for global initiatives, chair of the department of medical ethics and health policy and Diane and Robert Levy University Professor at both the Perelman School of Medicine and the Wharton School at the University of Pennsylvania, where he recently developed a new Master of Science program in medical ethics.

Emanuel recently announced the creation of the Penn Neurodegenerative Disease Ethics and Policy Program, which will support research, education, and training for identifying and addressing ethical and policy implications for the diagnosis and treatment of Alzheimer's disease and Parkinson's disease.
He previously served in the White House as health policy advisor to the director of the Office of Management and Budget.

In addition to his work as a physician and professor, Dr. Emanuel has written and edited nine books and more than 200 scientific articles about the ethics of clinical research, health care reform, end-of-life issues, euthanasia, and managed care. His publications include The Oxford Textbook of Clinical Research Ethics and The Ends of Human Life, a book on medical ethics which received honorable mention for the Woodrow Wilson Foundation's Rosenhaupt Memorial Book Award.

AMA
Benjamin Rush Award for Citizenship and Community Service
The award recognizes a physician who has gone above and beyond their professional call of duty to make an outstanding public service contribution to their local community.


This year, the award was presented to Kenneth L. Mattox, M.D., a Houston thoracic surgeon.

Mattox was chosen by the AMA for the award due to his exemplary service in the medical response to several natural disasters, including Tropical Storm Allison in 2001 and Hurricanes Katrina and Rita in 2005. As part of the Katrina Joint Unified Command, Dr. Mattox helped form an "evacuation city" to house, treat, clothe and feed 27,000 evacuees from New Orleans in only 18 hours.

Mattox is currently a distinguished service professor at Baylor College of Medicine and is chief of staff and surgeon-in-chief at Ben Taub Hospital in Houston, where he has worked since 1973. As an innovator in trauma care, Dr. Mattox has won numerous awards and honors for his work including the AMA Physician Recognition Award in 1972 and 1993.

Mattox is a past president of the American Association for the Surgery of Trauma, past president of the Harris County Medical Society and Texas representative to the AMA House of Delegates from 2004-2006. He helped develop the internationally renowned Ben Taub Hospital Emergency Center and its equally respected Trauma Center and he has contributed his time and talents to help numerous organizations including the John P. McGovern Museum of Health & Medical Science, on which he is chair of the board of directors.

He received his Bachelor's degree from Wayland College in Plainview, Texas and he received his medical degree from Baylor College of Medicine where he completed residencies in general surgery and thoracic surgery.

ASRT
Jean I. Widger Distinguished Author Award
The award honors the best peer-reviewed articles published in ASRT's scientific journals. The award is named after longtime Radiologic Technology editor Jean I. Widger. The association named three recipients of the award in 2013


Nina Kowalczyk, Ph.D., R.T.(R)(CT)(QM), FASRT; Ruth Hackworth, M.S., R.T.(R)(T); and Jane Case-Smith, Ed.D., OTR/L, FAOTA, are the winners of the Widger award for their article "Perceptions of the Use of Critical Thinking Teaching Methods." The article appeared in the January/February 2012 issue of Radiologic Technology.


Kowalczyk is an assistant professor and Hackworth is the radiation therapy program director for the radiologic sciences and therapy department at The Ohio State University in Columbus. Case-Smith is a professor and chairperson of the occupational therapy division at OSU.


Their study identified how radiologic science program directors perceived their level of competence in teaching and assessing critical thinking skills and the difficulties they face in implementing student-centered teaching methods. The authors found that program directors see the value in teaching critical thinking strategies and believe there is a need for professional development in critical thinking educational methods.


ASRT
Harold Silverman Distinguished Author Award
This award also honors the best peer-reviewed articles published in ASRT's scientific journals. The award is named in honor of radiation therapist Harold Silverman, an advocate for accreditation of radiation therapy educational programs. Three individuals were presented with the honor this year.


Jeffrey Legg, Ph.D., R.T.(R)(CT)(QM); Melanie Dempsey, M.S., R.T.(R)(T), CMD; and Laura Aaron, Ph.D., R.T.(R)(M)(QM), are the winners of the Silverman award for their article "Patient Safety Perceptions Among U.S. Radiation Therapists." The article appeared in the spring 2013 issue of Radiation Therapist.

Legg is an associate professor and chairman of the department of radiation sciences and Dempsey is an assistant professor and director of radiation therapy at Virginia Commonwealth University in Richmond. Aaron is a professor, director and graduate coordinator for the radiologic sciences program at Northwestern State University in Natchitoches, La.


The purpose of their study was to help establish a baseline for the culture of patient safety as perceived by radiation therapists. The authors surveyed 2,000 radiation therapists certified by the American Registry of Radiologic Technologists to determine their opinions and perceptions regarding patient safety in their institutions. The information the authors collected helps therapists improve processes and enhances the patient-safety culture in their respective workplaces.

ASTRO
ASTRO Gold Medal
ASTRO's Gold Medal, first awarded in 1977, is bestowed annually on up to three ASTRO members who have made outstanding contributions to the field of radiation oncology, including work in research, clinical care, teaching and service. Including the 2013 awardees, only 72 of ASTRO's more than 10,000 members have received the Gold Medal award.

Candidates must be nominated by one Active member of ASTRO and receive letters of support from two additional Active members of ASTRO, detailing the nominee's impact on the advancement of radiation oncology. Nominees may be from any of the scientific disciplines represented in ASTRO, including radiation oncology, biology and physics. This year, three doctors were recognized.


Amato J. Giaccia, PhD
Giaccia's research has been focused on the role of tumor microenvironment in tumor progression and metastasis, specifically the response of tumors and normal tissue to a reduced oxygen environment, or hypoxia. He co-authored a 1996 study, "Hypoxia-mediated selection of cells with diminished apoptotic potential in solid tumors," published in Nature, that impacted the research direction of the field by establishing the molecular basis for hypoxia-mediated apoptosis, the process of programmed cell death.



His laboratory published definitive data in a 2006 study in Nature and two studies in 2009 in Cancer Cell and the Journal of Clinical Oncology demonstrating that hypoxia-related secreted proteins are involved in mediating cell invasion and metastasis.

He is the director of the Stanford Cancer Biology Training Program, and director of the Radiation Biology/Molecular Therapeutic Program and the associate director of Education and Basic Research for the National Cancer Institute designated Stanford Cancer Center. Giaccia is the Jack, Lulu and Sam Willson Professor of Cancer Biology, associate chair of the department of radiation oncology, and director of the Division of Radiation and Cancer Biology at the Stanford University School of Medicine in Stanford, Calif. In collaboration with Eric J. Hall, DPhil, of Columbia University Medical Center, Giaccia has co-authored the last two editions of the textbook, Radiobiology for the Radiologist.


Radhe Mohan, PhD, FASTRO
Mohan, a medical physicist for 42 years and 22-year ASTRO member, pioneered the development of computer-aided systems for automated dosimetry and record-and-verify systems for radiation therapy. He was among the key leaders in the development of 3-D CRT, and later, of IMRT. His most recent efforts have focused on image-guided radiation therapy, management of respiratory motion and proton therapy. Mohan is the principal investigator at The University of Texas MD Anderson Cancer Center in Houston on a major program project grant from NCI, working with Massachusetts General Hospital in Boston, for research and development to optimize proton therapy.

Mohan has shared his expertise by serving on ASTRO committees and on the editorial team of the International Journal of Radiation Oncology • Biology • Physics (Red Journal), the official scientific journal of ASTRO. He was the Red Journal's physics senior editor and has been a reviewer for the Red Journal since 1995. As a member of ASTRO's Annual Meeting Scientific Program Committee, the Radiation Physics Committee and the Physics Resource Panel, Dr. Mohan has provided valuable perspective and leadership to the Society. "It is a great honor and highly gratifying to be recognized by the radiation oncology community for my work as a physicist," said Dr. Mohan, a professor and the Larry and Pat McNeil Chair in Cancer Research in the department of radiation physics of the Division of Radiation Oncology at The University of Texas MD Anderson Cancer Center.


Prabhakar Tripuraneni, MD, FASTRO
A 30-year ASTRO member and former ASTRO chairman, Tripuraneni, a radiation oncologist, has impacted the clinical aspect of radiation oncology through his insights in vascular brachytherapy.

Tripuraneni helped develop the methodology, dosimetry and dose prescription for endovascular brachytherapy to avoid coronary restenosis. Tripuraneni and colleagues also pioneered techniques to irradiate the stent to prevent tissue from growing and blocking it again. This technique was published in 1997 in The New England Journal of Medicine.



Tripuraneni has played an integral role in expanding ASTRO's services and support to its members and the radiation oncology field. He was a key player in creating the ASTRO Fellows designation, which honors active ASTRO membership of at least 15 years and commendable service to ASTRO and the field of radiation oncology; in organizing Integrating the Healthcare Environment-Radiation Oncology, an initiative that works to improve the sharing of information among the various computer systems and software utilized in radiation oncology practices; and in providing guidance and leadership for ASTRO's new practice accreditation program. His additional efforts included launching the initial ASTRO.org website; serving as editor of ASTROnews, the Society's quarterly member magazine; launching the first Radiation Oncology Inter-Society meeting; and organizing the first eContouring sessions at ASTRO's Annual Meeting.


MGMA
The Harry J. Harwick Lifetime Achievement Award
This award is the highest recognition bestowed by MGMA. It goes to an individual who has made nationally recognized contributions to healthcare administration, delivery and/or education in his/her career, advancing the field of medical practice management.

This year's award went to Edgar H. Silvey, MPH, MBA, CMPE, FACHE, chief executive officer, The Baton Rouge (La.) Clinic. Silvey has been a health care administration professional for 43 years. He has worked in comprehensive health planning, investor-owned hospital administration, not-for-profit hospital administration, mental health administration, health plan administration, and long-term care administration. For the last 25 years, has worked as a medical group practice administrator. In his time at The Baton Rouge Clinic, it has grown by 250%, through a strong recruiting process and a number of mergers and acquisitions.

Silvey holds a master's of public health and master's of business administration from Tulane University, New Orleans.


MGMA
Medical Practice Executive of the Year Award
The award recognizes a medical group practice executive who has demonstrated a noteworthy achievement of exceptional leadership and management proficiency to enhance strategic and operational effectiveness of health care delivery in his or her practice and community within the last three years.

Mischelle Ferrell, MHA, CMPE, practice administrator, Cumberland Family Care PC, Sparta, Tenn. Received this year's honor. Ferrell joined Cumberland Family Care PC in 2002 and helped to implement comprehensive strategic planning in the practice, which resulted in expansion from one family medicine practice to three practices serving two counties. Ferrell also streamlined the practice's budget, implemented new programs and services, and helped recruit new personnel.

RSNA
RSNA Gold Medals
In a tradition that originated in 1919, Gold Medals are presented each year to individuals who have rendered exemplary service to the science of radiology and who have received unanimous approval by the RSNA Board of Directors. Three individuals received the distinct recognition this year.


A world-renowned thoracic radiologist, 2008 RSNA President Theresa C. McLoud, M.D., is one of the foremost educators in her field as well a passionate promoter of the globalization of radiology.

Along the way, McLoud has forged new territory for women, serving as the first woman in the history of radiology at Massachusetts General Hospital (MGH) in Boston to hold the rank of professor at Harvard.

A Boston native, McLoud earned her medical degree from the McGill University Faculty of Medicine in Montreal, Quebec, Canada, where she also completed her residency training in radiology. Following a thoracic imaging fellowship at the Yale University School of Medicine in New Haven, Conn., she quickly became an assistant professor of diagnostic radiology at Yale. In 1976, she returned to Boston and joined Harvard Medical School, where she has been professor of radiology since 1993.

McLoud's research in interstitial lung disease, CT of the thorax, lung cancer imaging and occupational lung disease has taken her around the world.

McLoud has conducted more than 150 postgraduate courses and published more than 200 scientific papers, reviews and book chapters. Now in its second edition, her 1998 text, Thoracic Radiology: The Requisites, remains a popular and comprehensive introductory work.


Harvey L. Neiman, M.D.
Harvey L. Neiman, M.D., has served as chief executive officer of the American College of Radiology (ACR) since 2003 and will retire in spring 2014.

Neiman was born in Detroit, Mich. He received his bachelor's and medical degrees from Wayne State University in Detroit and completed his radiology residency and a fellowship in angiography at the University of Michigan in Ann Arbor. He is accomplished as an educator and administrator — he began his career in Washington, D.C. as an instructor at the Armed Forces Institute of Pathology and chief of cardiovascular radiology at Walter Reed Army Medical Center. He spent the next 10 years as a professor at Northwestern University in Chicago, Ill., as director of angiography and sectional imaging. He also was director of angiography at Children's Memorial Hospital in Chicago. Neiman was a clinical professor of radiology at the University of Pittsburgh from and a professor of radiology at Temple University in Philadelphia.

Neiman chaired the ACR commissions on ultrasound and economics, and he served as a member of the Board of Chancellors and as chairman of the board. During his tenure as ACR CEO, he helped establish the ACR Education Center, Radiology Leadership Institute, Harvey Neiman Health Policy Institute and the American Institute for Radiologic Pathology.

Neiman has published more than 125 scientific papers, 26 book chapters and is the author of the book, Angiography of Vascular Disease. He has given nearly 300 invited lectures and scientific presentations.


J. Frank Wilson, M.D.
Born in Huntsville, Mo., J. Frank Wilson, M.D., earned his undergraduate and medical degrees from the University of Missouri before completing his residency in radiation oncology at Penrose Cancer Hospital in Colorado Springs. He served fellowships in the Radiation Oncology Branch of the National Institutes of Health and at Hospital Creteil, University of Paris. Dr. Wilson joined the Medical College of Wisconsin as an assistant professor of radiology, rising to the position of professor of radiation oncology and department chair. Wilson also served as director of the MCW Cancer Center. Today, Dr. Wilson serves as the chair and Bernard & Miriam Peck Family Professor of Radiation Oncology and director emeritus of the MCW Cancer Center.

Wilson has published more than 200 papers and abstracts and 21 books or chapters and has presented lectures across the globe on the role of radiation therapy in the management of cancer. He served as chair and principal investigator of the National Cancer Institute-funded American College of Radiology Quality Research in Radiation Oncology project.

Wilson served six years on the Board of Chancellors and as ACR vice president in 2004. He was named an ACR Fellow in 1988. He is past-president of the American Society for Radiation Oncology (ASTRO) and of the American Radium Society. He currently serves as board chair of the Midwest Division for the American Cancer Society.


SIIM
New Investigator Travel Award
Travel awards are presented each year at the annual meeting to new investigators with an area of study and interest in imaging informatics. Young investigators are eligible if they are in a full-time training program, or have completed their training program within two years of the SIIM Annual Meeting.
To be eligible for a New Investigator Travel Award, applicant must be a student member of SIIM or affiliated with a SIIM institution member.

This year's winner of the New Investigator Travel Award is Adeel Siddiqui, MBBS, Johns Hopkins Hospital, for his papers, "Bridging the Leadership Gap between Imaging, Clinical and IT Personnel in an Informatics Fellowship" and "Stage 2 Meaningful Use: Examining the New 2014 Base Electronic Health Record and its Impact on Radiologists."


Roger A. Bauman, MD Award
The Roger A. Bauman, MD Award is presented for the best student paper each year at the annual meeting. This award was named to honor Dr. Bauman's distinguished career in radiological informatics research and practice and his status as Founding Editor of the Journal of Digital Imaging.

This year's awardee is Adam R. Travis, MD of University of Chicago Medical Center for the paper, "Improving Communication of Image Measurement Data Through Use of a Dedicated Structured Radiology Report Section: An Institutional Survey of Clinician Preferences."


SNMMI
Georg Charles de Hevesy Nuclear Pioneer Award
Each year, SNMMI presents the Georg Charles de Hevesy Nuclear Medicine Pioneer Award to an individual for outstanding contributions to the field of nuclear medicine. De Hevesy received the 1943 Nobel Prize in chemistry for his work in determining the absorption, distribution, metabolism and elimination of radioactive compounds in the human body. His work led to the foundation of nuclear medicine as a tool for diagnosis and therapy, and he is considered the father of nuclear medicine. SNMMI has given the de Hevesy Award every year since 1960 to honor groundbreaking work in the field of nuclear medicine.

S. Ted Treves, MD, professor of radiology and director of the Joint Program in Nuclear Medicine at Harvard Medical School, has been named as this year's recipient.

In addition to his positions at Harvard Medical School, Treves serves in several capacities at Brigham & Women's Hospital, the Dana-Farber Cancer Institute and Boston Children's Hospital. Treves founded the first division of nuclear medicine at Boston Children's Hospital and served at its chief for more than 40 years. He is a founding member of the JPNM and has served as director of its Residency Training Program in Nuclear Medicine. He has been a member of the U.S. Food and Drug Administration Radiopharmaceutical Advisory Committee. He is also a lifetime member of the American Board of Nuclear Medicine. Treves founded the first Boston Children's Hospital Small Animal Imaging Laboratory (SAIL).

As the leader of the Image Gently Nuclear Medicine Group, he has led initiatives toward radiation dose reduction in pediatric nuclear medicine, culminating with the 2010 North American Consensus Guidelines for Pediatric Radiopharmaceutical Administered Doses. Treves has several inventions and patents in his name, including a patient-specific method for the detection of seizures. He has written more than 360 journal articles, books and book chapters on these topics.

Treves earned his medical degree from the University of Buenos Aires in Argentina and completed a residency in nuclear medicine at Royal Victoria Hospital in Montreal, Canada. At Yale-New Haven Hospital in New Haven, Conn., he completed an additional residency in nuclear medicine, as well as two fellowships in radiology and nuclear medicine. He is a diplomate of the American Board of Nuclear Medicine.


SNMMI
Paul C. Aebersold Award for Outstanding Achievement in Basic Nuclear Medicine Science

The award, named in honor Paul C. Aebersold, a pioneer in the biologic and medical application of radioactive materials and the first director of the Atomic Energy Commission's Division of Isotope Development. The honorees are selected by the SNMMI Awards Committee, to recognize outstanding achievement in basic science applied to nuclear medicine and was first presented in 1973.



Dean F. Wong, MD, PhD, professor and vice chair of Radiology, and professor of Psychiatry, Neuroscience, Environmental Health Sciences, and Carey School of Business at Johns Hopkins University in Baltimore, Md., has been named this year's recipient.

Wong has more than 30 years of experience with brain PET imaging and many firsts. As part of his PhD thesis, he provided the preclinical work and medical oversight and data analysis of the first dopamine D2 PET receptor imaging in human beings, and as PI of the team carrying out the first aging study of D2 receptors, the first study suggesting elevations of D2 dopamine receptors in schizophrenia, one of the first human PET radioligands routinely used for the dopamine transporter, and one of two studies to first document cocaine craving measured by intrasynaptic dopamine release.

He and his lab at JHU collaborated with Avid Radiopharmaceuticals on the first FDA F-18 amyloid radiopharmaceutical (AV-45) imaging in human beings. He and collaborators have recently developed new human PET and single photon emission computed tomography radiotracers.

Wong received his medical degree from the University of Toronto Faculty of Medicine in 1977, his nuclear medicine residency at JHU and American Board of Nuclear Medicine certification in 1982, and his doctorate in radiation health sciences from JHU in 1990. He holds academic appointments at the University of Copenhagen in Denmark and continues to serve in various roles with the National Institutes of Health including the Center for Scientific Review Neural Basis of Psychopathology, Addictions and Sleep Disorders Study Section.

He has authored or coauthored over 200 peer-reviewed journal articles and has contributed to more than 275 books, book chapters, monographs and symposia. He is/has been a member of five journal editorial boards and serves as an ad-hoc reviewer for 15 additional journals. He is a fellow of the ACNP and an honorary science and technology fellow of the Advanced Science and Technology Adjudication Resource Center.