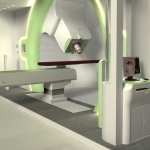 Is there a viable future for proton therapy?
April 10, 2014
by
Loren Bonner
, DOTmed News Online Editor
The National Association for Proton Therapy wrapped up its second annual conference in Washington, D.C. last week with several takeaways for the stakeholder community.

Certainly, larger attendance figures this year echoed the growing number of facilities being built around the country and the world, but despite the strength in numbers, there was a clear message to participants that a viable future for proton therapy is going to take a lot of work.

What's needed
The cost of building and equipping a proton beam facility can easily reach upward of $100 million — something that has made it a controversial medical technology.

For years, the proton therapy community has been hearing the call from regulatory bodies that randomized controlled trials are needed to prove to them that the higher cost is worth it if patient outcomes are better.

"If it cost the same as IMRT, there would be no debate," said John Frick, NAPT board chairman.

Dr. Bhadrasain Vikram, chief of the clinical radiation oncology branch at the National Cancer Institute, said that the boom in proton facility construction in recent years has supported this need for randomized controlled trials. He said by the end of 2014, eight randomized trials will be getting off the ground comparing protons and photons.

Results could be beneficial for obvious reasons, but Vikram said they will also help facilitate the best direction for proton therapy.

"We need to begin to identify that 5 percent of patients who will benefit through imaging biomarkers or tissue biomarkers and this happens in randomized controlled trials," said Vikram.

Health reform's impact
With Medicare currently only reimbursing for prostate cancer treatment with proton therapy, and most policy makers wary about paying for an expensive treatment that lacks the evidence they feel warrants coverage, reimbursement challenges continue to plague proton therapy stakeholders.

"Coverage has really been under fire this year," said Christopher Pericak, a consultant for Research and Insights at the Advisory Board Company. "Look at the 2013 prostate studies — it's interesting to see that payors were not swayed by research but instead are raising the bar for research."

He said despite inroads, it's all about cost, and regulators will continue to make it more difficult for people to establish the technology.

He also said proton therapy will have no choice but to evolve in a health care environment that is moving away from paying for services to paying for outcomes. In a nutshell, payors will want to align coverage with value and better patient outcomes.

Proton therapy's growth has been largely due to the traditional fee-for-service model of payment, but health care reform is slowly eroding that payment structure.

"Last year we said it [proton therapy] was caught between these two worlds, but this year, we see it preparing for the transition," said Pericak.

New research could help. While the Mayo Clinic hasn't treated any patients yet with proton therapy, its new Center for the Science of Healthcare Delivery could help in the search for answers about the value of proton therapy in relation to cost.

"We can have access to claims information to understand how much it costs for treatment and to see what happens with costs over time, like treating side effects," said Dr. Robert Foote, chair of the department of radiation oncology at the Mayo Clinic in Rochester, Minn. (Because proton therapy is able to directly target tumors more precisely, it claims to reduce side effects in patients who are being treated).

The future is small, not big
Based on research conducted at the Advisory Board Company, Pericak said that small scale single proton therapy rooms will lead adoption in the future because of lower barriers to entry and thinning hospital budgets.

Today, small-scale makes up only about 7 percent of proton therapy rooms. In the future, Pericak predicts that figure will grow to 30 percent.

The other logical reason is that single rooms favor the local strategy that is already playing out in the makeup of proton centers around the country. When there were only a few centers in the country, they had to accommodate a large population. But as more centers come online, that will no longer be necessary.

Dr. Jeffrey Bradley, director of the S. Lee King Center for Proton Therapy at Washington University School of Medicine said its proton center, built in the bottom of a parking garage, is a single room with the smaller footprint Mevion proton therapy unit, and was attractive because it was a "lower initial investment."

The prostate debate
Many speakers at the conference who have had a stake in the game for a long time said that proton therapy needs to branch out.

"The reliance on prostate cancer is a losing issue," said NAPT's Frick. "There are simply too many other options for prostate cancer treatment that cost a lot less."

Dr. Carl Rossi, medical director for the Scripps Proton Therapy Center said: "Don't put all your eggs in the prostate cancer basket."

But it's tough when there's not much research on other tumor sites that are appropriate for proton therapy. Treating head and neck cancer is advancing rapidly, for example, but proton therapy is not well known in this area.

Dr. Steven Frank, director of Advanced Technologies of the Proton Therapy Center at the University of Texas MD Anderson Cancer Center, said they have seen prostate procedures going down, and more head and neck cases being treated.

Dr. Nancy Mendenhall, medical director at the University of Florida Proton Therapy Institute, said in 2013 they saw a decreasing percentage of prostate cancer cases — down from 90 percent to 45 percent, currently.

New marketing message
Many speakers spoke about finding ways to better identify those patients who would benefit the most from proton therapy.

"It should be more about the benefits to specific patients," said Pericak.

Going forward, he thinks proton therapy's marketing message should be less about being the best treatment, to targeting who it's best for.