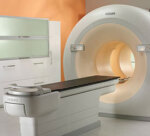 Philips suspends CT and PET/CT production at Ohio facility
April 17, 2014
by
Loren Bonner
, DOTmed News Online Editor
Philips Healthcare has temporarily suspended manufacturing CT scanners and molecular imaging equipment at its Cleveland, Ohio facility following an inspection from the U.S. Food and Drug Administration earlier this year.

The decision was voluntary, according to Mario Fante, senior manager of public relations at Philips.

He told DOTmed News that there is currently no indication of product safety issues with the equipment and that the production suspension does not involve recalling or retrieving any products that have already been distributed to customers.

Loretta Loncoske, a clinical analyst at MD Buyline who has been following the issue for their hospital and health facility customers, said it is her understanding that it's a paperwork issue and has less to do with the machines themselves. MD Buyline is an evidence-based, clinical and technology research firm for health care systems.

"It's more like they didn't do their paperwork correctly — they didn't dot all their i's and cross all their t's," she told DOTmed News.

Still, customers are worried they will not get the piece of equipment they ordered. When an order is placed for a scanner, typically it gets built in the factory from the ground up. Loncoske said some Philips' customers who ordered affected scanners are looking at different options at this point. Depending on the health care facility's timeline for installation, they might cancel the order altogether. OEMs typically give customers a deadline when they can cancel an order without being penalized. Those who decide to take this route will probably end up purchasing a scanner from another vendor, according to Loncoske. Others might use the situation as leverage to negotiate a better price from Philips, and some loyal Philips' customers might just stick it out.

Loncoske said that MD Buyline's customer ratings for Philips have always been satisfactory, even though their strong suit has never been CT. But this current situation might set them back and even open up an opportunity for Toshiba to take some of the market share.

According to Loncoske, the CT market has been dominated by GE and Siemens, with most of the market share, followed by Toshiba and Philips with a small piece of the pie.

Philips' Fante said they expect to resume shipping some products from the Cleveland facility in Q2 2014, with others to follow in the second half of 2014.

In addition to CT and PET/CT, the Cleveland facility also manufactures SPECT and SPECT/CT systems.

"Some medical devices affected by the temporary suspension in Cleveland are also manufactured at other Philips' facilities outside the U.S., including Suzhou and Shenyang, China; Lagoa Santa, Brazil; and Haifa, Israel. Production of those devices at these other facilities will continue for distribution in non-U.S. markets. Service of our products is not affected by this action," said Fante.

Affected Philips' products for CT include: iCT, iCT SP, Ingenuity Elite, Ingenuity Core 128, Ingenuity Core, Ingenuity Flex, Big Bore CT, Big Bore Oncology, Brilliance 64, Brilliance 16, IMR upgrade and iDose upgrade.

On the molecular imaging side, affected products include: BrightView XCT, BrightView X, BrightView, Ingenuity TF PET/CT, Gemini TF 64 PET/CT, Gemini TF 16, TruFlight Select, TF Big Bore, and Precedence.

Philips' customers were first contacted in person about the situation by a Philips sales representative. Philips said customers have also been informed in writing.