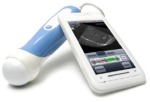 Building an ultrasound device for a changing health care system
April 28, 2014
by
Loren Bonner
, DOTmed News Online Editor
The world's first smartphone-based ultrasound system from the company Mobisante gained U.S. Food and Drug Administration approval in 2011. Since that time adoption has been widespread, according to Mobisante's CEO and co-founder, Sailesh Chutani. In the U.S., interest has stemmed mainly from the primary care and urgent care setting. Globally, many public health workers take the device with them on trips.

DOTmed News spoke with Chutani about his product and taking a consumer-oriented approach to medical device innovation.

DMN: What was the genesis of Mobisante?
SC: While I was at Microsoft, I started to look at mobile in the context of health care education and finance, mostly in the developing world. That's where I started in 2004. Around that time the phone was the platform of choice. I started to invest in that, and then one area that seemed promising was developing diagnostic sensors that could work with smartphones. The idea was that you can start to use them as a connected computer element and if you had diagnostic sensors then you could conceive of building a powerful platform that every health care provider in world could use — you could use it for imaging, vital signs, and be connected so that you can send images for interpretation. Eventually you start to increase the care you provide at the front lines in rural communities. And if they are in network, you get a global view of what's happening. That was the big vision.

After doing this for four years, I got excited to build that platform. And what's the most useful modality that would have value right away? Ultrasound. So we focused on that. My business partner from Washington University and I got together and started the company with funding from two community clinics in eastern Washington.

DMN: Why do you think they thought your product was worth investing in?
SC: They thought our device could help them provide care in remote communities where they usually send people elsewhere for imaging and it could reduce the amount of referrals and the unnecessary ER visits because you can start to do a lot of rule-outs. For example, with abdominal pain, you want to rule out certain kinds of internal bleeding and if you don't have access to ultrasound, you have to send someone to the ER if you have doubts. And many times the abdominal pain is just gas.

It sounded like there was enough need for this in U.S. as health care moves closer to the patients. You want to put more care into the hands of more mid-level professionals. If we can move care out of the hospital and in to the hands of mid-levels that allows you to reduce costs and increase access at the same time. Our device becomes like a catalyst to make that happen.

So we started in global health but we found there was a big need in the U.S., and the rollout of the Affordable Care Act has started to help us too: if any entity is not part of an ACO and they have some risk sharing, they have incentive now to not do unnecessary referrals and do as many rule-outs and as many in-house patient procedures as they can.

We were cleared by the FDA for a fairly broad range of indications. From a market perspective, we focus on quick-look triage rule-out procedures.

DMN: Can you describe what the device looks like?
SC: It connects to a smart phone or a tablet and there is a different probe with different frequencies and clinical uses, which connects to a smart phone or tablet. Then we run our specialized software that gives you a portable handheld and connected ultrasound system that you can carry with you.

DMN: Although ultrasound is normally in real-time, does it integrate with PACS or an electronic medical record?
SC: Yes. We leverage network connectivity to also give you access to a cloud-based PACS we run. We haven't launched that yet, we are just in beta. But the whole idea is that you get the device and options to connect to cloud storage, and then once you have that, we can connect you to a 24/7 radiology network if you need it. If you have your own PACS, our system generates images in DICOM so you can export directly to hospital PACS. Smaller practices normally don't have image management systems, it's expensive, and we can also help them with that.

DMN: What are some improvements you plan to make to the device going forward?
SC: There are a few vectors. The real innovation here is using commodity electronics to build medical devices. With say GE or Siemens, the approach in the last 20 years has been to do everything custom-the hardware and probes. The reason that approach came about is because 20 years ago that was the only way you could have ultrasound imaging that was good. Then in 2008-2009, QUALCOMM came out with chips that packed one GHz computing in the phone, and that gives real-time image processing. QUALCOMM and other companies like it just keep making this stuff cheaper and faster. If I could use consumer electronics like smart phones as building blocks for imaging systems, I get a free ride because costs keep going down and quality keeps going up and I can pass that onto the consumer. That's pretty innovative.

The second piece: With the cloud, we can now roll out software and give you additional functionality and in a different manner than traditional devices because of our connectivity. Storage is first but you can foresee analytics too.

And the third vector: As different diagnostic sensors evolve, we can integrate those on our platform — can we create powerful diagnostic platforms that every health care provider can carry. Eventually, we can integrate into one.