Among the companies generating a buzz at ASTRO this year was Siemens, which rolled-out some pretty impressive diagnostic imaging technologies optimized for use in radiation oncology.
Leveraging the power of MR in RT planning
A major introduction by Siemens that DOTmed had the chance to see up close was their comprehensive MAGNETOM - RT Pro edition family for their top-of-the-line MR and CT systems. The RT Pro edition works with the open bore MAGNETOM Aera, the MAGNETOM Skyra, and the SOMATOM CT sliding gantry solution. This package, in particular, facilitates use of MR scanning in the radiation oncology setting.
A scan table on wheels boosts throughput and efficiency
One thing this new system includes is a new table on wheels that mounts to the MR. This table allows for the use of four coils in addition to the spine array coil which is bolted into the table.
It also accepts different tabletops, one from Orfit or one from Civco. These tabletops enable various positioning devices to hold the patient in place. These tables are designed to work with the 1.5 Aera and 3.0 Skyra.
The patient can be put on the table, put in the positioning device and rolled out to the MR and scanned. This saves time by avoiding the need to position the patient while on the table that is integrated into the MR.
More importantly, this way, while one patient is being scanned, a second can be prepped. All this makes for faster throughput and more efficient use of the machine.
With a comprehensive solution package for RT professionals, the MAGNETOM RT Pro edition enriches the RT planning process with valuable diagnostic information. It also offers the powerful optional post-processing of syngo.via software.
A CT-on-rails
Another Siemens product that drew a crowd - and had attendees wanting to take it for a test drive - was the dual-room SOMATOM CT sliding gantry solution.
This solution enables a hospital to install a single CT which can be moved on tracks between two different rooms.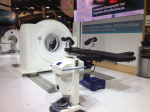 With this CT-on-rails in place, the scanner can be moved into one room to conduct treatment simulation on a patient, while the other room can be used, for example, as a brachytherapy suite, where preparations can be underway for sedation and the positioning of other patients.
When CT simulation is complete, the CT gantry simply slides into the adjacent brachytherapy suite through a sliding door. Then it can be used to image and further evaluate the position of additional brachytherapy patients. The first room is then free for the setup of a new patient for simulation.