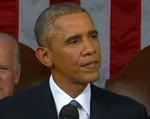 State of the Union reaction
January 21, 2015
My computer was on fire today with people sharing their thoughts on President Obama's State of the Union speech.

According to President Obama, the number of people without health insurance has decreased. He credits the decrease to the Affordable Care Act. My Internet research indicates that this is true.

He is promoting paid sick leave and parental leave. I do not know if he will pull this off, but I know that our company already offers this.

Our senator, Kirsten Gillibrand in New York, has been trying to pass the
Family Care Act for a couple of years now. This would promise that employees would receive 2/3 of their salary for 90 days. According to the emails I've received, the response to this is about 50/50. Some smaller companies just could not afford it, I'm afraid.

President Obama and all of America should feel lucky that things are turning around. Oil prices have dropped, the cost of gasoline has dropped, unemployment is the lowest it has been since 2008 and the Affordable Care Act seems to be working in some places. Even if President Obama does not deserve credit for everything good that is happening, I am still glad it is happening.

I do hope that all of our politicians starting in 2015, especially now that one party is in control, can begin to move forward and get some things done.