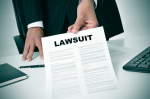 Court battle erupts between germ-killing robot makers Xenex, Clorox
April 08, 2015
by
Gus Iversen
, Editor in Chief
Clorox and Xenex offer competing portable UV room disinfectant systems designed to reduce health care-acquired infections (HAIs). While the Clorox Healthcare Optimum-UV System uses bulbs that contain mercury to create UV light, the Xenex Germ-Zapping Robot uses pulsed xenon, a non-toxic inert gas, for the same purpose.

In December of last year, Clorox challenged marketing claims made by Xenex concerning the capabilities of their system. The challenge came through the Better Business Bureau's National Advertising Division (NAD); a self-regulatory body used by consumer product companies to resolve advertising disputes.

The NAD issued a press release March 5 stating that Xenex had agreed to discontinue some of its claims. According to that release, "[Xenex] advised NAD that challenged express claims had run their course and would, for reasons unrelated to the Clorox challenge, be permanently discontinued."

Among the fourteen challenged claims outlined in the NAD release were: [Xenex's system is] faster, more effective, and easier to use than mercury-based UV systems; Proven to eliminate more than 99.9 percent of Ebola virus in less than five minutes; and the only device that is 100 percent green and non-toxic.

Now, according to a new statement from Morris Miller, CEO of Xenex, "We informed the NAD that Xenex had ceased using the express statements complained of by Clorox, and thought that ended the matter. Clorox subsequently objected to our statements (which they did not challenge in their NAD complaint) indicating that competing UV disinfection devices contain or use bulbs that contain toxic mercury, and that the Xenex germ-zapping robot is faster than mercury UV devices."

Xenex asserts those sentiments are accurate — that their system is faster and that competitors use mercury — and on March 27, filed a Declaratory Judgement Action lawsuit against Clorox, stating that the dispute over marketing language is damaging the company's ability to promote its product.

UV emitting room disinfectant systems are an emerging segment. An estimated 1.7 million HAIs are responsible for nearly 100,000 fatalities, with direct costs as high as $45 billion in the U.S. annually. According to the CDC, implementing a comprehensive HAI strategy can lower infection rates by 70 percent.