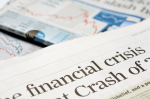 Study finds correlation between gun wound patients and stock market performance
April 23, 2015
by
Gus Iversen
, Editor in Chief
By looking to the Dow Jones Industrial Average, researchers from the Cleveland Clinic may have uncovered an interesting way to anticipate increases in firearm-related hospitalizations.

Shooting victims, (be it homocide, suicide, or accident) are the second leading injury-related cause of death in the U.S. behind motor vehicle accidents. For hospitals, knowing how to foreshadow changes in workflow could mean better distribution of resources.

"Although there is a large amount of literature detailing the vital statistics relating to firearm injuries, there is a conspicuous paucity of literature exploring burden on health care resources imposed by firearm injuries," said Dr. Shikhar Agarwal, lead author and resident physician in the Department of Cardiovascular Medicine at Cleveland Clinic, in a statement. "One could surmise that there would be a relationship between the national economic situation and national firearm-related hospitalization rates."

Shikhar and his team analyzed data from the Nationwide Inpatient Sample (NIS) database from 2001-2011, which indicated a total of 70,974 hospitalizations had taken place over those years due to firearm-related injuries. Within those years however, the numbers fluctuated in ways that echoed the state of the stock market.

Gun related injuries increased modestly during 2002 and 2004, then they declined slowly until 2008 — when the recession hit. In 2009, gun related hospitalizations increased dramatically and continued through 2010, until declining sharply in 2011.

In addition, the average length of stay following firearm-related injury increased from 6.6 days in 2001-2006 to 7.4 days in 2007-2011, including a significant increase in the proportion of patients who were in hospital for more than 10 days; 18.1 percent in 2001-2006 to 20.8 percent in 2007-2011. Average hospitalization costs increased as well, from $20,686 to $25,155 in the respective periods.

The research, which was published in the American Journal of Medicine, also found an increase in the prevalence of mental health disorders among people admitted with firearm-related injuries.

Research published in the British Medical Journal in 2013 may suggest that a large number of these gun wounds are self-inflicted. They attributed the crash of 2008 to nearly 5,000 additional suicides in 2009 compared to the norm. That survey attributed almost the entire increase to males.