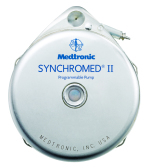 Medtronic, FDA reach consent decree on SynchroMed II implantable infusion pump design, manufacturing
April 28, 2015
by
Thomas Dworetzky
, Contributing Reporter
Medtronic and two of its officers have agreed to a deal to resolve FDA allegations over the SynchroMed II implantable infusion pump system, which is used to deliver medication to treat cancer, chronic pain and severe spasticity.

The pump is especially important as an option for patients have not had success with other treatments or who experience intolerable side effects with oral medications.

"Efforts are well underway to address issues included in the consent decree and we will continue our work to implement design changes to the SynchroMed drug infusion pump and enhance the Neuromodulation [manufacturing unit's] quality system," a company spokesperson told DOTmed News, adding that, "We are committed to working collaboratively with the FDA to address their expectations in a timely and thorough manner."

The proposed consent decree, which must still be approved in court, will bar distribution until the FDA approves the changes to device design and manufacturing. That said, the agreement does include a clear process by which the company can continue to supply pumps to patients.

"For patients needing a replacement drug infusion pump, Medtronic is required to collect a physician certification before providing a SynchroMed drug infusion pump indicating the physician and patient have been informed about Medtronic's agreement with the FDA," noted the spokesperson, adding that "For new patients, Medtronic is required to collect physician medical necessity certification before providing a SynchroMed drug infusion pump."

To address FDA concerns, the company's efforts are focused on design changes that will address issues the company has previously communicated, according to the spokesperson, and also on enhancing the Neuromodulation quality system, which involves documentation and process control during manufacturing and distribution.

The complaint claims that Medtronic, its chief executive officer, S. Omar Ishrak, and its senior vice president, Thomas M. Tefft, have been distributing medical devices that are adulterated because they were not manufactured in accordance with current good manufacturing processes.

The move came after the FDA issued warnings and "conducted multiple inspections of Medtronic Neuromodulation's manufacturing facilities in Columbia Heights, Minn., between 2006 and 2013," according to the Justice Department. "The proposed consent decree will require Medtronic and its leadership to commit to making changes in their process," said Principal Deputy Assistant Attorney General Benjamin C. Mizer of the Justice Department's Civil Division.

The company has "been working with the FDA" through the resolution process. "We are committed to the highest level of quality, and have pursued significant efforts in recent years to enhance the performance of the pump and to address the FDA's expectations," said Tefft.

The proposed consent decree also requires Medtronic to retain an expert to help Medtronic correct its regulatory violations.