When it comes to imaging procedures, children offer some unique challenges.
For one, they're less likely to follow instructions than adults. When all else fails to get them to sit still for the procedure, sedation may be employed, but that brings another set of challenges when dealing with small patients. And the buzz around radiation dose concerns gets louder when children are involved since younger patients have longer lives ahead and more time to stack up radiation dose and more time for potential adverse affects to surface.
While the challenges are significant and can't be avoided for all patients, steps have been taken to reduce the need for sedatives and to lower imaging dose. In the last year alone, some promising strides have been made.
Heroic efforts
Superheroes have intrigued kids for generations and have done everything from helping companies sell products to getting children to brush their teeth and eat their vegetables. But in October of last year, superheroes took on a super challenge — convincing children to sit still. And as if that doesn't require enough superpower, they're convincing them to sit still while an imaging procedure is performed that even makes many adults uneasy.
Physicians at Weill Cornell Medical College and the Johns Hopkins Hospital learned that kids, given the right pre-test education and incentive, will lie still for MRI scans for up to an hour without sedation. Although it is not the first time medicine and art have joined forces to calm patients, the MRI Heroes Kit from Siemens Healthcare is bringing some new pages to the book of patient care. In this case, brightly colored, illustrated pages. Launched in October 2014, at Weill Cornell Medical College in New York City, the educational tool, which includes a specially commissioned comic book from Marvel Comics, makes the case to kids that if Captain America can lie still during a sometimes-noisy MRI scan, so can they.
"MRI is a great imaging technology, but it requires cooperation from the patient – they have to lie still," says Dr. Robert Min, chairman of radiology at Weill Cornell Medical College, and radiologist-in-chief at New York-Presbyterian Hospital. "Too often this requires some form of sedation, which has risks and adds cost to the exam. But without sedation, it's often difficult to get a good image. I had been thinking for a while that there must be a way to educate kids about what we need them to do when they are in an MRI."
One day last year, Min shared with a Siemens representative his thoughts on creating an educational program to lessen patient anxiety and increase exam compliance to reduce the use of sedation. Siemens then came up with the idea to approach Marvel Comics, and the Siemens MRI Heroes Kit was born.
"Children and parents experience anxiety when they don't know what to expect regarding the particulars of a medical imaging exam," says Linda Tait, product manager, MR business unit at Siemens. "I have two children who are into superheroes, and their familiarity with – and enthusiasm for – superhero comics helped inform me when determining the kit's design elements. We, including Dr. Min, visited and talked to Marvel, and the various elements of the kit fell into place," Tait says.
The resulting storyline of the MRI Heroes Kit comic book centers around Captain America's visit to a hospital to have his shoulder – injured in a battle with evil robots – checked out at the insistence of his friend Iron Man. There, he meets a little girl who has just finished an MRI scan and she helps the superhero get an MRI. Both Min and Tait said Siemens is looking to expand the kits (which also include plush toys of Captain America and Iron Man) to nationwide distribution, based on the growing number of inquiries it has received from children's imaging programs. Min said they are collecting data on the effectiveness of the Captain America and Iron Man products in reducing pediatric anxiety over the MRI exam.
"My sense is that it is greatly reducing the need for sedation," says Min. "Since we've adopted the Heroes program, we've been able to eliminate the use of sedation in most pediatric patients four and older."
Results from a Johns Hopkins Hospital study found similar results. The patient sample achieved a 10 percent reduction in anesthesia administered to patients between the ages of five and 10 and a 4 percent reduction in all pediatric patients, by requiring mandatory pre-test counseling with a certified child life specialist (CCLS). The CCLS meets with patients and parents ahead of time, as well as on the day of the appointment, to educate them about what to expect during their exam, and makes the final decision on whether the child can undergo the exam without anesthesia.
"Anesthesia will always be necessary in some cases," says Dr. Daniel Durand, adjunct assistant professor of radiology in the division of pediatric radiology at Johns Hopkins. "But the results indicate that children get to avoid the discomfort and risk of anesthesia, which is also less stressful to them and a cost savings to the parent, as well. If the child doesn't need contrast, it means no IV is placed. It allows the patient to avoid a negative experience. This is what patient- and family-centered care is all about."
Dose drop
This focus on kid counseling epitomizes trends that other experts in the field discussed in interviews with HCBN to provide safer and higher-quality imaging studies, to save and improve young lives. While radiation exposure is not an issue in MRI, there has been great focus in recent years by specialty pediatric radiologists at academic and children's hospitals, on decreasing exposure time and levels while still getting the needed image quality.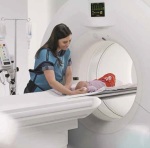 "I think radiation dosing exposure in pediatric patients at children's and university hospitals is generally not an issue, but there appears to be quite a difference at community hospitals without pediatric imaging specialists," says Dr. Marilyn Siegel, Professor of Radiology at Washington University School of Medicine in St. Louis.
She says in a study to be published later this year, that she and colleagues compared radiation exposure in CT scans performed at their children's hospital and at more general community hospitals, and discovered that many pediatric patients undergoing CT at community hospitals received relatively higher radiation dosing, which is primarily accounted for by technical parameters that may not be optimized for pediatric patients.
"Reducing radiation exposure, minimizing need for sedation, and obtaining great image quality are important goals in pediatric imaging," says Siegel. "The new scanners are so fast that even if an infant wiggles some, we still get great images. This helps achieve the goal of reducing the use of sedation in young patients undergoing CT imaging."
To help educate and spread the word among radiologists, referring physicians, technologists, dentists, physicists and parents, in 2008 The Alliance for Radiation Safety in Pediatric Imaging (TARSPI) launched the "Image Gently" program with an unrestricted educational grant from GE Healthcare. The founding members of TARSPI include The Society for Pediatric Radiology, the American Association of Physicists in Medicine, and the American Society of Radiologic Technologists. Some 87 other national and international medical organizations have since joined the alliance.
The Image Gently campaign provides information and free educational materials to every member of the care team and maintains an extensive website chocked full of information. "CT gives clinicians much more useful information now than in its early days back when I was a medical student," says Dr. Marta Hernanz-Schulman, professor of radiology and pediatrics at the Monroe Carrell Jr. Children's Hospital at Vanderbilt, and chair of the Pediatric Imaging Commission at the American College of Radiologists.
She is one of a group of pediatric radiologists, led by Dr. Marilyn J.Goske, who worked to create the Image Gently campaign. "But if CT is what a pediatric patient needs, it has to be used judiciously, with the lowest amount of radiation possible. We protocol every study we do and tailor the technique to the patient's needs."
Hernanz-Schulman explains that radiation concerns are based on the study of Japanese populations exposed to nuclear explosions in World War II, although the understanding of how this data equates to imaging studies remains imperfect. However, she indicates that exposure in children is of concern because children are in a constant state of development; their cells are dividing, which exposes the DNA and renders it more vulnerable to radiation damage. Because children have more opportunity to receive imaging scans over their lives and cancers have an opportunity to lay dormant for a longer period compared to adults, reducing pediatric exposure to medical radiation has become a universal point of focus for specialists and equipment manufacturers in the field.
"While I think there is a growing awareness about the issue of medical radiation exposure, most parents don't ask any questions about the CT procedure their child is about to undergo," says Washington University School of Medicine's Siegel. "I might get one question a month. This may reflect the fact that referring pediatricians and primary care doctors are doing a good job educating the parents and child that we really need the information a CT scan will give us. I also think our technologists, who meet and greet the patients and parents and perform the actual tests, are helping to educate and calm parents."
The right people for the job
This highlights the importance of proper staffing. According to information released by the Society for Pediatric Radiology this spring, there are 20 new pediatric hospitals under active planning or construction, with seven major expansions underway in the U.S. and Canada. The demand for properly trained technologists is increasing.
"Technologists who are trained and experienced in the care of imaging techniques for children are invaluable in the performance of high-quality and experienced imaging," says Dr. Kenneth Ward, chairman for the Department of Radiology at the Children's Hospital, New Orleans. "The recognition of child abuse, for example, based on imaging techniques, has resulted in action that has saved numerous lives. Trained personnel who are both pediatric and emergency, specialists are the ideal pairing for handling childhood emergencies," he says.
Siegel notes that a good pediatric CT service requires dedicated staff, trained in dealing with children, and a child friendly environment. The technologists need to understand how to do a diagnostic CT at the lowest dose.
Hernanz-Schulman explains that there also has to be recognition of the need to stay current with technology, and commitment by hospitals and imaging centers to doing so. "Patients and referring physicians should be aware of the capabilities of the imaging facility. Important questions to ask are whether the facility and its equipment are accredited by the American College of Radiology, and whether the patient will receive a child-size dose. No one wants to over-radiate children, that's why educating everyone about the evolving trends in children's imaging is so critical, and payers should incentivize this value-based performance" says Hernanz-Schulman.
Based on a consensus of the physicians interviewed, the information and insight that imaging provides is worth the trade-off in radiation exposure. Outcomes for treatment of serious conditions such as head or body trauma, volvulus or intussusceptions of the bowel, internal bleeding and cancers, have all been greatly improved with advances in pediatric imaging. Prior to the advent of imaging, particularly CT scanning, exploratory surgery was often the only option for appropriate diagnosis.
Weill Cornell's Min notes that the quality of images and additional information that MRI, low-dose CT and ultrasound provide has eliminated much of the use of fluoroscopic studies. Siegel attests to recent development of dual-energy CT scans that greatly reduce artifacts in images, which helps in getting great quality scans in patients with metal pins and rods, in order to treat curvature of the spine, for example. Hernanz-Schulman adds that CT scanners are using less radiation in every generation, and the imaging quality keeps getting better, yielding outstanding images.
However, as Ward says, the basic X-ray is still the workhorse. "Plain X-ray remains the mainstay of pediatric imaging, considering the abundance of traumatic injuries as well as the preponderance of pulmonary issues. Generally low in ionizing radiation, plain radiographs…are the ideal starting point in pediatric medical care," Ward says.
For parents, it's important to keep the risk of medical radiation exposure in perspective. "The worst thing for the patient is for us to miss a diagnosis because we don't want to use radiology," says Siegel. "Results from CT can change treatment decisions. Not having the CT can be much more risky for a child than having it, especially if CT is being used to diagnose cancer or another serious condition, such as acute abdominal pain. The key point is that CT needs to be clinically justified; in this setting the benefits will outweigh the small, long-term risks."