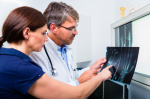 Study confirms patient preference for receiving imaging results
May 26, 2015
by
John W. Mitchell
, Senior Correspondent
A recent study conducted at the University of California San Francisco Medical Center (UCSF) and recently published in The Journal of the American College of Radiology examined a common communication process repeated many thousands of times a day across the country: informing patients about their imaging study results. The survey was designed to better understand how to improve service to patients.

"The medical reports generated by radiologists are often sent directly to the doctor who ordered the study, and that doctor is the one who usually discusses the results with the patient," Dr. Peter Naeger told DOTmed News. He serves in several clinical roles at UCSF Medical Center, including as Co-Director of the Henry I. Goldberg Center for Advanced Imaging Education. "We were curious if patients would want to discuss their study directly with the imaging experts if they were given the opportunity. We also wanted to know if patients desired easy access to their radiology reports."

Nearly 2,500 CT and MRI patients at two hospitals were surveyed over four weeks, with a response rate of 25 percent. The sample population was mostly white, with an average age of 52; at least half of those surveyed were college-educated. About two-thirds of patients surveyed said the referring physician was the best source for test imaging results. Surprisingly, half of those surveyed said they did not know radiologists were doctors, with only a third reporting they were aware that radiologists preform minimally invasive procedures, such as biopsy.

"It surprised us that patients wished to hear their results "secondhand" from the referring provider. Almost all medical imaging is interpreted by radiologists, board-certified specialist physicians who train for five to six years after medical school to accurately interpret imaging," said Naeger. "We assumed patients would want to hear results directly from the source."

He acknowledged, however, that it was understandable that patients would want to hear from their personal doctor, who is a familiar face. While 36 percent of patients reported that they had no interest in seeing their imaging studies at all, Dr. Haeger said that the majority of patients seek detailed information. USCF, for example, allows patients to access their studies through a secure online portal.

Perhaps an important limitation to the study's findings: no distinction was made between patients who had normal and abnormal findings in their imaging exams.

"I think the biggest conclusion from this study is that patients would like easy access to their radiology reports. All patients already have this right, but the process can sometimes be unclear. Even though patients should have easy access to reports, it is important to highlight that patients should review the report with a physician," summarized Naeger.