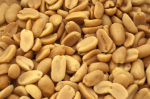 Eating nuts could lower mortality rates for many diseases: study
June 15, 2015
by
John W. Mitchell
, Senior Correspondent
Forget about apples. Eating nuts every day may help lower your chances of dying from several common diseases, according to research out of the Netherlands.

But that doesn't mean you should go stuffing your face with cashews. According to Professor Piet van den Brandt, project leader and epidemiologist at Maastricht University, the lower mortality was associated with 15 grams of nuts or peanuts per day - or about a half a handful.

The cohort study has been running since 1986 and includes more than 120,000 Dutch men and women aged 55-69. The results, published in The International Journal of Epidemiology, also calculated the relationship with overall-specific mortality in the same time frame. The lower mortality rate was observed for respiratory disease, neurodegenerative disease, diabetes, cancer and cardiovascular disease.

"We found earlier that nuts as part of a Mediterranean diet were associated with lower overall mortality in our 2011 published cohort study," van den Brandt told DOTmed News. "Those results prompted us to look at causes of death in our cohort in relation to tree nuts, peanuts and peanut butter, which we could distinguish with our data."

"A Harvard cohort study in the U.S. and other studies in Spain looked at this link as well and also investigated causes of death in relationship to nuts," van den Brandt added. He explained that peanuts and tree nuts are relatively rich in mono and polyunsaturated fats, proteins, fiber, several B-vitamins, and antioxidants which he said could explain the significant relationship of the study findings.

"The results indicate the benefit of adhering to a Mediterranean Diet, of which nuts are an important component," said van den Brandt. A Mediterranean diet is also associated with high consumption of vegetables and olive oil, moderate consumption of protein, and low intake of carbohydrates.

The relationship between lower mortality and tree nuts and peanuts was about the same, as was the benefit for men and women. The sweet spot appears to be 15 grams, with no lower mortality noted for consumption over that amount.

According to van den Brandt, the study could not determine if associated salt and oil often added to nuts affected the benefit provided by tree nuts and peanuts. They also reported no link to health benefits from peanut butter — in which the trans fatty acids may inhibit the positive effects.