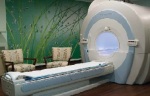 Feature: Imaging center managers deal with an array of change
July 09, 2015
by
John W. Mitchell
, Senior Correspondent
Once a profitable business, standalone imaging centers are now struggling. What's particularly unfortunate is that they're fading just as the recognized need for more health care services increases. In order for an imaging center to have a chance of remaining profitable, management has to be proactive, creative, and on top of their game. HealthCare Business News spoke with Davis Graham, executive director and CFO at Manatee Diagnostic, in Bradenton, Florida, about trends in imaging center management.

Graham offered a cynical laugh and cited a "new truth" in effect since the implementation of the Affordable Care Act. "I belong to a health care advisory group through our chamber of commerce. A friend on that committee coined the term 'the 6350 health insurance policy.' This means patients now have an average out-of-pocket of $6,350. Patients are price shopping," he says.

Graham is a guy who thinks a lot about what is going on in health care. He is currently near completion of a master's degree in health and medical informatics from Brandeis University, and by his own count he studies on average more than 350 pages a week about the changes unfolding in the American health care system — all this while managing Manatee, a family-owned independent outpatient imaging center that performs nearly 300 imaging tests a day.

"What we have right now in health care is a slave relationship," Graham states. "Pricing is not set by the people who provide the service; it is set by the government and the insurance companies. This is ironic when you consider that the quality of any health care experience is defined by the physician-patient relationship." Imaging center managers deal with an array of change

Graham says that his center is having a banner year for volumes, but is also seeing its lowest reimbursement rates ever. Graham and others in the business have to not only manage to keep overhead costs down and patient throughput up, but they also have to give greater attention to the patient experience if they plan to obtain full reimbursement amounts.

To that end, many imaging centers are providing better pricing transparency, increased follow-up and follow-through with patients, and hiring professionals with strong customer service and team skills or providing the training to existing staff to get them those skills.

Cashing out, going under, or teaming up
Management issues were a common theme among several insiders interviewed. Mike Mabry, executive director of the Radiology Business Management Association (RBMA), says that according to a 2014 survey conducted by the group, of the estimated 2,500-plus freestanding imaging centers, about 525, or 21 percent, are either contemplating selling the business or closing, in large part due to the pains caused by reimbursement cuts.

While some centers soldier on alone, others seek out partners and work to fill a need. With hospitals also feeling the reimbursement pinch, some are teaming up with freestanding facilities instead of outright acquiring them. This transition can be seen at Bloomington Radiology in Normal, Illinois, which has evolved from a private practice radiology imaging center to a group that now serves two health systems in the community.

"We wear several hats with our hospital partners to take care of all of our patients," explains Bill Wilson, practice administrator at Bloomington Radiology. "For example, some of our radiologists are in a joint venture with one of the area health systems at another outpatient imaging facility, Ft. Jesse Imaging Center." He says Ft. Jesse Imaging is the only full-service freestanding imaging center in a county with approximately 145,000 residents. "We also provide considerable imaging interpretation for private practices," adds Wilson.

Bloomington Radiology operates out of a large outpatient medical office building that houses private and hospital-based services for urgent care, rehab, wound care, and a private orthopedics practice. "From a business standpoint, since the early 2000s, outpatient imaging has evolved from being a very profitable venture to a tight margin, but clinically critical, [with a] service line that has to be carefully managed to control expenses. We also have to build volumes by providing good service to referring physicians and patients," says Wilson.

He says that while a few CT and MRI competitors have dropped out of the market, Bloomington has seen its volumes increase 10 to15 percent across all modalities this year. But he adds, they are located in a remarkably stable economic market with a predominantly white-collar, college-educated workforce possessing a higher than-average household income.

Important industry trends
RBMA's Mabry says there are major challenges for imaging center managers, ranging from new reimbursement systems to reduced payments and the need for greater price transparency.

Of special concern is the MITA Smart Dose XR-29 regulation that goes into effect Jan. 1. The regulation, covered extensively by DOTmed News, is intended to reduce radiation exposure. To do so, facilities will likely need to upgrade software or even replace machines to avoid Medicare payment cuts. Federal program payment penalties are 5 percent on the technical component in 2016, increasing to 15 percent in 2017 and beyond for diagnostic CT procedures performed under the Medicare program.

This regulation was created when President Obama signed the Protecting Access to Medicare Act of 2014 on April 1, 2014 (Section 218). According to Wayne Webster, principal at Proactics Consulting, the XR-29 regulation applies only to Medicare patients in an outpatient setting.

"There is no requirement to meet the XR-29 standard beyond the reduction in Medicare reimbursement," said Webster. "Upgrading or replacing a non-compliant CT scanner is an option. But most are waiting to analyze the impact on revenue from the reduction in Medicare reimbursement." He adds that the new regulations do not apply to inpatient units or non-Medicare patients. And he said the regulation offers no technical, measurable standard to demonstrate the reduction in CT dose. Webster projects $360,000 in Medicare CT revenues will result in a loss of $18,000 in 2016 with the 5 percent cut, and a loss of $54,000 in 2017 under the 15 percent reduction for noncompliance with XR-29.
According to a white paper published by the Medical Imaging & Technology Alliance (MITA), the law requires providers to report any CT scan that is not compliant with XR-29 smart dose standards. The white paper explained that providers will most likely be required to provide documentation from the equipment manufacturer to identify whether a machine is compliant or not.

"A decision to upgrade non-compliant CT equipment should take into consideration many factors, such as complexity of your equipment, your clinical usage and ultimately the cost/benefit of upgrading," states the MITA white paper. Manatee Diagnostic's Graham doesn't have a dog in the XR-29 fight. He has or is in the process of upgrading all of the center's CTs. But philosophically, he doesn't think penalties are the way to bring about change. "I think it works better to get accrediting organizations like The Joint Commission to implement appropriate government safety regulations," he said. "In order to assess penalties, you have to really make sure the proper investigation is done."

Other issues Mabry says to note are the delay of the implementation of ICD- 10 and the fact that the Medicare Advisory Commission that informs Congress continues to recommend that Medicare move to a single payment regardless of site of service (hospitals versus freestanding centers).

"These are significant developments and it's not clear, exactly, how some of these changes will impact imaging operations," Mabry says. "The change to the merit-based payments is a good example. It will affect all physicians, but it's a one-size-fits-all approach that may not translate well to radiologists and could put them at risk for payment cuts. It may mean significant reduction in radiology compensation. The system may work better if it compares data specifically to a radiologist peer group." He also predicts that the new pricing transparency will be a big issue for hospitals, whose charges traditionally run higher than outpatient imaging centers.

Hospitals focus to better compete with freestanding centers
Doug Wetmore, an owner at Ivy Ventures in Richmond, Virginia, also cited price transparency and price shopping as an emerging trend. Ivy works with hospitals and hospital systems across the country to improve outpatient market share – especially for imaging. Clients include Bon Secours Health System, LifePoint Hospitals, Resurrection Health Care, Tenant, and Intermountain Healthcare.

"With more patients having first-dollar responsibility, imaging has become a highly price-sensitive and commoditized service," says Wetmore. "This is the first time I've seen it on this scale since I've been in business." Wetmore also says that he believes the market will favor those outpatient imaging centers that best align themselves in an integrated delivery model. He explains CMS is looking for efficiency through value-based purchasing, which is unfamiliar territory for many outpatient imaging operations. Ivy works with their clients to increase the number of scans conducted every day as imaging centers have fixed costs. "We work to really improve service to referring physicians because every extra scan drops to the bottom line," says Wetmore.

Large practices go their own way
These are the types of strategies that Eric Worthan, CEO of Panorama Orthopedics and Spine Center in Denver, one of the largest orthopedics practices in the West, speaks of when he discusses the current state and future of imaging management. The specialty group is composed of 35 orthopedic surgeons, has three locations and operates seven digital radiology machines, one MRI with a second coming online in early 2016 and a third planned for 2017. The group does not provide CT, as Worthan said they don't have high enough patient volume to justify the capital investment or maintain proficiency.

"We've been deploying our capital differently the last few years and we're behind in terms of capturing the imaging procedures that our doctors order," says Worthan. "We're probably not even doing a third in-house right now. But with the addition of the new machines, I think we'll capture 75 percent of the imaging scans our doctors order."

For Panorama, the reasons for expanding imaging capability in the face of declining reimbursement is not so much a monetary issue, but one of providing better care to patients. "Probably the main reason the practice has grown is that we have worked hard to eliminate the fumbled hand-offs common in health care that frustrate patients and physicians and can negatively impact outcomes," he said.

This integration strategy – to be the direct provider through a patient's surgery as well as their pre- and post-op care – extends to partnering with building an 80-bed skilled nursing facility to care for patients after their surgery. "We want to be a vertically integrated network because it's good for the patient, enhances quality and reduces costs," he explains. "This is very difficult for imaging competitors to replicate in our market.

We're now negotiating directly with insurers and accountable care networks. We're a stable provider in the market who is going to be here no matter what. We have doctors who want to join us and keep the practice private." Worthan said they are buying out an imaging center in the market, have seen a few others sell to hospitals and others enter into joint ventures with hospitals. He noted that because imaging is not their primary business, they are diversified enough with their revenue streams to absorb diminishing radiology reimbursement. They also have a unique ability to motivate insurance companies when setting rates.

"Imaging is a critical piece of information; our doctors must have it. But if I can't get what I think is a fair reimbursement rate, we can always drive up costs by directing the business to the hospitals. I know their charges are not going to be less than ours," Worthan says.